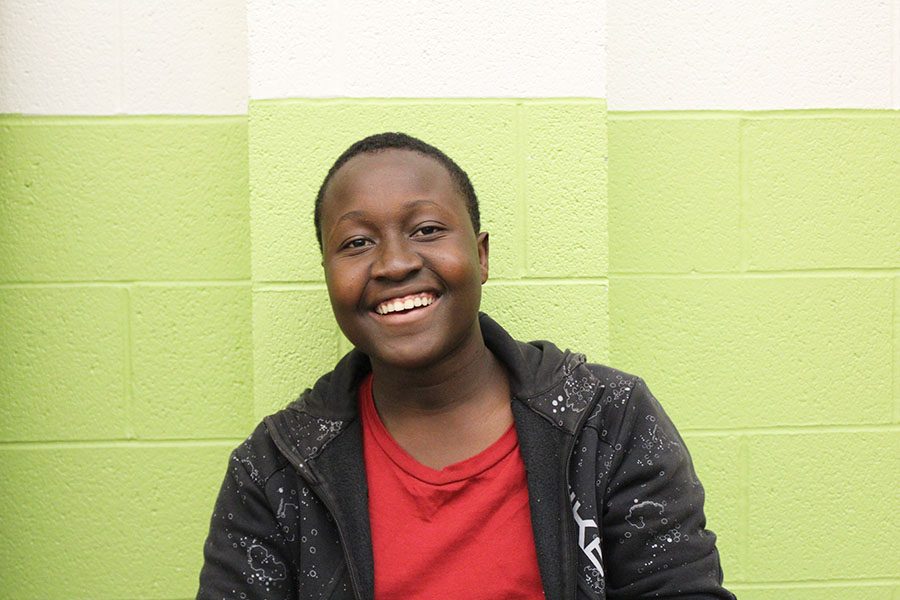 Abdul Turay '20
Coming from a concrete jungle 5,244 miles away, Iowa is just about as opposite as it gets for Abdul Turay '20. Here for his junior year of high school, Turay has travelled from Freetown, Sierra Leone.
"I've never heard of Iowa. It sounded strange," Turay said.
And as strange as it sounded to him, it looked just as strange when he finally arrived.
The grassy yards here, so unlike the ones back home, still surprise him after being here for a couple of months.
"[In Sierra Leone] we don't usually leave our yards with grass, we cement them all over," Turay said. "[If] you want to make your compound beautiful, you cement everything."
Turay was also shocked to find air conditioning everywhere, especially because the weather was cold to him compared to temperatures in Sierra Leone. When he took his first trip the grocery store, Turay was in awe when he discovered the 'frozen food' section.
"[It was] like a walk-in freezer," he said. "We never had a walk in freezer. That's one of the things that fascinated me."
After receiving the application for this program from a friend and much encouragement from his parents, Turay, along with 500 other students underwent the rigorous application process that included testing and interviews. Being one of only nine selected, it is a great honor for Turay to be in the United States this year.
Despite being taught in a different language in Iowa, Turay still finds the school system more challenging in Sierra Leone.
"Our [classes] are really difficult. No computers, just books, huge textbooks. You have to find out [information] for yourself," he said.
Access to technology is one of the reasons Turay decided to spend his junior year in the United States. When he returns, he plans to join the alumni group International Education for Resource Network (IEARN), an organization that works to improve the education system in Sierra Leone. Whether building and encouraging students to attend schools for those who haven't had access to education in the past or feeding the homeless, the main goal is to apply what he learned in the U.S. to help the program.
"[My goal is] to share American culture and to learn about it and go back to my country and share how to develop things like use of network and internet," he said.
Leaving his parents and five siblings who love to play games with him behind and staying with host parents as an only child was a drastic change of atmosphere for Turay.
His host parents though have been hosting students from Africa throughout the past decade.
"We have enjoyed having Abdul in our home; he has a great sense of humor," Bonnie Anderson, Turay's host mom.
So far, Turay is already making the most of being here: camping, joining the tennis team and bowling with his host family.
"I'm excited that I'm about to learn and experience new things." Turay said. "And [I will have] the ability to use those things to benefit my community when I go back."
Donate to West Side Story