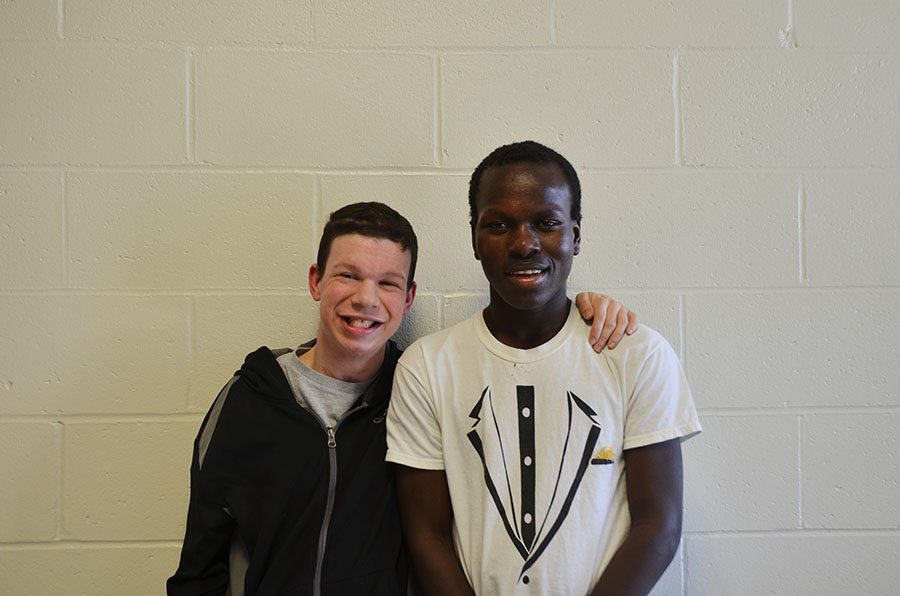 Jaden Buckley '19 and Byamungu Omari '20
"Buckley!" shouts Byamungu Omari '20. He's just seen his best friend, Jaden Buckley '19, walk through the classroom door and can barely contain his excitement.
For the past four years, Buckley and Omari have been best friends. Although the pair's individual strengths are apparent to all they encounter, the two are undoubtedly at their best when they're together.
"[Omari and Buckley's] dynamic works so well because whenever one isn't having the best day, the other is there to cheer them up," said friend and classmate Schuyler Houston '21. "Having them in class makes it feel like a happier place for anyone who gets to interact with them."
The pair first met at Northwest Junior High when Omari was in seventh grade and Buckley was in eighth. From there, the friendship quickly took off.
"Right away, we became friends," Omari said. According to Haverkamp, there has been a noticeable shift in Omari's personality since meeting Buckley.
"In junior high, [Omari] didn't talk very much," Haverkamp said. "You would ask him questions, and he would just kind of laugh and not answer. And now I see him in the morning and I think he feels comfortable saying 'hi' to me."
For the past three years, Buckley and Omari have been in Merkle's class together. The time spent together brought the boys closer than ever, as they bonded over a love of sports, singing and games.
"One thing I always find really fun is watching [Buckley and Omari] play Connect Four because neither of them are that invested in the game," Haverkamp said. "They'll miss really obvious fours in a row, and it's funny to watch them pick on each other — of course, in a loving way."
Along with Connect Four, choir is one of many activities Omari and Buckley have a shared passion for.
"Jaden and I sing together, and he helps me to sing better," Omari said.
The pair's fun-loving nature and passion for singing makes them an uplifting presence in the choir classroom.
"Jaden and Byamungu are the heart and soul of Bass Choir, and they always keep the mood of the room positive," Houston said, adding that at times the two are entertained by each other to the point of breaking out in hysterical laughter.
"Sometimes during math, Jaden will have to go into the other room. He just can't handle Byamungu, because they mess around so much," Haverkamp said.
At the root of Buckley and Omari's friendship, Haverkamp says, is a sense of camaraderie and an unparalleled ability to make each other laugh.
"I think it's a very comedic relationship. I think they care about each other a lot, but they mostly just joke around with each other," Haverkamp said.
"They laugh a lot when they're together. It's a very funny friendship."
"When Byamungu is at school, he makes me laugh, and when I'm not with him, life is less funny," Buckley said.
When it comes down to it, the two truly enjoy each other's company.
"They're a couple of goofy guys. They just like to sit around, laugh and have fun," Merkle said. "It doesn't even have to be a joke, and Jaden will start laughing. Then Byamungu laughs. And then you're like 'Well, what's so funny?' The part that's funny is just them having fun."
Donate to West Side Story