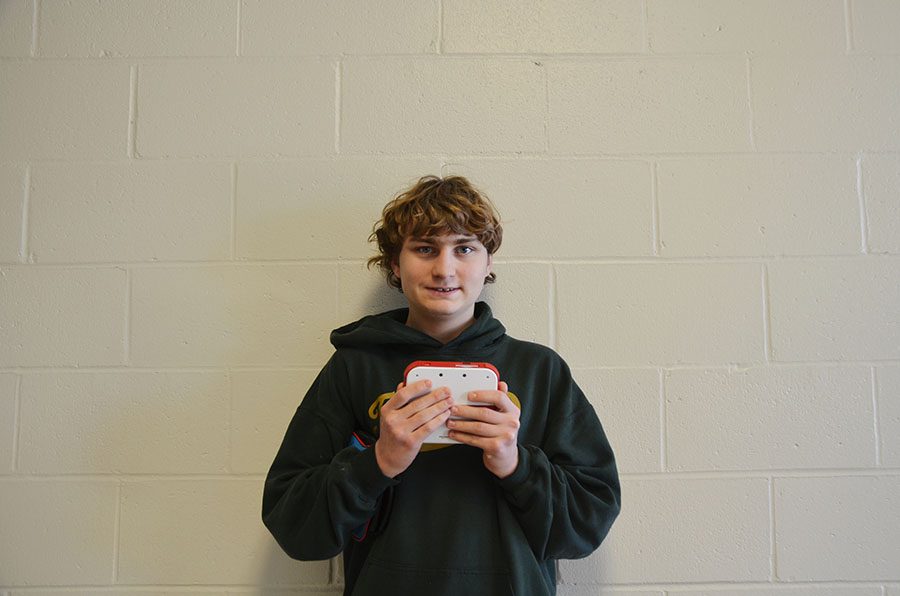 Lucas Locher '21
In a world that is sometimes only skin deep, not everyone notices the hidden depths of Lucas Locher '21. With a passion for comedy, community involvement and all things gaming, there's much more to him than meets the eye.
A cheerful presence both in the classroom and in the hallways of West, Lucas is involved in multiple student activities, including his class' weekly recycling and newspaper delivery programs.
"I like Best Buddies because they get to plan a lot of fun things," Lucas said. "I really liked the drumming thing, for one. We played during a basketball game at the end of the year and did a talent show. Performing is my favorite thing to do with the Best Buddies."
Haverkamp says the talent show is one of the biggest events the club puts on and helps showcase each buddy's individual talents.
"[The buddies] work all year in the class to perfect their acts," Haverkamp said. "It's just so much fun to watch everyone perform and hear the applause from the audience."
Known among his friends as a fan of deadpan humor, Lucas put his jokes to the test at last year's show, performing a stand-up comedy act. For comedic effect, Lucas completed his whole performance while wearing a bright red clown nose.
"I thought [the act] was the funniest thing in the world because he has such a dry sense of humor that his joke delivery was [hilarious]," Haverkamp said.
When he's not cracking jokes, Lucas dedicates his time to mastering various board and video games. Some of Lucas' favorites include Minecraft and Mario Kart.
"Video games are a lot of fun. They can make me feel like I'm in a different world," Lucas said. "They give me some time to myself, so I can be alone."
Bonding over a shared love of gaming, family board game nights have become the preferred method of quality time for the Locher siblings.
"With my brother and sister, I like to play board games like Monopoly," Lucas said. "Other people should try [game nights] because they're a lot of fun and brought me and my siblings together."
"When we [play games], it's almost always Apples to Apples," said Lucas' sister, Ava Locher '19. "Lucas always cheats, though, by taking green cards out of the bin and sorting through the red cards for the ones he wants."
Despite the occasional Apples to Apples-related dispute, the Locher siblings have a tight-knit relationship.
"I think their bond is just great," Merkle said. "I've seen them cracking a lot of jokes together. His sister Ava is a [Peer, Assistance and Leadership (PAL) member] and is always in here at our Friday Fun Days."
To Ava, the decision to join the PALs and Best Buddies programs was simple. Seeing the impact the organizations had on her brother gave her motivation to lend a helping hand to others in his situation.
"To my family and me, Best Buddies is a place where Lucas can make friends and grow and learn," Ava said. "At Northwest, it was hard for Lucas to keep up and make friends because the program wasn't as involved in the school as Best Buddies is here."
Lucas has already achieved a tremendous amount during his time at West, and he still has big dreams for what his future may hold.
"In the future, I want to go to college," Lucas said. "I'd like to stay in Iowa and study chemistry, which I've always wanted to try out but haven't had the chance to yet."
Although he has yet to delve into the world of chemistry, Haverkamp says Lucas already carries the investigative qualities of a true scientist.
"He's always really curious and likes to know how things work," Haverkamp said. "He's also super observant. Any day that I don't wear my glasses, I walk in, and Lucas immediately is like, 'You forgot your glasses today.'"
Through his extensive service to his school and irrepressible sense of humor, Lucas displays kindness and exuberance to all he meets.
"Lucas is just a great kid. He's fun to be around. The first thing I thought when I met him was, 'I'm going to have a good time with this guy,'" Merkle said. "As I've gotten to know him more, my view of him has only gotten better."
Donate to West Side Story