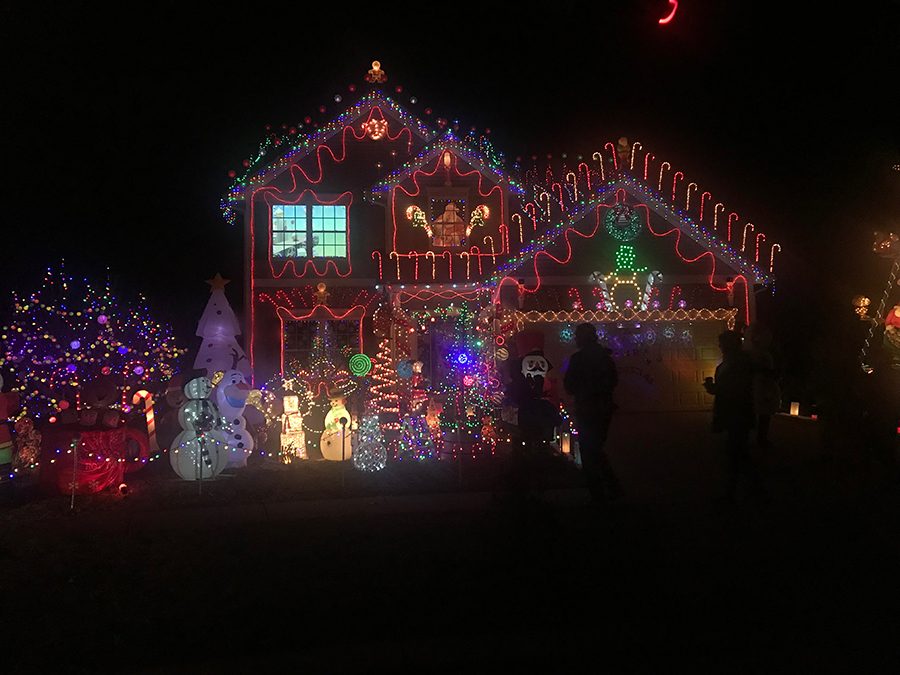 Photo courtesy of Abby McKeone
Merry and bright
For these families, creating holiday displays is far more meaningful than mere decoration.
December 29, 2018
He sits in his favorite chair in the house, a gray recliner that has been with him as long as he can remember. Cars stream by his house, slowing at the display in his yard. Families get out of their cars to see the 18-foot Grinch, giant gingerbread house and other inflatables shown on his snowy lawn. Kids smile against the car windows and neighbors observe his extravagant display, making this 18 hour set-up worth it.
For Kent Smith, Christmas is more than just his favorite holiday, it's a chance to give back to his community. His yard is lined with inflatables of all sizes and a big tree strung with lights. Smith has set up decorations for 24 years in a row while also displaying decor for other holidays such as Halloween, the Fourth of July and Thanksgiving. The tradition began a few years ago when a neighbor encouraged him to do a display.
"When we moved in, [my neighbor] told me the neighborhood needed a big display to draw the people in, so I went big," Smith said.
Lorrie Crandall, a resident of North Liberty and another extravagant decorator, also puts her all into creating an elaborate holiday display. Before she designed her intricate array of ornamentation, hers was like any other house with a few decorations and lights. As the years passed, she found inspiration from the luminaries in Coralville and the enthusiasm found in her neighborhood, resulting in a pile-up of decor.
She and her husband spent three full weekends dressing their house in lights and decorations. Due to the growing fame of her display, her home has been pegged "The Gingerbread House" of North Liberty due to her many candy-like decorations.
"We usually look for anything candy or gingerbread-related for the Christmas display and we do make several things as well," Crandall said. One decoration called the "In-Santa-Tree" is constructed of PVC pipe.
Smith has hundreds of decorations, most for Christmas. A tree in his front yard is one of the highlights of the display, consisting of more than 45 strands of lights and requiring eight hours of work alone. For other holidays such as Halloween, Smith dresses the tree in orange lights, creating a giant pumpkin. His other Christmas decorations include 22 inflatables, one being Ralphie from "A Christmas Story."
"
When we moved in, [my neighbor] told me the neighborhood needed a big display to draw the people in, so I went big"
— Kent Smith
Smith said he loses about 20 percent of his lights each year to weather damage or technical problems, which adds to his budget of $600.
As to be expected, there are complications with setting up their displays. Some can be as minor as lights not working or the location of a decoration. Other factors such as weather conditions, motivation to set up the display or animals damaging the decor can also affect their displays.
"One complication is the set of lights that test OK, but stop working once they are in place," Smith said.
Others can be more dangerous, such as the use of ladders or even legal matters involving theft or complaints.
"One year we looked out at our display one morning and noticed footprints in the snow," Crandall said. "Someone had stolen our beloved blow mold Santa that we got when we were first married."
Crandall contacted the police and her Santa was returned to her a few months later. The incident resulted in an accumulation of Santas due to many donations from neighbors and friends.
"The next day our doorbell rang and a neighbor left us a replacement blow mold Santa that she had bought," Crandall said. "Our neighbor found some Santas at a garage sale and bought them for us. A friend brought over another, and soon we were overrun with blow mold Santas."
Although Smith has never encountered any problems with theft, he does worry about the congestion of cars that fill the streets.
"I live on 12th Avenue, one of only three streets that cross over the interstate. I have to be very careful about the congestion I cause on 12th Avenue," Smith said. "I was told by a city official once as long as I kept it simple and didn't add any animation to the display I won't be bothered."
Although putting up the number of decorations Smith and Crandall have may seem excessive to some, they bring warmth and joy to many during the holiday season. With people like Smith and Crandall, a close-knit community is formed, paving the way for holidays that are merry and bright.