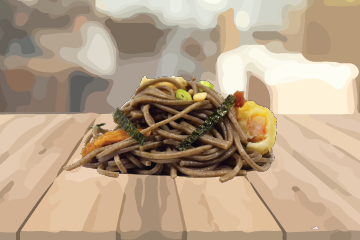 Soba (Omisoka)
Each person often has a unique way of ringing in the new year. Hanah Kitamoto '22 does so with buckwheat noodles, called soba, and a quarter-day-long TV program.
Like many other Japanese individuals, Kitamoto cherishes Omisoka, a Japanese New Year celebration that takes place on Dec. 31. One part of the celebration is a six-hour-long TV program in which several song artists perform; another is soba.
"Since this is a type of noodle that is really long, it's wishing for a long life, and if you eat it on Dec. 31, which is Omisoka, it makes you live longer," Kitamoto said.
Soba, thus, carries a deeper meaning relating to these Japanese values.
"This holiday's basically a pretty big deal in Japan, especially because people in Japan really emphasize the new year and starting everything new," Kitamoto said. "It's really a time of year where a family just gets together, and even if it's a small family, it's really nice because you get to make the food together and just spend time together."