Equity actions
February 22, 2019
Recruitment and retention
Addressing the lack of minority teachers in the ICCSD is a process that has yet to be completed. While the most obvious solution is to hire more teachers of color, this is easier said than done, as the district prioritizes hiring teaching staff that come out of Iowa colleges and universities. Because the people graduating from these institutions are primarily white, this is reflected in the teacher candidate pool.
Ramey intends to announce a plan to the ICCSD school board on March 12 regarding how he and his committee plan to increase teacher diversity. This proposal includes components regarding both recruitment and retention.
"It's one thing to recruit and hire people to come to the school district, but if we can't offer a rewarding experience inside the schools, people aren't going to stay in the community," Ramey said. "[We're] looking at recruiting differently and in different places, and also … creating pathways for people that are already in the school district."
One school that has experienced greater success attracting teachers of color is Kirkwood Elementary. They have the most diverse teaching staff in the ICCSD with 24 percent of their teachers being teachers of color. Principal Anita Gerling says this is largely due to word of mouth, reaching out to colleagues and networking.
"A diverse staff means many things," Gerling said. "It means race, it means gender, it means how much experience you have. You want some new ideas, some new people just out of college, you want some people who have some experience in the classroom, [and] all of those pieces play a part in who I bring to the table to interview."
Because it is difficult to attract certified teachers of color to the ICCSD, one initiative Nasafi would like to see developed is incorporating more adults of color into the building to mentor or work with students, whether that be paraeducators or other support staff.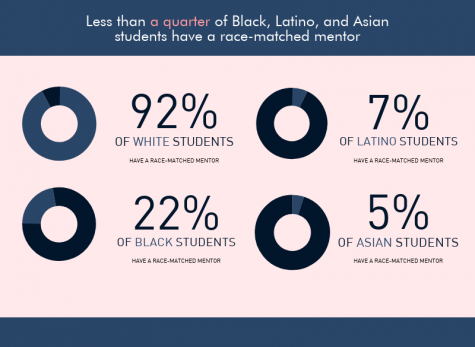 "We've got more and more of those people in the building, and a lot of them have been really helpful with the kids," Nasafi said. "If you can't get certified teachers because there's a paucity of them, why not get as many other adults to interact in the community as you can?"
Gerling follows the mirrors and windows philosophy. This idea states that children should see individuals that look like them, as well as those who reflect the world around them.
"I think that not only does [having minority teachers] support our students of color, but it also supports our Caucasian students as well, because that's a window for them," Gerling said.
According to Nasafi, the mirrors and windows philosophy can also be applied to reading materials. One of his goals when teaching fiction texts is to utilize works that represent the lives of people students can identify with.
"There's been a big push in language arts to make classrooms as culturally inclusive as possible," Nasafi said. "Kids are just more likely to get engaged when they're reading stories that connect with them."
Improving the existing environment
Due to the current hiring freeze on teachers as a result of budget cuts (see story on pages 8-9), the district temporarily cannot employ more teachers, so Ramey's plans will be put on hold. In lieu of hiring additional minority teachers, the ICCSD has focused on equity initiatives aiming to improve teacher awareness and student interactions.
Tabor believes that training existing staff to be more approachable to minority students is perhaps more plausible than focusing on finding minority teachers.
"We're not going to all of a sudden create this flow of minority teachers that will come in," Tabor said. "That's not saying that our current teachers are ineffective, but we just have to continue to expand everyone's skills across the district to make sure that we're doing the best thatwe can to support our students."
"
We just have to continue to expand everyone's skills across the district to make sure that we're doing the best thatwe can to support our students."
— Jeremy Tabor
This mentality has been implemented through implicit bias training for all teachers across the district. Circe Stumbo, founder and president of West Wind Education Policy, is the designer of a three-year training process that worked with the district to train teachers to guard against implicit biases.
"The intention is to better understand why we have racial disproportionality in student experiences and student outcomes," Stumbo said. "One of the hypotheses is that implicit racial bias might be playing a role in underlying the disproportionality we see."
The teachers undergo 10 hours of professional development training over several months. During this, they talk about race, discuss implicit bias as a cognitive function and work to develop their understandings of personal biases.
"This is a program that's designed to help us understand the bigger stories and history around race in the United States and how that impacts us today," Stumbo said. "It really is the work of saying, 'What do we encounter every day as we live here in the United States, and how does that affect us in ways that we don't realize?'"
However, students like Moffett are doubtful that items like implicit bias training will produce tangible change. In her opinion, racism is an issue that won't be solved solely by a required course.
"It's going to take time and patience," she said. "And you have to want to change, whereas some of these teachers, I don't feel like they want to change."
"
We should be working towards understanding, acceptance, empathy. True inclusion is you don't even recognize the word inclusion because everybody's part of it."
— Nate Frese
Diversification is an ongoing process that, while lacking a clear solution, is becoming more of a priority. Frese believes it is important to note the difference between tolerance and acceptance as the district continues to strive towards equity for students of all races.
"You hear the word tolerance all the time, but it's not about tolerance. You tolerate a cold. You tolerate things that are an annoyance to you. We should not be working towards tolerance," Frese said. "We should be working towards understanding, acceptance, empathy. True inclusion is you don't even recognize the word inclusion because everybody's part of it."