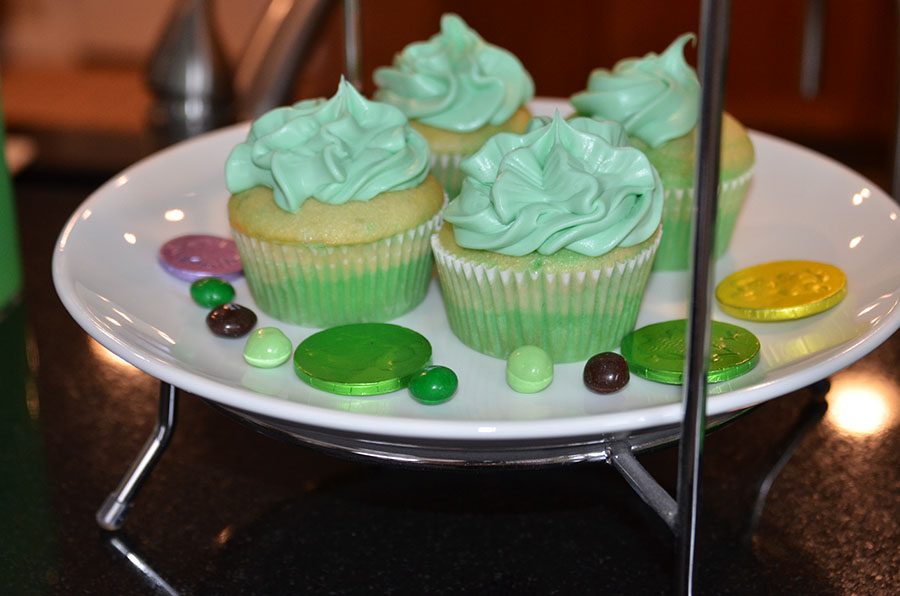 Green ombre cupcakes
Try out a new take on the standard vanilla cupcakes with green ombre St. Patrick's Day treats.
March 17, 2019
The longest and most complicated of the three recipes, green ombre cupcakes, takes more time than the rest, despite being simplistic in nature. This treat will appeal to a wide range of palettes while still keeping up with the spirit of St. Patrick's Day.
Ingredients:
Vanilla cake or cupcake mix

Three eggs

Green food coloring

Vanilla icing
Directions:
Pre-set the oven to 350 degrees.

Gather three eggs, ⅓ a cup of vegetable oil and 1 ¼ cup of water and mix with the cupcake/cake mix.

Once the mix is well blended and has no flour chunks in it, pour it equally into three different bowls.

Add five drops of green food coloring to one bowl in order to get a light green color.

Add 10 drops of the same green food coloring to a second bowl in order to gain a darker green color. If you want the green in this one to be darker, simply add more food coloring to it.

Take out a cupcake pan and add cupcake liners.

Pour enough of the plain white batter into a cupcake liner to completely cover the bottom of the paper.

Pour the light green color over the white color in the pan, t

hen pour some dark green batter over those.

Take out a stirring material (we used toothpicks) and swirl the batter in the cupcake liners a little bit. Do not swirl too much so that you can keep the swirly look to the completed cupcakes.

Put the cupcake tray into the oven for 15-20 minutes or until brown around the edges.

Icing is optional, but if you prefer it, then you can buy pre-made vanilla icing and add green food coloring to it, or keep it simple and only use vanilla icing.