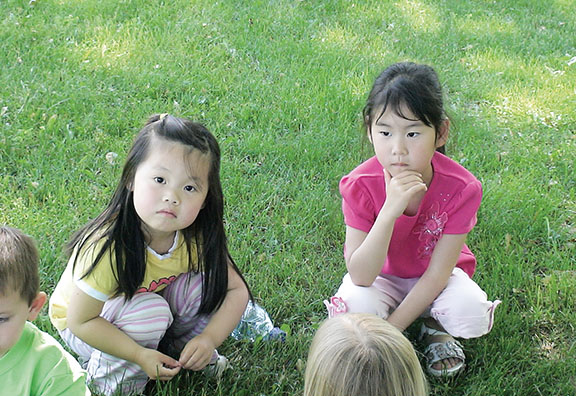 ASS: Asian Squat Squad
The dry, arid climate sucked the moisture out of the individuals that lurked across the sandy fields. The young girl grasped onto the plastic rim and gripped until her knuckles turned white. She was met by fierce opposition as another girl firmly held onto the other side. Sparks flew between the two and their sharp glares, neither side willing to give up their prized possession.
"Lydia, Lily, sharing is caring!" the preschool instructor said, while gently taking away the sand bucket from the two pouty four-year-olds.
The two of us met at Montessori Children's Garden, with a strong dislike for each other. One particular lunch period, the preschool served up string beans, one of our least favorite foods. Not wanting to waste the green vegetables, one of us (Lily) turned to the other (Lydia), forcefully dumping the whole, soggy pile of greens onto the other's plate. She (Lydia) was absolutely flabbergasted but reluctantly accepted the green beans and didn't say a word. That was the start of our peculiar relationship.
Despite not attending the same elementary school, we often saw and were pitted against each other in piano competitions. Dressed in lace skirts and uncomfortable black flats, we wished each other good luck, gritting our teeth to form plastered, artificial smiles. Whether it was Chopin, Prokofiev or Bartók, we had to outdo the other. We never thought we'd ever end up being close, much less best friends.
But alas, we reunited in junior high and entered a situation the two of us had only heard of in teen dramas: next-door neighbors. While there were no cup and string makeshift telephones or daily sleepovers, we bonded over our dog walks and shared hatred for spiders. We found a friend group we both felt at home in and thought we would stick together throughout middle school and high school.
However, that didn't happen — we were much too naive and idealistic. Our homely little friend group was bombarded with meddling that quickly escalated into larger disputes. We began focusing too much on our differences rather than the things that brought us together. Naturally, it seemed like people were growing apart as everyone tried to find their own identities and goals for the future.
But as we learned, changing friendships are natural. Even though we thought our friendships would be everlasting, through the years, we've met new people and lost touch with others. We've become friends with people we never expected to be close with due to our varying personalities and interests. Staying open-minded can lead to new, valuable experiences with unique individuals. Yet at the same time, realize who the real ones are, the friends who are genuine and trustworthy. Accept the fact that there are snakes and people who don't care about you, and simply cut them out of your life. Time spent trashing certain individuals should be used with people who truly respect and love you.
On this note, while some people may come and leave your life, treasure those who've stayed. Even if you were past competitors, or force-fed each other nasty string green beans, the fact that you're able to share those memories and now look back to laugh at them is extremely precious. Instead of gossiping about the one preschooler that pushed kids into the sandbox, our conversations have shifted into intellectual debates over the pros and cons of ordering half or no sugar for boba at Teamo. Even as we walk our separate paths now soon entering college, we know the Asian Squat Squad will live on forever. And that's something very special.
– Lydia & Lily <3 #beensquattingsince2005