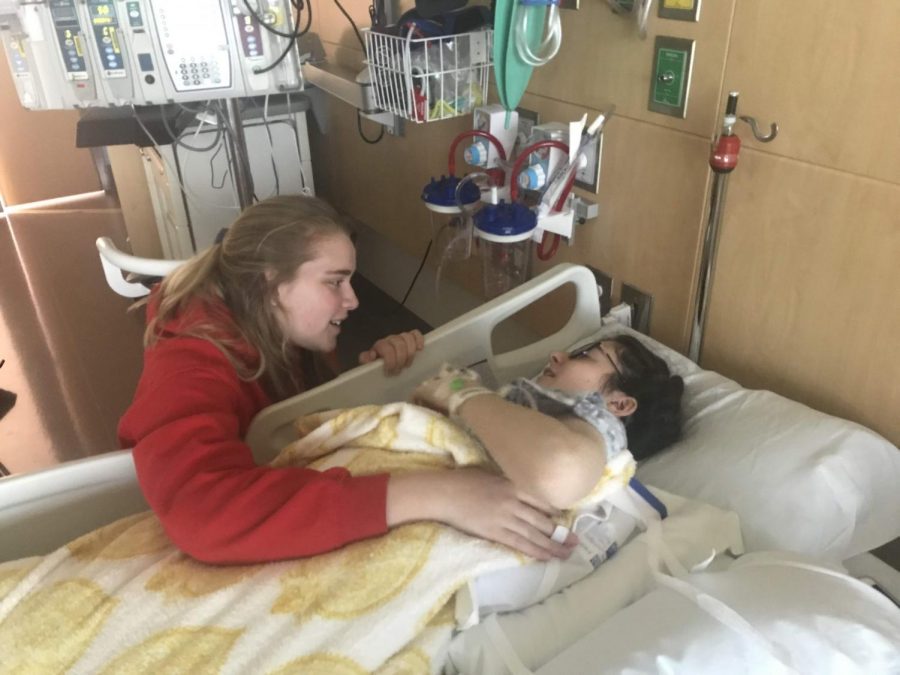 In the hospital
September 30, 2019
In spinal fusion surgery, DeGrazia had two metal rods inserted and screwed into the sides of her spine. The spine is pulled into place, which leaves some holes that are filled with cadaver bone. 
DeGrazia's surgery lasted four and a half hours and required several blood transfusions. She stayed in the hospital for 5 days. 
During her stay, she had to relearn "basic human things", as DeGrazia put it. Two days after the surgery her nurses made her walk, which DeGrazia describes as a difficult, but necessary requirement. 
"You don't want to [walk] and it hurts, but they make you do it because you have to get moving as soon as you can," she said.
Even once she could walk, it was difficult for DeGrazia to move her neck and arms. Eating was difficult because she never felt hungry and when she did eat she had to be fed by a nurse. The combined loss of appetite and stress led DeGrazia to lose 10 lbs. The nurses also had helped her use the restroom and a physical therapist helped her move and get into a chair.
More pleasant memories DeGrazia has from the hospital are the visits from friends. She also chose to share some snapshots of her time at Stead Family Children's Hospital on her Instagram stories to those who were trying to contact her online. 
"I know that there are a lot of people at school who were thinking about me, which was super nice, and they wanted updates [but] it was getting problematic to have to get in contact with people individually," Degrazia said.
Since she was on a lot of medication and wasn't able to move, social media was a simpler way to update friends that were thinking of her. 
"
Because it's such a personal surgery, so little is shared about it and I think it's really important that people know that this is a thing [and] it's okay to show yourself when you're vulnerable"
— Maia DeGrazia '20
Beyond staying in contact, it was also important for her to share because she didn't want people who have scoliosis to fear surgery if it was potentially in their future.
"Because it's such a personal surgery, so little is shared about it and I think it's really important that people know that this is a thing [and] it's okay to show yourself when you're vulnerable…" DeGrazia said. "I want my social media to reflect who I am, unfortunately, this is part of it. I'd obviously prefer if I'd never had scoliosis in the first place, but I can't deny that it's part of who I am either. Especially with it being so impactful on my life."