Summer
February 13, 2020
While her peers spent the summer with family and friends everywhere from the pool to other countries, DeGrazia was recovering, isolated and in pain. Watching everyone's summer unfolding on social media, DeGrazia felt like she was missing out. She became more lonely and every day felt the same.
"When I was becoming more conscious and more aware of what was going on, when I was getting more bored more easily and also a little bit more depressed about having to be inside and just about the situation, was also the time when people visited me the least because it was later after my surgery," DeGrazia said.
One visitor that kept coming back was City High graduate Claire Green '19. Green and DeGrazia's experience with scoliosis has several parallels. Both had an S-shaped curve and had the spinal fusion surgery performed by the same doctor the summer preceding their senior year. In a way, Green has served as look into Maia's future, as well as proof that the pain DeGrazia still feels will come to an end.
"I'm a year ahead of her. I'm a year into her future," Green said.
Because Green had been in DeGrazia's place, she wanted to be there to support her.
Friends and family could see the pain, but Green knew it and could remember it when she saw DeGrazia.
"I wanted to be there and it helps to have someone who kind of knows what you're going through there with you," Green said.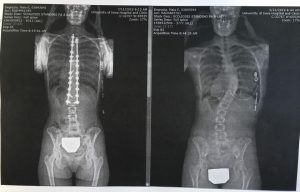 DeGrazia spent a lot of time sitting in a recliner in her family's piano room. During the summer it served her recovering room.
"We have a grand piano [and the room] has a big picture window," DeGrazia said. "So it's just a beautiful little area for me to sit in and feel good because I'd be sitting a lot. And I would just sit in that chair all day."
Her older brother Mason DeGrazia '18 played music for her when he was home from college, which meant a lot to DeGrazia because she couldn't play piano herself. Her parents were also very important in her recovery. Her mom slept in her room for a while after surgery because DeGrazia couldn't turn herself over in bed.
The beginning of July was the most difficult time for DeGrazia.
"I was really, really struggling to stay happy and positive because … you're in so much pain, you can't imagine yourself not ever being not in pain again, like I did not remember what it felt like to just be able to sit and not be in pain, or to lay down and not be in pain or to breathe and not be in pain," DeGrazia said.
DeGrazia continued gaining strength and mobility. She tried to walk up the driveway once a day and she went upstairs to reach her bedroom. Towards the end of the summer, DeGrazia was able to do more. Two months after her surgery she helped at her mother's summer camp.
"I wasn't seeing improvements day to day, but as the weeks went on, I realized I'm kind of seeing improvements week to week. And it was it was just hard because I really want instant gratification and so going about my day like not feeling like I've succeeded, feeling like a failure because I can't do normal human things, like get myself a glass of water or go to the bathroom on my own was super, super demoralizing," DeGrazia said.