The Iowa caucuses through the eyes of students
For many West students the Iowa caucuses marked their first time participating in the democratic process. WSS spoke to students who attended the Democratic caucuses on Feb. 3.
February 7, 2020
Leah Rietz '20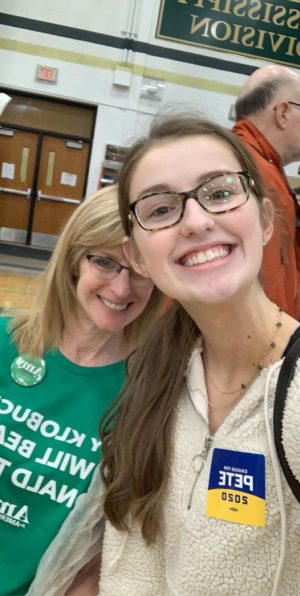 Why did you decide to caucus?
"My mom has been very involved with politics all of that I remember… It was definitely a thing and I've always just admired about my mom. I'd never done it before. I didn't know quite what to expect, but I definitely knew that my vote was important and that the youth needed to show up and show out because a lot of the youth don't think it's important … We have to get that clout factor, that caucusing is cool."
What was the process like?
"I really liked the part where we got to like talk to people and try to get them to persuade to come to different teams, it was a little overwhelming and warm and didn't take quite a while but I didn't think it was ever like annoying or a drag."
Did you convince anyone?
"I did. I convinced people from Yang to come over to Pete section because Yang was not viable after the first alignment… It's horrible, but people are more influenced, if it's a bigger group. So we just kind of stood and surrounded and we trie to look, I don't know, I feel like we just tried a lot of energy as a group."
Why did you choose Pete Buttigieg?
"He's a very charismatic speaker which I really respect about him, especially after the current president. But I do think that he could beat Trump just because he is a little bit more moderate with his political views… I think that he would gain some of the more independent votes and get people to go out and vote on election night and—hopefully cause he's a little bit more moderate than Trump is to the right—vote for the Democratic side so we can get a Democrat in the White House. Whereas [with] some other candidates, I feel like a lot of people just wouldn't show up and vote because they wouldn't want to vote very far left or very far right."
Chris Kim '20
Where did you caucus?
"I caucused at the Hall of Fame near the HTRC. I feel like, especially since I'm not even 18 yet, but I will be 18 for the general, this was a new opportunity to try something new. I thought it would be good to experience it."
How did it meet your expectations?
"All I knew about the caucuses before is that it would be a lot of people in a giant room and it would be really hectic or something. Yeah, it matched what I thought it would be like. There were a lot of people at first. Even while we were parking, there were a lot of cars trying to find parking, people walking towards the entrance. There were definitely a lot of people with signs, too. It was really hectic. When you're in a line trying to get registered or your name registered, there's a lot of waiting that happens."
What was it like during the actual caucus?
"I was with a friend and we just walked in. When we got the presidential card things that you put the names on, we waited well over an hour, an hour and a half maybe, just waiting for them to take our cards and to count up our votes. It was a lot of waiting and really tiring and stressful because I really wanted to go home. But, yeah, it was just a lot of standing around and doing nothing."
Rachel Podhajsky '21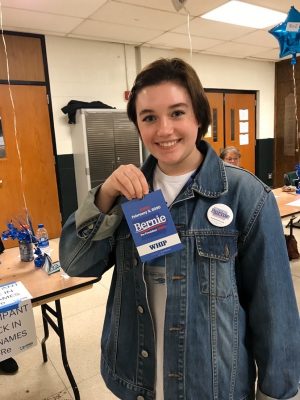 Why did you decide to caucus?
"I didn't really even think about it, I just knew I was gonna caucus because I've been excited to vote for a while. It was my first time being old enough. I'm 17, 18 by voting day."
How did you get involved in like the Bernie Sanders campaign?
"I didn't know too much about him I just knew he was like, the healthcare guy, and the college guy back in like 2016. I was pretty young I wasn't really following it. But when I saw that he was running again I thought he seemed like a cool guy. I went and saw his speech at the State Fair … I also saw him speak downtown and I went to his rally with AOC so I saw him speak a couple times. And there were some volunteers there so they got my name in the Bernie system. I wish I would have volunteered more."
How did you feel about the experience overall?
"I am kind of disappointed about what's been happening with the caucus results. When I was there, I didn't think it was like, extremely disorganized because I kind of assumed that 'oh the caucus has been going on for a while like, I don't know, it's just like my first time here so I don't really see what's going on,' but it did seem a little disjointed, I think, because it was their first year doing the cards, like the written data, which was super important because now they need it because the app filled but it was kind of confusing because I don't think a lot of people there knew that the cards are going to be a part of it."
How did Bernie's group do at your location?
"It was pretty exciting. You needed 79 people to be viable. The first count we had 78. So we weren't sure if we should split up or hope that some of the Andrew Yang supporters came over and we ended up viable in the end. But I think the problem might be because we had you had to write your first choice down on the sheet and then because he wasn't viable the first round, they had to write him again on the second half, and I don't know if everybody did that."
Kevin Lu '21
What caucus site do you go to?
"I caucused at the Hall of Fame off Melrose and Mormon Trek. I was a guest because I won't be 18 by Nov. 3. It was predictable, but the parking was a little iffy because the parking lot is quite aways away from the actual site. There was a super long line and it actually took a super long time for the actual caucus to get started and setup. I went with my dad, it was his first time so he had to get registered and that was kind of a tedious process."
What was your initial reaction to the caucus site?
"There were a bunch of people there, over 500. It was really loud because people were talking about their favorite candidates and what positions they take. I'd say it was pretty crazy, but it was kind of like organized chaos in a way."
"
I'd say it was pretty crazy, but it was kind of like organized chaos in a way."
— Kevin Lu '21
How did the experience compare to your expectations?
"I definitely expected more interactions between the different candidate's [supporters]. Because when I read about the caucus I was like, 'Oh cool, we get to persuade other people to join our camp,' but, in reality, it was mostly just if you go into the caucus having a favorite candidate then you're most likely gonna stay with that candidate. There's not really a lot of time to talk others into joining your camp."
Davis Larson '20
Why did you decide to caucus?
"I was old enough and there's a lot of candidates. And I just wanted to see what the caucus would be like because I've heard that it's kind of crazy sometimes and there's different things going on. I just want to see what it was all about."
What was the process like for you as a first time caucus-goer?
"I didn't really know what's going on, but it's pretty interesting to see how they did it by body count. You are the vote and you could see where other people were.
Katherine Yacopucci '20
First-time caucus-goer and Warren campaign volunteer Katherine Yacopucci '20 vlogged her experience at the Iowa caucuses. The following video is a compilation of the evening through her eyes: