Coping
April 23, 2020
Social distancing is an important part of stopping the spread of the novel coronavirus, but according to the CDC, isolation and potential stress caused by the pandemic can take a severe toll on mental well-being.
"I have no hard data but I truly believe that there are many students and even staff in our West High community that are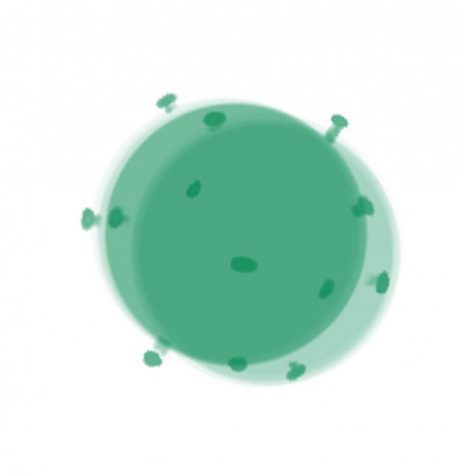 struggling to cope with the feelings of isolation, depression, anxiety, anger or other types of stress and do not have the support systems in place that they may need or want," said Special Education teacher Rick Hancox.
In the face of all the fear and anxiety that comes with this period, students and teachers have been working hard to stay positive and spread joy.
During a regularly scheduled school week, Hancox leads circle talks: structured conversations designed to promote connection, understanding and dialogue within a group. Now that school has gone optional and digital, so have circle talks. Hancox has conducted six since the beginning of quarantine.
"Human beings are social creatures and the need for human contact and communication is important for our mental and emotional health. In this unusual time of forced isolation and social distancing it is important to continue to connect with people as much as possible," Hancox said. "Circle, even a virtual circle, provides the space for everyone to speak, express themselves and to be heard."
Teachers at West have also been using social media to stay connected with students. On March 26, the science department posted a compilation of teachers waving to students as they go throughout their day in quarantine. Jenny Eustice, who teaches AP Biology, started the challenge at West.
"An acquaintance of mine, and friend on Facebook, is a video production teacher on the East coast. He and his friends made a similar video in early quarantine and shared it on social media," Eustice said. "We are a really big staff at West, so I wasn't sure I could manage getting everyones videos, but departments seemed manageable, and I thought it could be fun to 'challenge' other departments as well."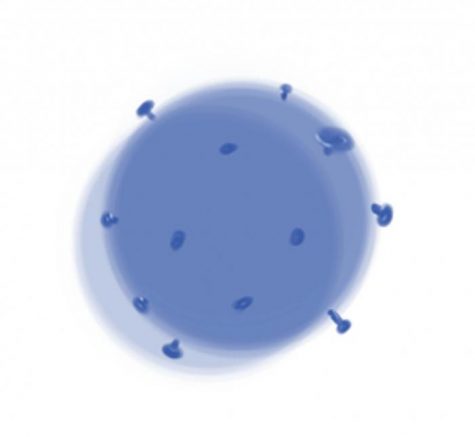 After the science teachers posted their video, other departments at West accepted the challenge, with waving videos from the English, math, social studies, ELL and special education departments.
For Eustice, spreading positivity and remaining calm is important.
"I have two young kids, and if I am running around scared, nervous, and upset, they really feed off of that, so I have to maintain positivity to help them keep a sense of normalcy," Eustice said. "I also think that the people in positions of influence: teachers, coaches, leaders have a huge responsibility in how they react when things go wrong. Are we looking at this as a challenge or an opportunity? A simple shift in mindset can do wonders."
However, with all the cancellations of events due to the spread of COVID-19, sometimes keeping a positive outlook can be difficult. Kaitlin Lamkins '21 was already getting ready to pack for her first time out of the country, the annual school trip to Spain, when she found out the foreign language trips had been postponed.
"I really wanted to be able to see Spain because my mom graduated from West and went on the trip when she was in high school, so I wanted to see it too," Lamkins said. "We were going to see a lot of the same places so it would have been really cool."
There are two options for Lamkins, and many others whose trips have been canceled: contact the travel agency and attempt to get their money back, or go on the trip next year. As of now, Lamkins is still deciding what to do.
"I could tell the trip would have been really weird and different," Lamkins said. "This way it gives us a chance to go when things are really good again."
While Lamkins was getting ready for her flight overseas, Raymond Yang '20 was preparing to run the marathon he had been training for for months.
"The consequences of it never really hit me until a couple hours later, I realized like four or five months of training had been basically wasted," Yang said. "And so, after that, I basically just lost all motivation to do not only running but schoolwork, just basic activities during the day."
Upon hearing about the cancellation, Yang was ready to give up, but his friends wouldn't let him. They set up a time and biked alongside Yang as he ran a solo marathon in Iowa.
"When it did happen, my track friends texted me like 'You're not gonna get away with this. We're gonna make sure you run it. You've been working for so long. You deserve some kind of credit for it,'" Yang said.
Others have been working to keep a positive outlook by offering help to those in the community that need it most. Monica Leo founded the local Eulenspiegel Puppet Theatre in 1974. Since COVID-19 hit, she's been making masks for the community with a unique twist. Leo makes her masks out of puppet and doll-making material.
Leo had originally planned on donating her masks to the hospital, but regulations requiring masks be made in a pet and dust-free environment prevented her from donating. Instead, Leo has been handing out masks throughout the community.
"We're all responsible for each other, so whatever we can do to help each other out is important. 'No man is an island' as they say," Leo said. "It's important to stay as positive as you possibly can. Lift your own spirits."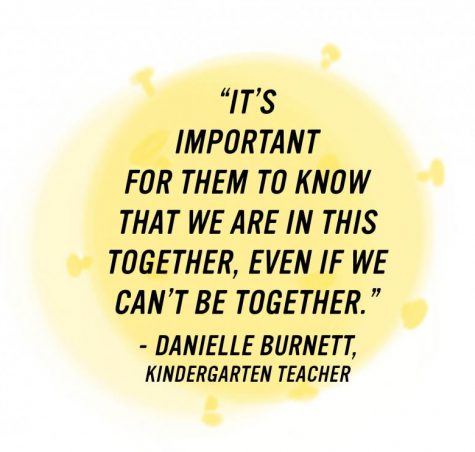 In the spirit of positivity, Danielle Burnett, a kindergarten teacher at Wickham Elementary, suggested and helped plan a staff car parade in the school's surrounding neighborhood. Teachers decorated their vehicles and honked their horns, in order to obey social distancing guidelines.
"We had a wonderful turnout. Many families were sitting outside waiting for us and had signs ready," Burnett said. "Students were very excited to see us; I think some of them were a little shocked to see their teachers out in public."
Burnett believes it's important to send a unified message of positivity to the community.
"It showed our students that we care deeply about them and that we are a community of learners both inside and outside of school," Burnett said. "It's important for them to know that we are in this together, even if we can't be together."