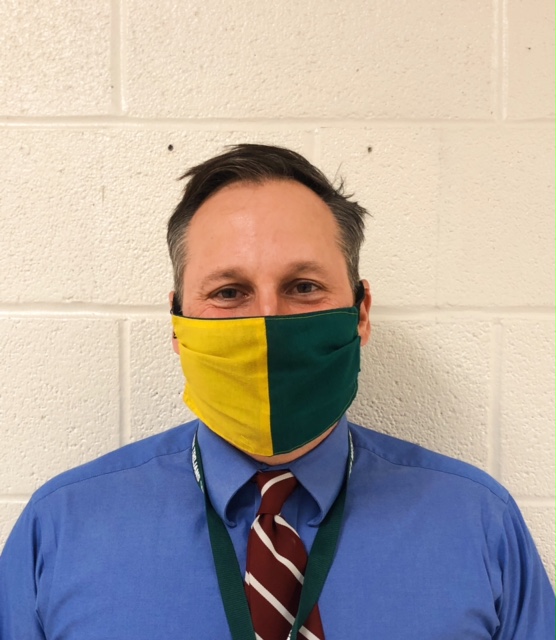 Mitch Gross
Some say he doesn't look like the typical first-generation American, but that's exactly who he is. Principal Mitch Gross grew up in Grinnell, Iowa as a child of an immigrant mother and a father who was a factory worker. When he was in seventh grade, he went to work with his father in the mornings since his workplace was across the junior high school he attended. One morning, his curiosity got the best of him, and he asked his father to show him around his workplace.
"[My dad] said, 'I'm never going to do this again because this is the only time I ever want you to be on the floor of a factory.' That was a pretty important moment for me, and I appreciate my dad making that point with me," Gross said. "My dad worked harder than anybody I've ever seen or known or I've ever met for not a lot of money. I saw the crazy hours that he had to work and how hard he had to work."
After that moment, Gross was inspired to pursue his dreams of becoming the first person in his family to ever attend college, but it wasn't going to be an easy task. With a lack of mentors to guide him through the college application process, he faced lots of barriers and pressure to succeed as he felt that he was carrying his entire family's legacy. 
Despite the challenges Gross experienced, he was able to attend Ripon College, where he continued to explore his passion in economics and political science. He then went on to work in government and politics at the state and national level for a couple years while also coaching the tennis team of a high school in Des Moines. At one point, the season conflicted with the Iowa legislative session, so he chose to focus on his political career. 
Not long after his decision, however, he realized he missed coaching and decided to pursue a career in education. Gross started coaching the West High boys tennis team in 2001 and shortly after started teaching at West. He taught history and government classes before transferring to become the assistant principal at Northwest Junior High. During his time there, he worked to be a positive influence in students' lives.
"
I think one of the things I learned about junior high and that I really enjoy is that there's a malleability of a student in that we really are able to kind of get them on a good path.""
— Mitch Gross
"I would argue seventh grade might be one of the most pivotal years that a child has; going from elementary to the secondary process, it's a real moment," Gross said. "I think one of the things I learned about junior high and that I really enjoy is that there's a malleability of a student in that we really are able to kind of get them on a good path."
Gross made the difficult decision to leave his teaching position to become an administrator based on the fact that administrators can have a further impact schoolwide. He believes that his experience as a teacher for over a decade allows him to fully understand the highs and lows of the teaching profession and how to be a better advocate for teachers and students. 
"I always try to be a champion for my students," Gross said. "But I also feel like teachers probably now more than ever need a champion and need an advocate."
With the experiences that he has overcome and the influence that he has, Gross wants to ensure that first-generation students do not have to go through the same barriers and shoulder the same burdens that he did. This goal is not limited to West High, as he tries to help as many students as he can. In his freetime, Gross volunteers as the academic mentor for the men's basketball team at the University of Iowa. He is able to help guide these first-generation college students throughout their next few years and help alleviate any pressures or burdens that they may experience.
"
The most important thing to me is making sure that every student has the opportunity and is presented with an unburdened path to achieve their dreams."
— Mitch Gross
"The most important thing to me is making sure that every student has the opportunity and is presented with an unburdened path to achieve their dreams," Gross said. "Both of my parents have passed away, but I wish so [badly] that I could tell them that I ended up the principal at West. I saw how they struggled, and I saw how they made education a priority for me, and they would just be very proud of me. That's why I want to make sure that every kid here has that opportunity. If there is a barrier that's in the way of presenting a kid from achieving his or her dream, I need to know about that, so I can work my darndest to remove that barrier."