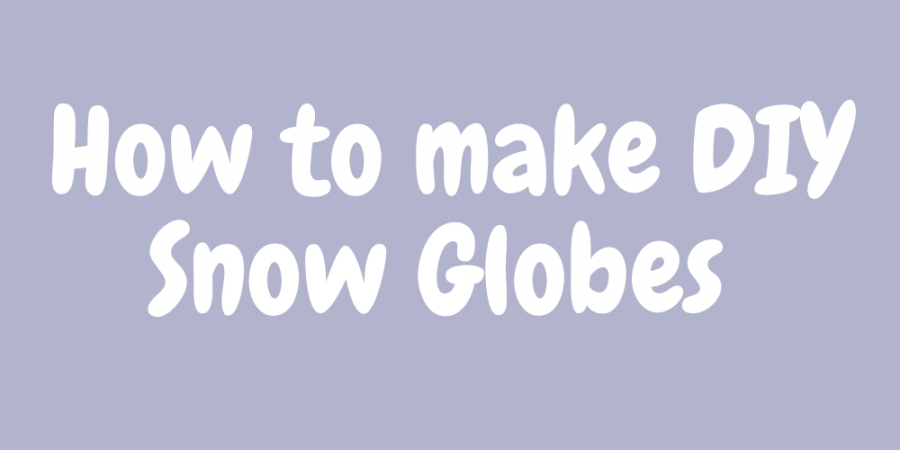 How to make DIY snow globes
Get creative with making your own snow globe. Create your own magical winter scene with these five easy ideas.
Jar snow globe:
Supplies: 
A glass jar
Artificial snow
Hot glue gun and glue
Mini trees, snowmen and whatever else you want to add
Optional: spray adhesive
Optional: Glitter
Optional: Glitter blast or white spray paint
Instructions: 
Remove the lid and paint them with the spray paint or glitter blast spray (optional).

For extra pizazz, spray trees and snowmen with spray adhesive and sprinkle glitter on (optional)

Glue your trees, snowmen and anything else you want to add to the lid.

Fill the jars with just a little snow, enough to cover the bottom without burying the snowmen and trees.

Screw the lid back onto the jar and you're done.
Plastic cup snow globe: 
Supplies: 
Clear Plastic Cup
Mini trees or figurines 
Hot glue gun and glue
Wood plaque and knob or some kind of base for the cup
Optional: Acrylic paint
Instructions:
Paint the wood base and knob with the acrylic paint of your choice.

Once the base is dry, add your figurines and embellishments by gluing them down.

If you have the wooden knob, glue it to the top of the cup.

Put some fake snow into the cup and put glue around the edge of the cup.

Use the wooden base as a lid and stick it on top. Once it's secure, turn it over to let the glue dry completely.
Mason jar snow globe:
Supplies:
A mason jar
Fake snow
Hot glue gun and glue
Figurines that will fit inside the jar (snowmen, trees, etc.)
Small white puff balls
Optional: Fishing line
Optional: Needle
Optional: Packaging tape
Instructions:
(Optional) Thread a needle with your fishing line and pull it through some of your white puff balls to create a line. To attach this snow to the lid, using some packaging or sturdy tape and tape it to the lid.

Glue your figures to the bottom of the mason jar or use a smaller lid or cap to add some height to the figures.

Add some fake snow to the bottom of the jar.

Attach the lid and admire your winter wonderland.
Winter village jar:
Supplies:
A jar (preferable a larger jar anywhere from a half gallon to two gallons)
Things to make a village (snowmen, people, trees, buildings, etc.)
Salt
Instructions:
Optional: Spray paint your figurines in metallic colors to make them more old fashioned and vintage.  

Pour the salt into your jar.

Arrange your pieces and create a cute snow village. 
Fishbowl snow globe:
Supplies: 
Glittered Holiday Items (Christmas tree, ornaments, jingle bells, etc.)
Fishbowl
Salt
Instructions:
Make sure your fishbowl is clean, then put some salt in it to make it look like snow. Put in as much as you want until you're satisfied.

Next, put your decorative items inside and play around with them until you're happy with the look.
Donate to West Side Story