World wide web
February 25, 2021
"You're on your phone too much." This classic argument frequently breaks out between caregivers and teens and despite being difficult to accept, may ring true for many members of Gen Z. 
A Business Wire study found that 58% of Gen Zers cannot go more than four hours without internet access before becoming "uncomfortable." As the first generation to grow up entirely in a digital world, the internet has made an everlasting impact on Gen Z's everyday lives. 
Clay Bopp '22 feels the internet has allowed Gen Zers around the world to interact and become increasingly connected. 
"[Social media] allows everyone to be more connected as a whole," said Bopp. "Even though we're all spread across the nation and even in the world … we're all able to collaborate."
Though there are benefits to social media, Gen Z also faces its negative effects.
According to Hiruni Sumanasiri '22, users can create an overly competitive environment by only showing the positive aspects of their lives. 
"[People] may be having bad days … and most people don't want to put that on social media because social media is about happiness," Sumanasiri said. "You're trying to one-up each other, basically."
The social media platform TikTok was the most downloaded app in 2020. With 60% of its users being Gen Zers according to Forbes, TikTok has now become an integral part of many Gen Zers' lives.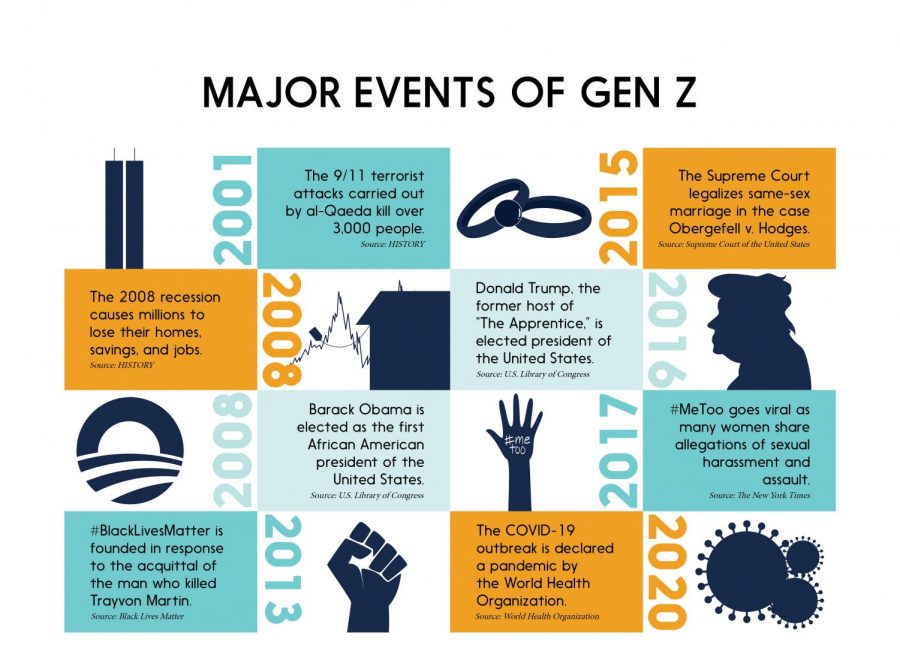 Bopp believes TikTok content is more representative of reality compared to other platforms such as Instagram, which he feels often only showcase the highlights of a user's life.
"With TikTok, you don't have to be funny, you don't have to look pretty," said Bopp. "It's allowed different kinds of communities to come together and make content. It allows you to be more of yourself."
Croco shares similar views. 
"[On TikTok], people are more open and share their struggles, highs and lows of life. Social media has now become a way to share your story and reach out to people all around."
As per the ViewPoint Center, a teen mental health hospital, this authenticity may help destigmatize and raise awareness about mental health issues.
According to Walker, today's social perceptions of mental health have changed compared to her experiences as a teenager.
"I think it's much more socially acceptable to talk about those things," Walker said. "There's not so much of a stigma attached to having mental health issues as there was when I was a youngster." 
However, posting in online spaces leaves users open to harsh judgment. 
The act of online shaming is commonly referred to as "cancel culture." As TikTok influencers and ordinary highschoolers alike are at risk for being "canceled" on social media, Sumanasiri feels its harmful effects can last a lifetime. 
"It's like a person could do a million great things, but then one bad thing defines them for the rest of their life," Sumanasiri said. 
As reflected in social media's hypercritical environment, Proud believes Gen Z's greatest weakness is its judgemental tendencies. 
"Generation Z is hotheaded [and] … very quick to judge," Proud said. "If you don't do something right the first time, we're going to get mad at you."
Instead, Proud suggests people should learn to inform rather than ostracize others.
"If you start attacking someone, the first thing that they're going to do is be defensive," Proud said. "If we … educate them first, then they'll probably be more open to listening to ideas."
While cancel culture can develop on social media, many members of Gen Z simultaneously use it to educate others and take action. According to Dr. Bogdan Vasi, an associate professor researching social movements at the University of Iowa, the widespread use of social media makes it an effective vessel for organizing action.
"What I discovered is that social media has a positive impact on the ability to … organize collective actions [such as] protests," Vasi said.
"
Social media has now become a way to share your story and reach out to people all around."
— Samantha Croco '22
West High alum Nick Pryor '18 is the legislative affairs director for March For Our Lives Iowa, a youth-led organization dedicated to ending gun violence. He has coordinated protests and events since the 2018 Parkland school shooting and often uses social media to his advantage.
"With March for Our Lives back in 2018, Instagram stories were the biggest way for voicing events," Pryor said. "It went from an Instagram story to [having] 300 people at the first walkout in the span of 24 hours of organizing it."
However, Jason Del Gandio, a professor of communications and social influence at Temple University, believes social media can also promote "clicktivism," a form of online activism that requires little effort from the user. 
"[It] can also create a false sense of action. Getting a thousand likes or hearts is not necessarily the same as organizing a thousand-person protest," Del Gandio said. "However, social media activism can achieve change and justice."
Proud is one of many students who intends to make a positive impact through social media. She believes it is valuable in providing Gen Zers with a platform to spread awareness. 
"Using social media to boost awareness about issues is one of the things that I've tried to do a lot on my Instagram because we have this platform and the power to speak up," Proud said.
The extensive reach of these platforms can be used to activists' advantage.
"An idea can now go viral across the globe in a manner of minutes," Del Gandio said. "This collapses the boundaries between cities, states, and countries. It intensifies the need to act." 
Although the globalization of social media has positive impacts, its overwhelming amount of news content may reduce effectiveness. Alexis Njoroge '21, who also posts about social issues on social media, feels it can be a tiresome way of receiving information. 
"When I have the same audience seeing my posts multiple times and multiple people posting the same thing, it gets repetitive," Njoroge said. "I wouldn't be surprised if people are tired of seeing [Instagram] stories … over and over again." Pryor feels social media's constant news refresh can prove just as exhausting.
"One downside with instantaneous news is that you can become burned out super quick," Pryor said. "Every time you open Twitter, it's just like, here is everything that's gone wrong in the world in the last 10 minutes … and you haven't stopped any of it."
This constant stream of often negative news has created a phenomenon known as "desensitization," defined as reduced physiological and cognitive reactions to real-world violence.  
A seemingly perpetual dose of news about school shootings had that effect on Proud. 
"We're so used to [school shootings]," Proud said. "There could be two a day, and we'd be like, 'Oh, did you hear about the shooting?' and then be like, 'Which one?' I hate that, but that's just what happens now."
"
We're so used to [school shootings]. There could be two a day, and we'd be like, 'Oh, did you hear about the shooting?' and then be like, 'Which one?' I hate that, but that's just what happens now."
— McKenna Proud '21
The news coverage on COVID-19 can be similarly draining, with daily reports of infection and death rates. 
"I watch the news every day and am constantly hearing about deaths from COVID," Weitz said. "Sometimes it turns into more of just a number instead of that amount of people actually being dead."
To cope with this constant exposure to negative news, Gen Z has turned to humor. 
For example, following the assassination of Iranian general Soleimani, many may recall whispers of "World War III" and the subsequent avalanche of memes that flooded the internet. Although this behavior may seem insensitive, Bopp believes it serves as a method of dealing with feelings of anxiety and helplessness.
"Our generation copes by trying to take the edge off with making memes and jokes," Bopp said. "[They] make it a little less dark and dramatic." 
Weitz also believes memeing is something Gen Z bonds over. 
"Memes are the language of this generation," Weitz said. "It's not a bad thing, and I do feel like it's how a lot of us express ourselves."