Reshaping history
February 25, 2021
From record-breaking youth voter turnout in the 2020 presidential election to claims that teenagers' viral social media posts helped sabotage a Trump rally in Tulsa, Oklahoma, Gen Z's influence on politics only grows as they age. 
According to The Center for American Progress, the voting power of Gen Z and millennials is expected to equal that of all older generations combined as soon as the 2024 election. Courtney Juelich, assistant professor of political science at the University of Wisconsin-Stout, says this means neither major political party should ignore young people's interests. 
"Should a party work on mobilizing around youth issues, they would pull in a very important voting base," Juelich said.
To appeal to youth voters, some politicians have prioritized issues important to young people, such as the environment and affordable healthcare.
However, Gen Zers have often taken matters into their own hands, whether it be due to dissatisfaction with policymakers or an increased awareness of political issues. 
Walker has noticed this trend of increased political activism in her recent years of teaching.
"There's been a big increase in activism and politics … it reflects what [is happening] in a bigger picture sense because I think that's true across the country," Walker said.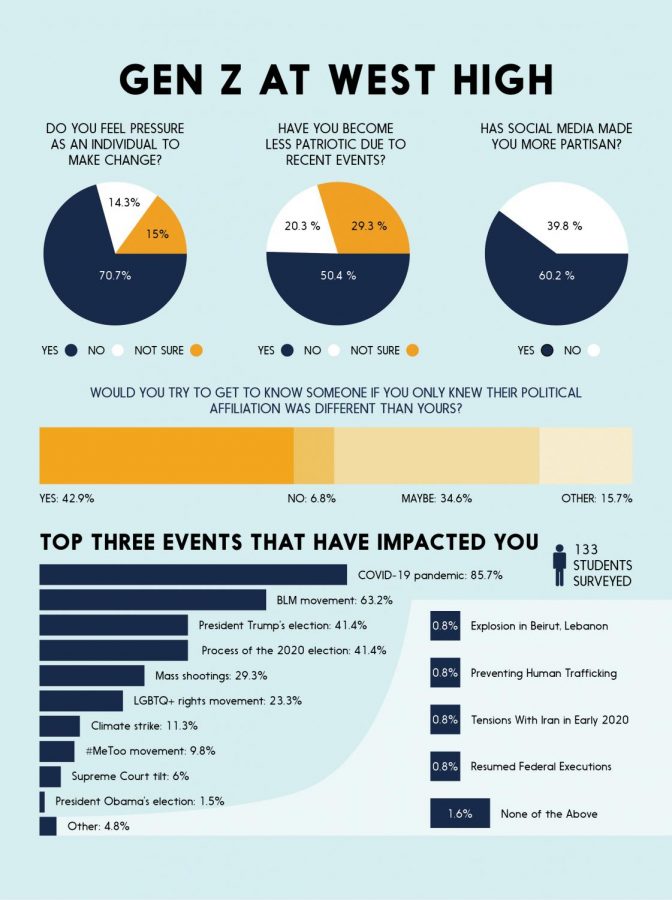 Of the West High students surveyed, 70.7% said they felt pressure to create change after the pandemic, Black Lives Matter protests and Trump's presidency, among other notable events. 
"I think the last four years and especially now [have] given us a perspective … that all these things really do matter," said Joseph Alarape '23. "We can't just ignore it … it affects us, it affects our futures."
Pryor has been advocating for gun control since his senior year of high school and feels that recent events have caused Gen Z to become more politically active.  
"The nature of experiencing problems for the first time or having some visceral moment that brings people in … creates young people in activism," Pryor said. 
Del Gandio agrees, adding that Gen Z has grown up alongside a confluence of historical events both from the recent past and present-day.
"Mass shootings become a horrifying social norm. Trump and Trumpism emerge, sparking a rise in hate speech, intolerance and anti-science," Del Gandio said. "Meanwhile, the climate crisis simmers in the background with much of the west coast literally on fire."
As Gen Z's worldview expands, the pressure to act is to be expected.
"Gen Z is coming of age in an era when all the adults have left the room. It's no surprise that younger people feel the need to act. The question isn't why is Gen Z acting, but rather, why isn't every generation acting?" Del Gandio said. 
Despite today's generational dispute over inaction, Walker sees similarities between Gen Z's current push for change and her own generation's activism during the Civil Rights Movement and Vietnam War in the 1960s. According to USA Today, modern-day issues such as climate change have made Gen Zers the most politically involved youth since that era.
"Perhaps the world that I became a teenager in is more similar to the one that [Gen Z is] in now," Walker said.
"
We are powerful. We need to realize our full potential and get stuff done."
— McKenna Proud '21
Del Gandio sees political polarization as another similarity between the 1960s and the present-day. 
In recent years, Americans have become increasingly divided over issues such as immigration and gun control. A 2014 Pew Research study found that the share of participants with a highly negative view of the opposing political party had more than doubled in the past decade. 
In the survey of West High students, 60.2% said being on social media has made them more partisan, contributing to this growing political divide. Although these platforms allow people to see various perspectives, Proud thinks they simultaneously serve to strengthen users' preexisting beliefs and push groups apart. 
"In some ways, I feel like [social media is] making us more divided," Proud said. "My friends [on social media] all have my same political beliefs. All the information that I'm seeing is also stuff that I already agree with."
Social media algorithms use confirmation bias, the exposure and tendency to seek familiar information, to put users in groups with others that share the same viewpoints. 
"Algorithms produce info-spheres and echo chambers," Del Gandio said. "We get fed the same information over and over, reinforcing confirmation biases and producing deeper belief divides."
On the occasion that users encounter information that challenges their beliefs, the effect is not always willingness to learn. 
"Whenever I get a video on my [feed], I will not lie — if it's a political opinion I do not agree with, I will hold down the screen, and I will click 'not interested,'" Proud said. 
According to Alarape, Gen Zers can combat the polarizing pitfalls and shortcomings of social media if they find a way to engage in open discussion.
"If you don't agree with a person's viewpoint … that just invites challenge, and challenge is a good thing in any discussion," Alarape said. "If we become more open-minded and open to correction, we can move forward in the way that we're supposed to."
Proud also believes if Gen Zers find a way to come together, they can create lasting change.
"We have the power to change whatever we want to change as long as we can get our minds in the right spot … we all vote together, and we all protest together," Proud said. "We are powerful. We need to realize our full potential and get stuff done."