A new variant
April 23, 2021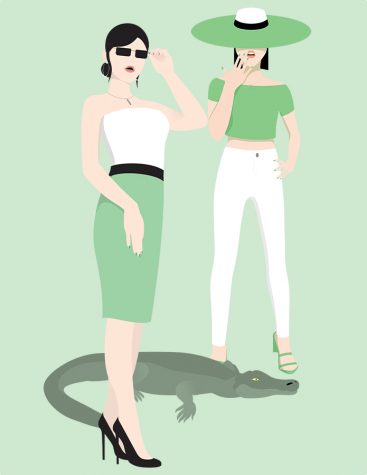 Despite several warnings from the CDC, thousands of Iowans left the state during spring break. Surprisingly, no new COVID-19 cases have been reported in Iowa since March 23. 
"We expected a dramatic influx of cases, considering how many Iowans crossed state and international borders," said Dr. Kirk O'Dile, director of the Iowa Department of Public Health. "The fact that there have been zero in the last month is honestly mind-boggling." 
Gov. Kim Reynolds attributes these numbers to her admirable leadership and a successful vaccine rollout.
"We did this together, Iowa," Reynolds said. "Thanks to your hard work, we can finally return to normal and say goodbye to masks." 
Oddly, the sudden halt in COVID-19 cases contrasts with a disturbing increase in missing persons reports, especially for those who traveled during spring break. Even more bizarre, for every missing persons report filed in Iowa, there has been an alligator sighting to match. In the past month, there have been 928 separate reports in 67 of Iowa's 99 counties. Some experts theorize the two are related. 
"Although it may seem impossible, a new COVID-19 variant may be behind all of this," O'Dile said. "An extreme mutation may be causing those infected with the virus to turn into alligators."
Since spring break, over 100 Iowans have called animal control services describing puzzling run-ins with these giant reptiles. The alligators have been transported to an empty warehouse in Des Moines, which is now acting as a make-shift containment center. 
Contrary to typical alligator demeanor, those moved to the warehouse have been described as overwhelmingly docile and agreeable, displaying characteristic "Iowa nice."
Despite many Iowans' fears of contracting the presumable variant, which is now commonly referred to as "GATOR-21," Reynolds insists there is nothing to worry about.
"Until I see proof that these reptiles are truly the result of some COVID-19 mutation, we can say, 'See you later alligator' to this pandemic," Reynolds said.
O'Dile disagrees.
"While it is unclear what is going on here, it's evident that we have not taken COVID-19 precautions seriously enough," O'Dile said. "Had people not ignorantly taken these vacations, I doubt we would be seeing all of these things. The pandemic is not over."