Social Impacts
December 30, 2021
    Even if it does not feel like it, the issues caused by social media present themselves in real life in scary ways. "I haven't eaten today" can be heard in the halls at school and be considered a relatable topic among teens. "I only drank coffee today" after a long school day is a success for some students. 
      A common but not spoken about symptom of eating disorders is exhaustion. Due to the malnutrition of your body, there is not enough energy for your body to operate properly. This leads to exhaustion and can hurt a teenager's mental and social wellbeing.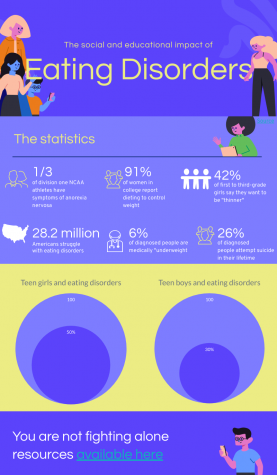 Simple things like getting out of bed in the morning can be near impossible for people struggling with eating disorders. Malnutrition is an issue that impacts 17 million children a year in America alone, and this can lead to being tired constantly. 
      Exhaustion can lead to lower grades and a worse social life. " I didn't want to hang out with friends, I was just so exhausted," says an anonymous student. A social impact that many people overlook is losing friends.  
      Hair loss, bone/muscle loss, and even becoming infertile can be long-lasting physical symptoms of eating disorders. But, this sickness reaches every single part of a person's life in scary ways. 
      "I would skip wonderful opportunities just to torture my body," says Papke. This feeling is common among many teens who struggle with eating disorders. Skipping dinner with friends because they would know if you're not eating. Being too exhausted to perform well in school or sports. All of these hypothetical scenarios are people with eating disorders in everyday life.