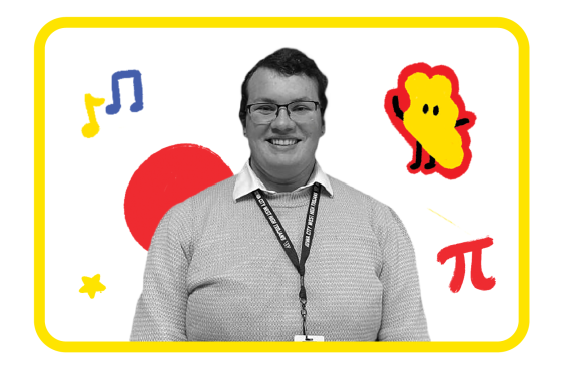 Quintin Lenti
West High building substitute Quintin Lenti doesn't like to conform. Whether in music or teaching, they embrace an unconventional approach to each of their passions. Lenti grew up in Washington, playing the piano.
"I did [classical piano] for a while, but I never played it the same way twice," Lenti said. "I play different notes, different rhythms … everything is different every single time."
This spirit of originality is reflected in Lenti's teaching philosophy as well. They attended the University of Puget Sound to study math teaching, and believe schools' current approach to the subject is flawed. 
"It took me a long time to realize that the main reason people tend to not like math is [the lack of] community," Lenti said. "When people say they're bad at math, they kind of also mean, 'I'm not respected in a math classroom,'" Lenti said.
Lenti prioritizes collaboration in every classroom they encounter. 
"Anything I [can] do to make a  …  classroom more community-oriented will automatically make it a better classroom," Lenti said. 
As a building substitute, Lenti has the unique opportunity to take inspiration from various classrooms across the school.
"Lots of people think of all the subjects in a school as completely separate. But if I sit in on a humanities class, I learn so much," Lenti said. "People sit in circles … you just sit in circles if you want people to understand each other. That's just so fundamental, [but] in math, they couldn't even imagine sitting in a circle."
In the future, Lenti hopes to take their teaching philosophy into their own classroom. 
"The people I'm meeting here [and] the references I now have [provide] a great jumping off point to get a career anywhere," Lenti said.
Donate to West Side Story