Healthy choices and healthy lifestyles
As we grow up, learning how to make responsible choices for our health is imperative. A necessary decision to make is how to stay active and motivated.
October 15, 2017
One subject of great importance that should be our choice is how to stay physically active.  Although we are sometimes told what choices to make, our health should be our choice. Healthy lifestyles choices are ultimately made by the individual. I would like to say that I am physically active and healthy, which is one of the reasons why I do not need  or want to take physical education. Certain people enjoy different kinds of physical activity and prefer certain times to exercise. Physical education is important and should not be a requirement at high school level.
"
If people don't find exercise fun, then they will not have motivation to do it."
— Carmela Cohen Suarez
Exercise has always been an escape for me, a way to relieve stress, but physical education never served as fitness motivation for me. It did not fit my exercise needs as an individual, and I did not enjoy it as a result. I have always been in contact with swimming and have tried other sports such as gymnastics, Jiu-Jitsu and soccer. In elementary school and junior high everyone had already been in contact with physical education. By the time they arrive to high school, they should have more options to decide what best serves them. If they are not given these options, then they will feel obliged to exercise. At this age, we are old enough and informed on how to make decisions about how we exercise. Sports and fitness should be something people do for their own relaxation and enjoyment. If people don't find exercise fun, then they will not have motivation to do it. For these reasons, the purpose of physical education can be debilitated.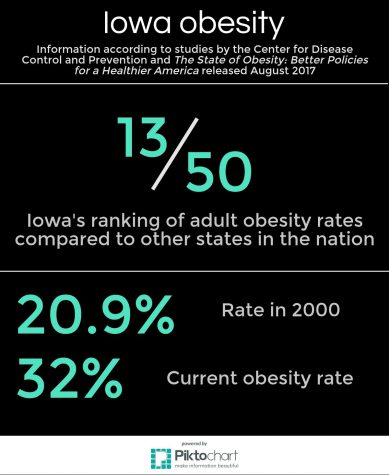 According to the study The State of Obesity: Better Policies for a Healthier America, released Aug. 2017, out of 50 states, Iowa ranks 13th in adult obesity rates. While 13 may not seem too high of a number, it is of concern. According to a study by the Centers for Disease Control and Prevention (CDC), child obesity rates have tripled since the 1970s and 1 in 5 people aged 6-19 are obese in the USA. Many life-threatening illnesses stem from being overweight including diabetes, increased risk of heart disease and sleep apnea.
To prevent the rise in obesity rates, students should be able to choose how and when they exercise. While all students should maintain a healthy lifestyle, their health should be their choice.
Allowing students to make decisions regarding their own health is the best way to get them motivated to do what feels right for their own body. If schools were to offer additional options for physical education, then more students would feel they could participate in something they want to do. For example, adding physical education classes specific to one thing such as yoga, cardio, or water activities would be beneficial in expanding the options available to students. If physical education was not required, students would find their own motivation to stay in shape, and would be less likely to add to the rising obesity percentile. For this reason, the requirement to take physical education should be lifted and the options available expanded. There should be alternate types of physical education classes for students who wish to take them, but if there are not many options available then it should be an elective.
The basics of physical education are taught in elementary and middle school. Students are introduced to a variety of different sports and ways to exercise, so they learn how to partake in healthy physical activity. For younger ages, a required physical education class is important, but once students reach a certain age it becomes a bit redundant. As people mature, they need to make choices for their own health. There are a few different physical education options offered to students which indicates the direction the program should go, in my opinion. Providing multiple physical education options will have a positive impact because it will meet a variety of student needs. High schools should have more integrated curriculum. For example, in Biology there could be stress on the importance of staying active.
"
People should be educated on physical health, but not forced into it."
— Carmela Cohen Suarez
Choosing your own way to stay healthy allows for more motivation and more drive to follow through with exercise plans as well as sticking with habits. People should be educated on physical health, but not forced into it. For high school students to become truly dedicated to leading a healthy lifestyle they must make the choice for themselves.