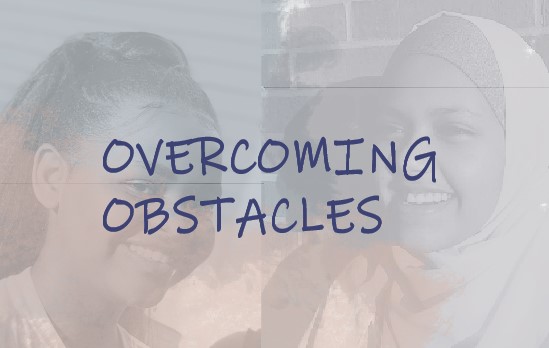 Overcoming obstacles
The ELL program at West High represents many different countries and languages. Although West embraces this diversity, the ELL students face barriers and obstacles throughout their daily lives.
April 28, 2020
Language is everywhere and it's surely unavoidable. Homework, tests, socializing and even a quick trip to your local coffee shop will require you to use language. As English is the most common language in America, it's not rare to be surrounded by English in our daily lives. Transforming thoughts and words from one's native language to English does not establish overnight. This provides a unique obstacle for many students who lack proficiency in English and are working on learning the language, on top of their regular education. The English Language Learner Program works to ensure that students with less English proficiency have an equal opportunity to succeed.
Testing process and ELL classes
The first step for a student to get enrolled into an ELL class begins with home language survey questions that every student is asked upon registration. If a student marks a language other than English as their primary language, their English proficiency will be tested. Students are tested every spring using the English Language Proficiency Assessment, also known as ELPA 21, which provides a benchmark of their knowledge by assessing reading, writing, listening and speaking skills. After they are assessed, the students are recommended a place in the ELL program, which they can choose to accept or deny. Assuming they accept, students will be placed in ELL classes that are appropriate for their proficiency level. These courses go beyond just learning the language.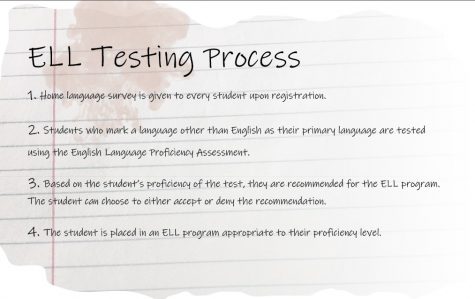 "At the beginner levels, the process of getting them familiarized with the American culture is super important. But on all of the levels of ELL, we focus a lot on their English language development," said ELL teacher Cat Haxton.
The ELL classes take advantage of the technologies that are offered in the district. By using online resources such as GimKit, Quizlet, Kahoot and Google Translate, it supports the students' learning.
"We read texts together, use pictures to support the text, include videos to support their learning with concepts and use Google Translate for words or key ideas," said ELL teacher Sarah Heenan. "Students can work with partners or peers to help with their learning [as well]."
While technology can be a useful resource for the students to help expand their vocabulary and develop their English skills, getting support from their West High peers is just as important.
"This school year we have had the opportunity to work with students who are working on their Seal of Biliteracy and they worked on French or Spanish while also helping the ELL students work on their English," Heenan said. "It was a great partnership to help both groups of students."
Unlike non-ELL classes, ELL classes focus on each students' English development throughout the school year.
"[We] teach them vocabulary, grammar, reading strategies engaged with texts that are at their level to increase their comprehension," Haxton said.
For Hussein Mohamed '21, the ELL program impacted his overall English development.
"I like everything about the ELL program," Mohamed said. "It helps me learn [English] faster [and] my teacher teaches me a lot."
At West, there are science and American studies courses that are offered for ELL students to have a better understanding in the topic accomodated for the students to fit their English proficiency level. According to the ELL program coordinator Sheila Neels, as of two years ago all Iowa City Community School District schools have an ELL program.

"Even [in] districts that might have one or two English language learners, there needs to be a program in place in order to support their needs," Neels said.
There are over 70 different languages represented within the ICCSD. To ensure that ELL students develop their proficiency in English, it is crucial to know their backgrounds as well.
"[The key to develop the student's proficiency in English is] kind of just knowing that not everybody is the same," Neels said. "There are a lot of different dialects in different languages too. It's just kind of being familiar, but that comes with getting to know families and having conservation with families and just being aware of the students and their background."
Verbal obstacles
In order to effectively integrate English learners into American education, it is necessary to help them be a part of the larger scholastic community. However, sometimes this can be complicated because of communication limitations.
"It was a little bit difficult because I didn't have the confidence to talk [in class] and I was also afraid that I'll make a mistake," said Mishka Mohamed Nour '22.
The fact that Weiling Lin '22 wasn't used to communicating with others in English before coming to the United States made it difficult for her to adjust to the speed of others talking.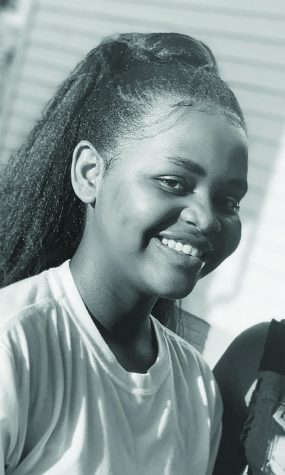 "[Students] speak really fast and we cannot understand what they're saying," Lin said. "That's the biggest problem that I have in school when I want to talk to somebody."
Although the end goal is to blend English learners into the rest of the student body, joining in the student population is not always a simple task to do for the students. The ELL program provides them with an opportunity to form a tight knit group amongst ELL students.
"Some really, really strong friendships are formed in those classes based on their backgrounds [and] their ability to speak in their first language with their peers. I think that is really good for them," Haxton said.
Mohamed Nour felt it was difficult to make friends with non-ELL students because the students already established their friend groups.
"Most of my friends I met [through] ELL classes, and I think that's just because we're in the same situation," Mohamed Nour said. "It's hard to make friends when everyone [else] have their friends that [they] grew up with."
For Esther Sadi '21, the difference in English development with others made her hesitate to make connections with someone who speaks a different language from her.
"It's kind of hard to make friends with someone who speaks better English than you, so I am kind of scared to make friends with others," Sadi said. "I feel better [in ELL classes] because I have more friends in [the class]."
The ELL program is not only a place for students to become more proficient in English, but also a place for them to be in a safe and comfortable atmosphere.
"[I speak out more] in my ELL class because in other classes sometimes you feel like you are a little bit scared to talk," Lin said. "When you are in ELL you'll feel more comfortable because everyone is at the same level as you."
According to Haxton, students being afraid to speak up outside of ELL classes is a common problem from ELL students.
"Sometimes we see ELL students in grade level content courses where they're in the class but they're almost afraid to participate because they are self-conscious of being an ELL student and they're afraid to speak up, they're afraid to [be] made fun of," Haxton said. 'Whereas like in the sheltered courses, there is no fear."
The students in the ELL program come from various cultural backgrounds and countries, making the environment at West unfamiliar.
"It was scary and [I was] shy because it's all new," said Azucena Mendez-Perez '23, who came to the United States from Mexico at the age of five. "Meeting new people [was the scariest part]."
Mohamed Nour, who learned British English in Sudan, believes that learning the language was a challenge, but speaking it was a harder one.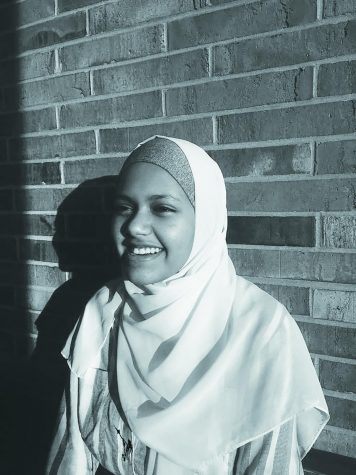 "It was just difficult to speak [English as your] daily language because you just learned the language. But now, speaking it, it was hard […] it was hard to adjust," Mohamed Nour said.
For Lin who came to the United States in 2016, the transition into a new school in a new country was not easy.
"When I first came here, I didn't know any English, so I [didn't] talk anytime in school for like the whole year. It was just like a pretty difficult time," Lin said.
Participating in class has been part of the list of barriers for the ELL students. Although this may seem effortless to most, it is a topic that runs across many ELL students' minds.
"When there's reading stuff, I don't usually participate because I am afraid that I'll make a mistake in front of everyone it just terrifies me," Mohamed Nour said. "[When I have to talk] I would just take the risk and start talking. [And once] I go home, I just start thinking about it […] I just start thinking about what I said and if I made a mistake."
Mohamed Nour's shy personality and fear of making a mistake with her English leads her to feel excluded during collaborative activities.
"
When there's reading stuff, I don't usually participate because I am afraid that I'll make a mistake in front of everyone it just terrifies me."
— Mishka Mohamed Nour '22
"I am so quiet and I would never talk. Even without a language barrier, I am kind of shy," Mohamed Nour said. "[I don't know] if it's just because I was too quiet, [but] when we do projects in groups, people don't usually listen to me and I feel like that they are thinking that I don't understand."
Even though the stereotypes and assumptions about an ELL student may not severely impact ELL students at West, they still vaguely float in the air.
"You just have this feeling that people don't understand you and that you'll make a mistake and they'll laugh at you," Mohamed Nour said. "That's not true, but I think everyone feels that way in ELL."
Diversity at West created an opportunity for Mohamed Nour to meet different people with different cultural backgrounds than her by joining the Successful Students Inspired through Knowledge, Education and Diversity Club.
"I like it [because] it's very diverse, you get to meet new people with different languages, different religions and cultures." Mohamed Nour said. "I would never have thought that I would meet different people at this age."
Looking for improvement
As the number of ELL students has only been seeing an increase throughout the years, Neels seeks to find improvement in the ELL program.

"The state likes to look and to make sure that students are progressing and of course we look at those results as a district to see what areas do we need to improve on as far as our instruction," Neels said.

A required course that is not offered through the ELL program is health class. In order to graduate from West, every student is expected to take the health class unless waived due to religious reasons.

For Lin, the lack of a health class for ELL students led to her struggling outside of school.

"The health course was pretty hard for me, I did a lot of work outside of class. I have to come home and then use Google Translate to translate everything on the sheet and then writing those stuff in Chinese and then use Google Translate to translate it back to English, so it was a pretty hard class for me," Lin said. "I wish there'll have a ELL health class because that might be very helpful and easier for ELL students to learn that course."

Not only is there an absence in an ELL health class, but there's a lack of other necessary classes that prepare students for the future. To combat this problem, Heenan recommends having business class offered to ELL students to give them the opportunity to learn where to apply for jobs, how to pay bills and money management skills.

"Many of the ELL students only have a very short time to learn English before they graduate and either continue their schooling in a post secondary setting or go directly into the workforce. I think it would be great to have classes that helped them with more life skills in adjusting to life in the United States and how to survive in the United States," Heenan said.

Compared to non-ELL classes, the class size for each ELL class is smaller, something that Mohamed Nour found to be a benefit.

"[The smaller classes sizes] makes [us] feel that someone cares about [us]… It helps us feel welcoming," Mohamed Nour said.

When an ELL student is enrolled in a non-ELL class, English teacher Garrett Hartwig doesn't require the students to participate, but seeks to have the ELL students feel safe in the class.

"

Every student is treated fairly, but that does not mean every student is treated the exact same."

— Garrett Hartwig, English teacher

'

"Participation in my classes is largely voluntary. My goal is to make all students feel comfortable speaking in class, no matter their English speaking abilities. I try to develop relationships with every student so they feel comfortable to share their perspective on class activities. I also try to present a wide range curriculum so all students find interest or have background on class activities at some point," Hartwig said. "When students like and enjoy the content, they will participate in most classes."

According to Hartwig, it's crucial to make connections with every student, regardless of their proficiency level in English.

"I always remind myself that ELL or not, students are students. Most want to learn what a course offers and are nervous, excited or ready for a class [but] they are all students first," Hartwig said. "Every student is treated fairly, but that does not mean every student is treated the exact same."

As the ELL program has only been increasing in the number of students, Neels hopes that the ELL program helps the students to be able to communicate more and to give them more opportunities.

"When they are to celebrate little milestones of being able to learn the language and being able to communicate with their friends […] that's when I think they're realizing what this program has in their destinies and what we are able to provide for them," Neels said.