Studying aboard
Perry Heredia '21 is leaving West next year to attend the prestigious Milton Academy Boarding School in Boston, Massachusetts.
With the illusive portrayal of boarding schools in popular culture, it's no wonder that many students ponder packing up and leaving home to attend one of these distinguished institutions. Few, however, act on this whim and follow through with the extensive and often pricey application process. For those who do, an even smaller percentage meet the schools' standards and are admitted.
Among that percentage is Perry Heredia '21, who has committed to attend Milton Academy in Boston, Massachusetts beginning next fall. Though the decision to leave her friends and family wasn't easy, Heredia is confident about her choice to attend Milton.
"I think I've just had so many new experiences and had to adjust to so many new environments that this is really nothing new for me," she said. "I mean I've basically moved every two years since third grade."
Heredia and her family have always assumed that she was going to attend boarding school at some point in her life. Having lived in Hong Kong for four years, they had heard about the positive experiences of other students who attended, though timing and finances were always a concern. Eventually, the stars aligned for her to begin the application process this year.
"
I think I've just had so many new experiences and had to adjust to so many new environments that this is really nothing new for me."
— Perry Heredia '21
Applying to boarding school required a large amount of work on the part of Heredia. She had to obtain seven teacher letters of recommendation, a letter from her mother, write multiple essays and complete a Skype interview with admissions officers.  
"I got into the process kind of late, meaning it all kind of caught up to me and I was just like 'Oh my gosh I only have two more weeks until I have to submit all of this stuff,'" Heredia said.
After this lengthy process was complete, there was a short waiting period until she found out what schools she was accepted into. In the end, Heredia was admitted into both of the schools that she applied to: Lake Forest Academy in Chicago and Milton Academy in Massachusetts.
The decision of which she would choose, however, was not difficult.
"My best friend in Hong Kong's friend goes to Milton and over the summer we actually hung out a little for only like a week," Heredia said. "She was telling me all about her experience and how much she loves it so Milton has always been number one on my list."
Being an accomplished viola player, one would imagine that the caliber of the music program would influence Heredia's decision of what school to attend. However, she says this was not the case.
"I was kind of expecting music to be a bigger factor than it actually was," she said. "I love music and I love viola, but I felt like I should focus more on the academic part of school. Milton does have a chamber orchestra which I'll be a part of. They do cool international tours so I'm very excited."
Another attractive quality of Milton was its unique classroom setting. The school boasts a diverse program of solely discussion-based courses.
"[I love] the classroom size. It is one big wooden table with a teacher and like six students and that's the entire class, so I'm so excited to have a really one on one experience with teachers," she said.
"
I want her to do well and be where she can do well in an environment that supports her."
— Isabelle Paulsen '21
The reaction of Heredia's friends to the news of her leaving was generally mixed.
"I was both sad and happy," said Heredia's close friend Isabelle Paulsen '21. "Of course I'm happy for her and I want her to do well and be where she can do well in an environment that supports her, but also I'm going to miss her a lot."
Despite the inevitable pain of having a friend move away, Paulsen plans to make the most of the time that she has left with Heredia.
"I'm for sure going to hang out with her as much as possible this summer," Paulsen said.
Though Heredia will miss the friends she has made at West, she has confidence in her ability to make new ones at Milton. The school's dorms resemble houses and are said to foster "lifelong friendships" among roommates.
"I'm not too worried about making friends because one of the main parts of boarding school is the really tight-knit community," Heredia said. "I'm going to live with 12 other girls and we're supposed to become like a 'second family' apparently. We shall see."
Above anything, though, Heredia hopes she will be able to make the most out of the opportunity she's been given.
"I really just wanna take it all in," she said. "There's so much to get out of boarding school and so many opportunities that come with it. I just really need to take advantage of it all."
Leave a Comment
Donate to West Side Story
Your donation will support the student journalists of West High School. Your contribution will allow us to purchase Scholarship Yearbooks, newsroom equipment and cover our annual website hosting costs.
About the Writer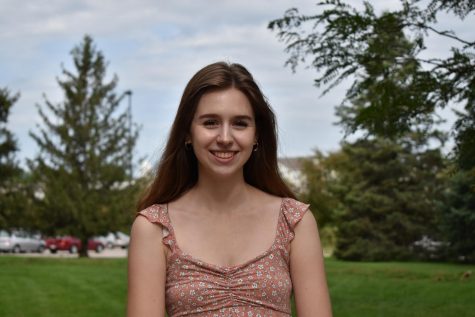 Alex Carlon, Online Editor-in-Chief
(she/her) Alex Carlon is a senior at West High and editor-in-chief of the web publication. When she's not helping out on the website she can be found playing...