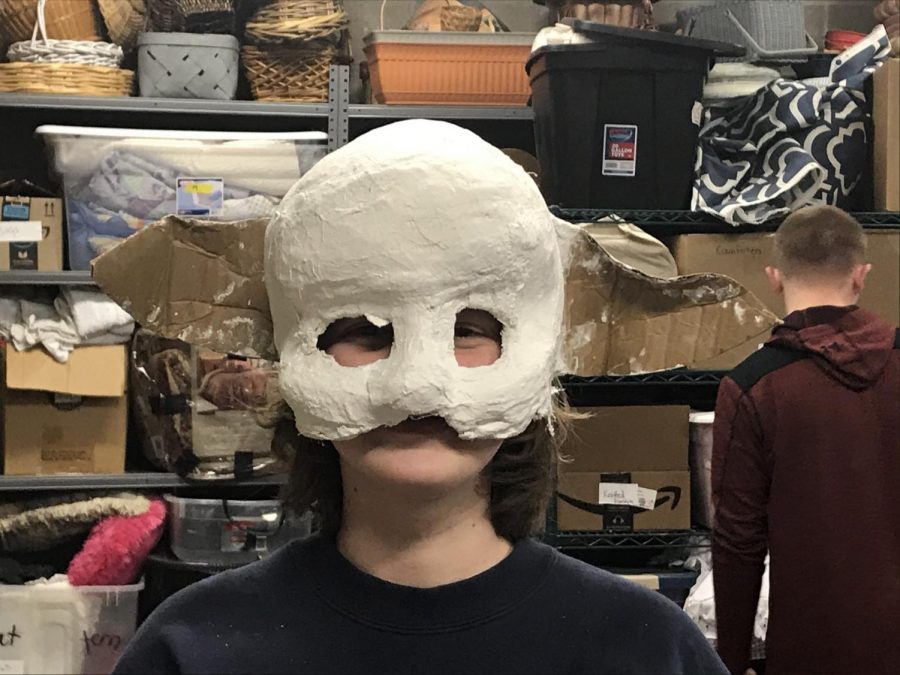 Behind the scenes of Theatre West's She Kills Monsters
As the play approaches, the crews behind the scenes is working tirelessly to prepare for the upcoming opening night.
November 13, 2019
West High's winter production, "She Kills Monsters," is a play about a girl named Agnes Evans who has recently experienced a tragedy in which her parents and younger sister passed away in a car accident. After her world is shattered, she finds a "journal" by her sister that turns out to be a story line for a role playing game called Dungeons & Dragons. She finds out that Dungeons and Dragons is a fantasy role playing game, led by a main story teller (a dungeon master) that's commonly played between groups of nerds at her school. Agnes recruits the help of well known dungeon master Chuck Biggs to help her play out the game and take a small peek into the world her deceased sister loved so dearly. The fantasy aspect and creatures in the play create an interesting challenge for crews behind the scenes and it will take a lot of work to get a glance into the adventure that lies ahead for Agnes. The set and props crews at West are working tirelessly to make sure it turns out as fantastically as expected.
Props
The West Theatre Department is nothing without the props crew. Growing in numbers every year, they create intricate props with precision. This show has lots of detailed props such as monster masks that the props crew is in charge of designing and creating.
"The most memorable part of props each year [for me] is always handling the weapons, this year we will have swords and daggers, there might even be an ax, we don't know yet," said Emma Gibson 20'.
The two biggest projects this year are a five-headed dragon which is the main enemy that Agnes battles on her quest, and all of the individual monster masks for enemies Agnes will encounter throughout her Dungeons & Dragons journey.
These monsters include bear heads which, when added to a costume, will reach a height of about seven feet tall. The smaller masks have to be custom fit to each actor/actress's face to make them more realistic before adding details like horns and snarling faces.
"Oh, my biggest piece of advice is don't put plaster on actors eyes. Long story short Schuyler [Houston '21] may never let me plaster his face again," Gibson said.
Leave a Comment
Set
The set crew is critical to the Theatre West's productions because they are in charge of building the backgrounds and the large scenery pieces for the play. They also work backstage during the show to move set pieces on and off the stage, and quickly solve any problems that may arise. In preparation for this play, they rush to build huge set pieces made to resemble the scenes of a Dungeons & Dragons game.
"The largest sets are not that complex this year, but the screen that we plan to use for projection and some of those that have been constructed are really complex in the technical end," said set and technical director Christian Aanestad.
The set has many of its own difficulties that haven't been explored yet in the Theatre West program. But this play is guaranteed to be a great memory for those involved.
"The set is actually logistically much smaller than in past years, but the technical end is way more complex. Obviously with a five headed dragon, trying to give the illusion of something that would be scary and that people would want to kill, as well as all the monsters are extremely complex," said Aanestad.
Leave a Comment