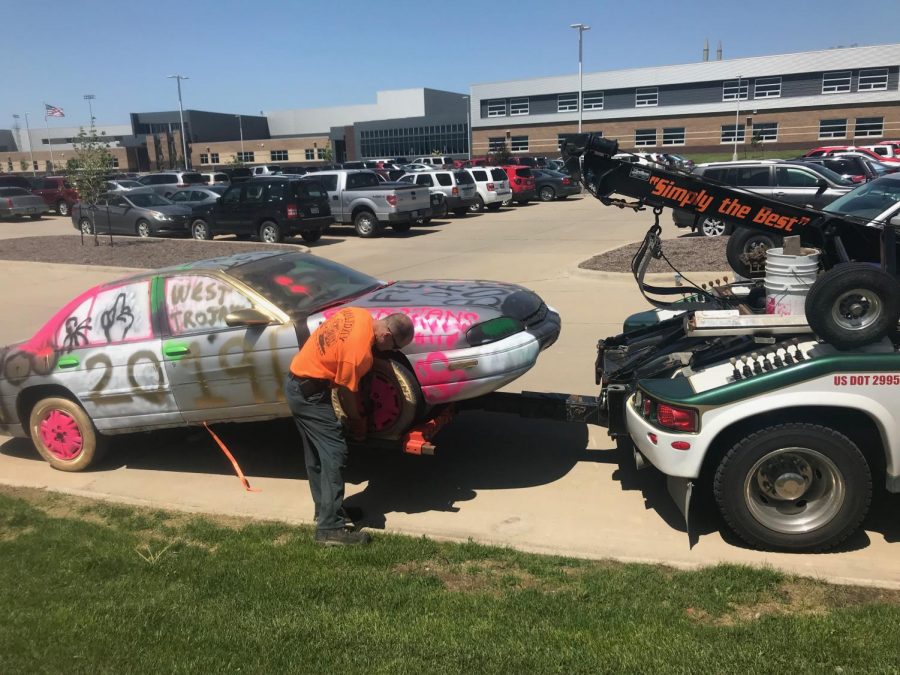 Senior prank sparks police involvement
Several students from the class of 2019 brought a vandalized car onto West High property and then drove it to Liberty High, where the police became involved.
May 23, 2019
Before
For their annual senior prank, four members of the class of 2019 drove a graffitied car onto West's central courtyard. The car was covered in expletives and insults geared towards Liberty High School.
Zac Moore '19, one of the students in the group that organized the prank, says they acted after previous senior pranks had fallen through.
"[My friends and I] took the lead and said this is what we are doing and went with it. The problem with all of the pranks we planned before were that not everyone took the lead," he said.
The car, originally a silver Chevy Lumina, was purchased off of Facebook Marketplace for $350. The funds for the car came mainly from the prank's organizers, with a few contributions from the rest of the senior class. The car was then decorated by various members of the class of 2019 this past week.
By the beginning of third period, the car was driven off of the courtyard and was reportedly headed to Liberty High School.
This article was updated at approximately 10:00 p.m. on May 23, 2019.
Leave a Comment
After
At approximately 1:15 p.m., three WSS staffers saw the decorated vehicle driving north on 1st Ave near Brown Deer Golf Course. The staffers turned around and proceeded to follow the car towards Liberty High. By the time the staffers arrived at the high school, the vehicle had been pulled over in the parking lot by a North Liberty police car.
Chloe Holt '19 followed behind the vandalized car to Liberty High. According to Holt, upon their arrival, the group was met by a North Liberty Police Officer in uniform, as well an undercover cop. She also says they were fined for driving an uninsured vehicle and obstruction of view, due to the paint on the windows.
"Overall it was $500, not including towing," said Holt.
The car was unregistered, but they weren't fined with being unregistered because the organizers of the prank had not owned the car long enough for it to be required, according to Holt.
"We spray painted "GGG" as the license plate for Gregg," said Holt in a text message.
Principal Gregg Shoultz has been contacted by Liberty Administration.
"They're making us aware of which students were involved," said Vice Principal Luke DeVries. "And then it's our responsibility to address the behavior of the students."
North Liberty police declined to comment on the situation. They also required the students to tow the car.
"We don't regret it," Zac Moore '19 wrote in a text message following the police encounter. "Class of 2019 out with a bang."
This story is still developing.
Leave a Comment