Weighing the decision
Ranked second out of all the high schools in the state according to US News, it's no secret that West High has a tradition of success. In an effort to build on this standard of excellence, the ICCSD released a new weighted grading policy to give students a boost in grade-point averages (GPA) and become more competitive nationwide.
A new policy
"I understand these decisions may be surprising," read the email from Diane Schumacher, the director of curriculum, instruction and assessment in the ICCSD. In only four sentences, the message explained a decision that would change the transcripts for all students, starting with the class of 2020. Met with a mix of confusion, excitement and parent emails, they disclosed the specifics of the district-wide adjustment on April 5.
Beginning in the fall of 2019, the ICCSD will implement its new weighted grading system.
A GPA, the primary indicator of a student's academic performance, is a representation of all the grades that are earned in a school year. Rather than the standard system in which four points are awarded for an A, the new policy grants five points for an A in AP classes.
For instance, having an A in six regular classes and an A in one AP class will result in a 4.1 GPA, whereas having an A in six regular classes and a B in one AP class will result in a 4.0. This, however, does not change that the student received a B; it simply gives that grade a new weight to boost their overall GPA.
The original decision was to weight both honors and AP classes. However, an influx of teachers pushing for their classes to be considered honors courses caused the district to realize what constitutes an honors class is unclear. Resultantly, ICCSD officials decided to change the policy to only weight AP classes.
In addition to removing honors from being weighted on a 5-point scale, the new policy will retroactively weight grades, meaning that AP classes taken by non-seniors in the previous years will be re-weighted on a 5-point scale.
Beginning next year, classes will only allow for a 10 percent margin where 90-100 percent is an A and so on, another change from previous years when select AP and honors courses were given a wider margin of 15 percent. Grades will be weighted retroactively by looking at the letter grade, not the percentage.
The concept of weighing grades is nothing new but was initially proposed by City High Principal John Bacon, who is part of the ICCSD's secondary school leadership team. This committee is responsible for making policy decisions such as these. Comprised of secondary school administrators, the group met together to discuss the weighted grading initiative and began conducting research to determine if the policy would be a good fit for the school district.
"For many years, I've been interested in this, and I knew that the majority of other districts [in Iowa] did have weighted grades," Bacon said. "I wanted to make sure that we were not putting our students at a disadvantage."
"
"I wanted to make sure that we were not putting our students at a disadvantage.""
— City High Principal John Bacon
As a result of Bacon expressing his support for the policy on multiple occasions, Schumacher decided to take action. Though the school board met together to discuss the changes, there was no official vote. After gathering data from high schools and colleges across Iowa, the decision was ultimately left in the hands of Schumacher and the secondary school administrators.
"This was a joint decision between myself and the assistant superintendent for secondary schools and the high school principals, and then we brought the proposal to the school board and shared that with them as well," Schumacher said. "I don't think it required a vote of the school board."
According to Superintendent Steve Murley, the process in which the decision was implemented involved thorough research from the secondary leadership team.
"When something like this comes up, it usually comes from a smaller location, like a school or a class, and then we always look for a solution that's system wide," Murley said. "We always want to make sure that we are double-checking and triple-checking the information that we have available to us, so they'll reach out to as many peoples in the system as they can."
Three months after teachers and parents were notified of the initial proposal to weight both honors and AP classes, the policy changed to include only AP classes. According to Schumacher, the decision to change the policy was heavily researched and compared to the other high schools across Iowa that use weighted grades.
The research concluded that most high schools that use weighted grading in Iowa don't include honors classes. Other courses such as Project Lead The Way, Kirkwood classes and PSEO courses will not be included in the policy for the ICCSD either.
"We quickly determined that we didn't have a really good definition in the district to say which classes we could call honors and which classes we couldn't," Schumacher said. "So that's something that we want to take a little more time and see if we can identify that better before we start weighting some [honors] classes."
Although the policy has already been set for the 2019 school year, it may be subject to change in the future depending on the success of the system in the upcoming year.
"I think there is a chance [the district will reconsider]," Schumacher said. "We haven't closed the door on that discussion, we just knew that we didn't have all our ducks in a row so-to speak in order to roll that out."
Competitive course selection
For many, elective courses such as art, choir, orchestra and band serve as an integral part of their high school experience. One concern raised with the implementation of the new grading policy is the impact it may have on the number of students taking electives. Because these classes are incapable of raising a student's GPA over a 4.0, electives teachers are worried that students will choose AP courses over electives.
Rob Medd, one of the band directors at West, is facing the implications of the policy firsthand as his students struggle between choosing to take band as an elective or boost their GPA by taking an AP class instead.
"[The idea of weighting grades] has come up before, and we had always chosen not to do it," Medd said. "I was kind of hoping that would be the case again."
While electives are not weighted in the new system, Medd believes that it is crucial for students to feel comfortable in their course selections.
"What we want people to understand is that students need to have a balanced curriculum, and the arts play a very important part for students' education," Medd said. "We want students to be able to take band and not feel like it has to be replaced with an AP class."
"
"What we want people to understand is that students need to have a balanced curriculum, and the arts play a very important part for students' education,""
— Rob Medd
However, elective courses are not the only ones that could be affected by the new policy. Due to the lack of weighting for honors courses, teachers like John Boylan who have taught honors in the past are concerned about the emphasis that will be put on AP classes.
"Honestly, I hope people don't take the classes just because of weighted grades. That's my fear with the weighted grades in the first place," Boylan said. "I want it to incentivize students who haven't taken any AP classes, not incentivize students who already have four on their schedule."
Some students are also worried about the competition that the policy might instigate amongst students. Favour Alarape '21 has taken both honors and AP classes and feels that the new system could have a negative effect on the student population.
"I don't see [weighting AP classes] as a good thing," Alarape said. "I feel like people are going to take a ridiculous amount of AP classes and forget about the social part of high school, and that can take a toll on their health, physical and mental."
In addition to concerns over competition, Boylan felt that the decision-making process was not transparent enough.
"My biggest concern with the whole issue is saying one thing to students and making an enrollment decision, and then those things not being true anymore," Boylan said.
When selecting his schedule for the upcoming school year, Peter Adams '22 was influenced by the initial policy that included honors classes. After finding out it had changed, he debated whether or not to remain in his original classes.
"I have to be honest, I was pretty angry. My schedule had four honors classes in it for next year and only one AP class," Adams said. "I understand why it's happening. However, I don't understand why people are now going back on their word when they made initial promises."
Despite the concerns about the effect the new system might have on course selection, biology teacher Andrea Harms thinks that it will help boost West High's ranking among other high schools in Iowa.
"We'll be more competitive across the state, so I think it's wonderful," Harms said. "It probably needed to happen because everyone else is on a 5-point scale."
College admissions
A crucial part of the decision to weight grades stemmed from the desire to increase scholarships and acceptance rates into Iowa colleges. While some of the more selective schools view applicants' unweighted GPA, research conducted by Schumacher and ICCSD officials found that the the majority of schools in Iowa don't re-evaluate GPAs that are under a 4.0.
There are multiple factors that go into the acceptance process of the University of Iowa. According to University of Iowa admissions counselor Kirk Kluver, the admissions process is very individualized for each student.
"I think there's kind of a sweet spot that students need to find for themselves … When people ask us 'What's the magic number of AP courses I should take?' I can't give you one," Kluver said. "I think it really does depend on the individual."
In West counselor Paul Breitbach's opinion, the impact of the weighted grades will differ depending on which school students choose to apply for.
"Because college is expensive, [GPAs] are a priority," Breitbach said. "It probably has a bigger impact at the University of Iowa since they take the higher GPA when it comes to awarding scholarships."
Despite the implication that a higher GPA could increase the chances for financial aid and getting into the college for students applying to the University of Iowa, Breitbach warns against stacking a student's schedule with too many honors or AP classes.
"When students set their schedule, we always check with them to challenge themselves but also set themselves up to be successful," Breitbach said. "I believe wholeheartedly that you still have to have time just to be a teenager. You can't just study forever; you have to have balance."
"
"I believe wholeheartedly that you still have to have time just to be a teenager. You can't just study forever; you have to have balance.""
— Paul Breitbach
For Bacon, the main factor in his support of the system is the aid that it will hopefully bring to students applying for financial packages.
"You can debate the merits of whether this is right or wrong, good or bad all day long, but the bottom line to me is that if the colleges are not adjusting for it, we are putting our kids at a huge disadvantage," Bacon said. "I just wonder over the years how many kids have missed out on qualifying for these types of financial aid packages because they didn't quite have that GPA."
Bacon has experienced the application process into Iowa's colleges firsthand while his son applied to college this year. At the University of Iowa, financial packages are given based on ACT scores and GPA, but all require at least a 3.8 GPA to qualify.
"I have a son this year that's a senior, so I started going through the process myself and learning more about it," Bacon said. "Everyone used to assume that all colleges adjust to find out if you're on a weighted system or not, but we started worrying if that was really true."
In addition to helping students get into colleges, Bacon hopes that the policy will allow students to take more AP classes that will help prepare them for college without worrying about the possible negative effect on their GPA.
"It's more kids being exposed to rigorous college level curriculum, and it's consistent with the district's efforts for Equal Opportunity Schools," Bacon said. "It removes one more barrier where kids may be concerned about the impact of an AP class on their GPA, and it helps to alleviate that fear."
About the Contributors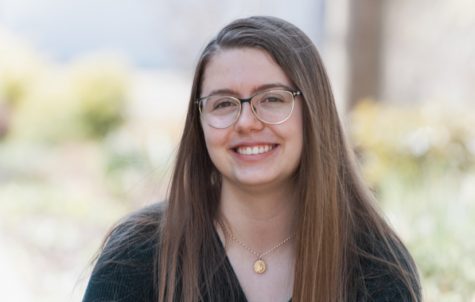 Marta Leira, Print Editor-in-Chief
(she/her) Marta Leira is a senior at West High and editor-in-chief of the print publication. Marta enjoys running (sometimes), creating a an embarrassing...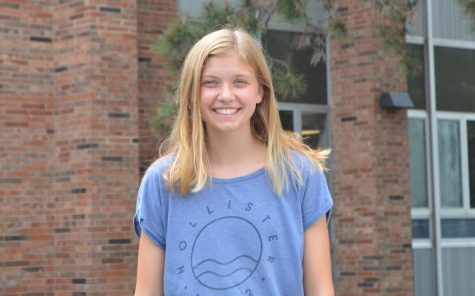 Annabel Hendrickson, Copy Editor
Annabel Hendrickson is a junior in her second year on staff as a co-copy editor on print. In her free time, she enjoys reading books by Stephen King and...