John Huston, polar explorer
John Huston visited Fin & Feather on Dec. 4 to speak about his journey as a Polar Explorer.
Over the past ten years, John Huston has lived his life on the ice. Throughout Antarctica, Greenland and Canada, he has skied for days on end, breaking historic records and making films.
On Dec. 4, Huston visited Fin & Feather and spoke of his journeys.
"I like big challenges and I love traveling and living in remote places where few people get to travel," Huston said. "I like the challenge of solving little problems that happen on an expedition with limited resources."
Huston began his career in Ely, MN where he worked at Outward Bound. After learning about historic polar explorers, Huston had the opportunity to follow in their path.
"At Outward Bound, I got into dog sledding and cross country skiing, and I used stories of historic polar explorers for leadership curriculum on the courses I was instructing. I decided I wanted to be a polar explorer as well. I got a few lucky breaks and then just kept going," Huston said. "I was selected to be the only American on a team of Norwegians repeating the original race to the for the South Pole for a big BBC and History Channel documentary. This trip was 1,400 miles in 72 days. We had the same clothing, food, and gear as the original explorers. It was fantastic, it was like going into the pages of my favorite books."
Throughout Huston's years of expeditions, he has faced many challenges caused by snow.
"New snow is not your friend. It puts you behind schedule," Huston said. "The north pole is a difficult place to travel because it is always changing, so we work on a 30 hour day because it is more efficient, but exhausting."
These challenges are something that Huston has come to understand.
"There are whiteout ice caps. You have to focus on color, such as your skis, because if you focus straight ahead you will fall over," Huston said. "Your brain can't comprehend what is happening and is stimulated because it's so focused, but there really isn't anything to focus on. Your mind goes very slow."
Not only is snow one of the challenges Huston faces, but the cold is one the is inevitable.
"A large risk is the cold and how we handle it," Huston said. "If your tent blows away you can freeze to death. Falling through the ice is another risk."
Because of the number of risks that come with expeditions, Huston and his team spend hours on end planning and preparing for their trips.
"There's a lot of pressure to prepare because each person hauls 300 pounds in their sled," Huston said. "For two years my partners and I pulled tires down the sidewalk. People thought we were crazy. It takes a lot of energy to haul sleds, you can't consume as many calories as the cold will zap out of you. We want to avoid mistakes and injury. People have a hard time getting over the mental aspect so we treat the first part of the expedition like training and we just try to survive."
Maintaining calories is something that is a necessity while on an expedition, and Huston has put together the perfect meal to reach the amount of calories needed for a day's worth of travel.
"We eat about 7,000 calories everyday and burn 8,000 to 10,000," Huston said. "We eat a lot of straight butter, pemmican, fudge and deep fried bacon. I ate one whole stick of butter each day."
Despite the challenges of the snow, cold, and calorie intake, Huston believes that the distance traveled is the hardest one to overcome.
"The main challenge is to travel enough distance everyday to stay on schedule. It's a moving target depending on the snow conditions," Huston said. "If a storm kicks up, you have to set up the tent very carefully because if the tent blows away you could die out there."
Not only is Huston a polar explorer, but he is a professional motivational speaker.
"I'm a professional motivational speaker, so I speak to schools, companies and community organizations. I also speak at outdoor stores to support the company that sponsors me, Bergans of Norway," Huston said. "I love these events because I get to travel and meet people who are into the outdoors."
When he isn't out on an expedition, Huston uses his job of public speaking and working outdoors to inspire and help others create goals.
"I work with the Chicago Voyagers which is a youth at risk mentorship program and it takes kids from low income situations and sets them up with mentors who take them on outdoor trips while forming goals and healthy relationships, and it lets them see the bigger world," Huston said. "Some of these kids get two hours out of Chicago and that's the farthest they have ever been out of the city. It blows their mind. They love it."
Huston's experiences with these children have changed many lives, including his own.
"I love facilitating new experiences for people and seeing people meet challenges and set goals," Huston said. "It's humbling to know I'm making a difference. I love working with them."
Though working with the Chicago Voyagers has inspired him in many ways, the places he has traveled to have changed his life the most.
"My trips have satisfied my wanderlust and they have introduced me to the power of a positive mental outlook," Huston said. "I always knew what it meant to be optimistic but until I got into the polar expeditions I didn't really know about mental challenges. I have become good at staying optimistic and thinking long term while being a supportive teammate."
Not only have the expeditions changed him, but they have given Huston memories that he will never forget.
"I love skiing along in such beautiful places. You get in a meditative state where it's so peaceful. Time just flies by. Some moments are stressful, but you will remember them for the rest of your life," Huston said. "We saw over 65 different types of arctic wolves on one trip. They would track us all day and we wouldn't even know until night. They are just curious, these animals have never seen humans before."
The past years of Huston's life have been far from boring, and he is planning for his future to stay that way.
"I want to go back to Antarctica, and I have some other expeditions that I would like to do in the next five to six years," Huston said. "The next trip is a guided trip in mid-March, 2017 for fourteen days in Baffin Island, Canada."
With all the future trips in mind, Huston is glad that his family is so supportive of what he does and is willing to let him continue his job, despite the dangers.
"My family is very supportive," Huston said. "Expeditions are dangerous but not Everest dangerous. Ocean things happen slowly. People have died out there, but they trust me."
Not only does Huston feel lucky for having his family on his side, but that he has been given the opportunities to do what he loves.
"I'm lucky to be able to work for myself, travel the world and seek adventure rather than work in the office all the time," Huston said. "I am very scared of the jungle, but the Arctic is like my bread and butter. It's my passion."
To find out more about Huston, follow him on twitter (HustonExplorer), Instagram (@HustonJohn), and Facebook (John Huston). Read more about Huston's adventures on his website http://www.johnhuston.com/#intro and in his book Forward, written by Huston and his teammate Tyler Fish.
See photos from Huston's expeditions below.
Donate to West Side Story
Your donation will support the student journalists of West High School. Your contribution will allow us to purchase Scholarship Yearbooks, newsroom equipment and cover our annual website hosting costs.
About the Contributor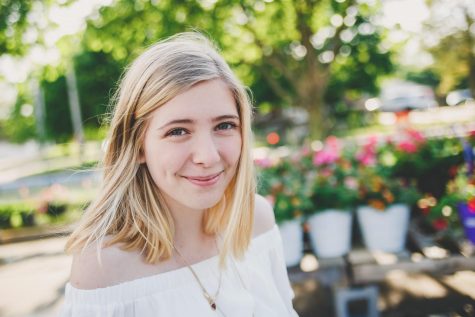 Fenna Semken, Online Editor-in-Chief









Fenna Semken is a senior at West High. It is her third year on staff and she is Online Editor-In-Chief this year. When she isn't working...