Cookies fit for under the tree
Impress Old Saint Nick with these easy and festive sugar cookies.
Supplies and Ingredients: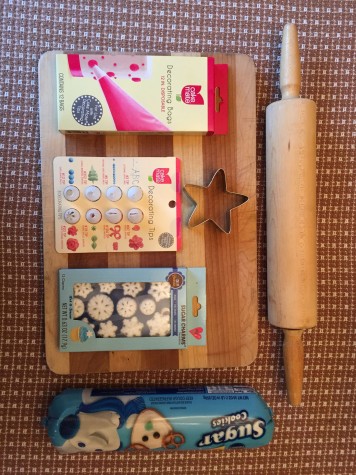 Pre-made, frozen sugar cookie dough

Star-shaped cookie cutter

Flour for rolling out the dough

Wooden cutting board

Small pairing knife

Rolling pin

Store-bought royal icing

Piping bags and tips

Any other decorations (sprinkles, candy snowflakes, etc)
Steps:
Start by preheating the oven to the desired temperature. Grease the cookie trays.
Roll out the dough on a wooden cutting board lightly covered in flour.  Start cutting out the stars with the cookie cutter. Take the small pairing knife and cut out stars slightly larger and smaller than the cookie cutter. To make the cookies even more uniform, cut out stars out of paper and use the knife to cut around them. Some pre-made cookie doughs get greasy with lots of use, so use flour liberally to cut out shapes quickly. Cookies with four plus layers look best.
Place the cookies on the cookie tray and bake according to package instructions. Once done, place them on a cooling rack to cool.
Meanwhile, fill the piping back with desired tip. Add green food coloring to the icing and mix it until the color is uniform all the way through. Place in bag and start piping. For best results, after the cookies are cooled, make a large dot of icing in the center of a cookie and use a toothpick to spread to the edges. Let harden. 
Once almost hardened, place the cookies on top of each other, with the tips of the stars layering so they are staggered. Start to add any desired decorations.
Place under the tree with a glass of milk for Santa Claus to enjoy!