Bush on defense at Coralville event
Former Florida governor and presidential candidate Jeb Bush visited the Coralville Public Library last week. During his hour-long, town-hall style event, Bush discussed The Establishment and attacked party front-runners Hillary Clinton and Donald Trump.
When asked whether he could defeat Clinton if he were to win the Republican nomination, Bush criticized the former Secretary of State regarding the Benghazi attacks of 2012 and her private email server.
"In her testimony, she said that she told her daughter and the prime minister of Egypt that [the attack] was motivated by radical Islamic terrorism, not a video, which was the smokescreen that was used," Bush said. "You can't trust her. People want someone in the White House that they can trust first and foremost, forget ideology. In [Clinton's] life, one step after another, she has been in pursuit of her own ambitions at the expense of national security, when she used a private server. She was a U.S. Senator for eight years…and sponsored only three bills. Renaming a highway, naming a post office and naming a monument."
Bush also criticized Republican front-runner Donald Trump, who he is polling 29.7 points behind*.
"Does he know what conservative principles look like? Could he apply them in such a way that would allow everyone to rise up? Or is it all about him?" Bush said.
Bush also claimed that every candidate's record will be scrutinized, and that he is proud of his own.
"I have been in public life for a long while. I have released 33 years of tax returns. I think every candidate should release every year of tax returns since they were an adult. I have released all of my email, contrary to what Hillary Clinton did. I released them, and wrote about them in a book. My record is the one I am running on, and I am proud of it. I am the guy who can beat Hillary Clinton, and I am the guy who can be a president you can be proud of."
The media has long claimed that both Bush and Florida Senator Marco Rubio are competing as "Establishment politicians," yet Bush claimed that he is unsure of what the label entails.
"I am bilingual. I was married at 21.[Those are not] 'Establishment' characteristics…Ask [the people] in Florida, what life was like when I was governor. I turned the whole damn place upside down. I disrupted the whole order. We eliminated affirmative action. It was controversial, but we have more African-American and Hispanic [students] attending our universities now because I had the courage to fix the system that was holding people back." Bush said.
Only time will tell how Bush will fair in the Iowa Caucus on February 1st.
Photos by Sarah Longmire. 
*According to Real Clear Politics Jan. 18, 2016
Donate to West Side Story
Your donation will support the student journalists of West High School. Your contribution will allow us to purchase Scholarship Yearbooks, newsroom equipment and cover our annual website hosting costs.
About the Contributor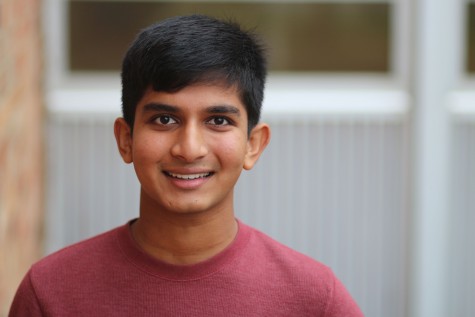 Michael Moonjely, Print Managing Editor
Michael Moonjely (pronounced MAE-kel MUn-JaLLY) is the print managing editor for the West Side Story. Some of his most valuable skills include (but are...