Crisis reveals character
A recent threat made to West caused the entire school to evacuate. Custodians and food staff continued their job to make sure everything else around the district continued smoothly.
Tuesday, Jan. 19 began as any day back from a break — with groggy and tired students. However, just minutes into second period, Principal Gregg Shoultz made an announcement directing everyone to bring themselves and their coats to the main gym.
According to the Iowa City Police Department (ICPD) a bomb threat was called into 911 around 8:40 a.m. later found to be by a man robbing a bank across town. After the main gym was cleared for any explosives, students were directed there and then onto school buses.
"We were lucky with the buses," Shoultz said. "They had bus drivers and buses driving around, and they were empty because they just dropped people off; which turned out to be pretty good turnaround."
The threat raised questions about school safety and why no drills for situations have occurred this school year.
"We don't have a set curriculum for ALICE (Alert, Lockdown, Inform, Counter and Evacuate) training for students yet [but] we are working on it," Shoultz said. "The training can be upsetting to people. It was upsetting to some adults who went through it."
Amid the confusion, there was miscommunication on whether or not students were to leave their bags at school or take them home. Shoultz said that in the future he would prefer that students keep their personal belongings with them when they exit the building. This miscommunication lead to an accumulation of backpacks that the administration had to hand out to students as they came back.
"We kind of sized them up. 'Wait, you have a pink backpack?'"  Shoultz said.
The entire building, staff and students included, were praised for their calmness and attentiveness during the entire situation.
"They [students] could tell I was serious," Shoultz said. "Crisis reveals character. We had a mini-crisis, and it revealed that the character of our students is very high.
Amidst the bustle of Tuesday's evacuation, many people's only concern was getting on a bus and trying to understand what was happening. Not many, however, were thinking hours ahead – except, of course, the kitchen staff. As a production kitchen, our kitchen is responsible for supplying lunch to elementary schools Weber, Borlaug, Hills, Horn, Alexander and the Theodore Roosevelt Education Center.
"Our typical timeline for Weber and Borlaug is that [the driver] leaves between 9:30 and 9:45 and then for the other four schools, our second driver should be out of this building by 10," said Julie Peterson, head of the West High kitchen.
The emergency evacuation, however, put a bit of a wrinkle into their normal schedule. With a little help from Northwest and City, all schools were able to be fed and very nearly right on time, at that. Alison Demory, head of Food Services for the whole district, was involved in the process throughout the day. Demory said that working together was the chief ingredient in making everything work.
" … City High was able to make the regular menu for Alexander … and also Hills. It took the whole village; we had a sub driver from the physical plant to help us get the food from City down to [some schools] … when we finally got the all-clear to get into West, we got in there and got some food around for Borlaug and then Northwest covered some of the out schools," Demory said.
With that said, elementary schools did experience some changes, but all were cooperative and understanding even though the kids didn't receive exactly what was on their menus for that day.
"We ended up serving sandwiches to a lot of the kids but we were able to offer some of the baked chips with it and I think that was a nice bonus for elementary students. The feedback we got from the elementary principals is that the elementary students didn't really notice a difference …," Demory said.
Through the process, Peterson that it seemed as if everyone knew that they were supposed to do, and the kitchen was even able to put the food they had already cooked to good use.
" … we ended up donating 500 servings of the chicken alphabet soup to Table to Table and they were able to serve about half of it to the free lunch program," Peterson said. ""It took every person to work together and … it just fell together."
All in all, the experience was a beneficial one that put the kitchen staff to the test. All involved were able to work through the situation and learn some valuable lessons.
"It reminds us that you have to be prepared for some of those emergencies and I think [Peterson] and I each learned different things," Demory said. "I felt like everyone stayed calm and did a great job."
Graphics by Fenna Semken and Ellie Gretter.
Donate to West Side Story
Your donation will support the student journalists of West High School. Your contribution will allow us to purchase Scholarship Yearbooks, newsroom equipment and cover our annual website hosting costs.
About the Contributor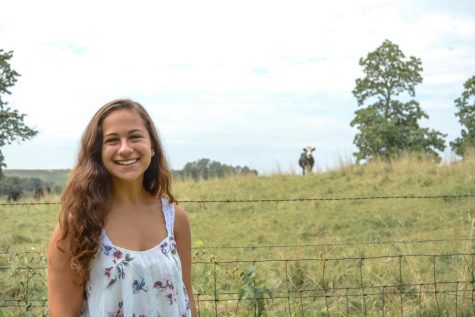 Nina Elkadi, Print Editor-in-Chief
Nina Elkadi is a senior at West and a third-year staffer. She is the Print Editor-in-Chief this year and would like to thank Kanye West for helping her...