Creating culture
It's croquet and color coordination. It's a greasy Matthew McConaughey with a mustache. It's an amalgam of Shakespeare retellings. It's that one time at band camp and Heath Ledger dancing across a set of rickety bleachers and the moment when the glasses come off and the shy girl was hot all along. It's the high school experience, and its definition and portrayal is utterly unpredictable.
The high school experience is a nuanced thing; depending on the subject matter you're consuming, it can be anything from a constant party to literally the worst four years of your life.  But the movies we watch and the books we read have generated a culture that may not be altogether accurate; the stilted characters on screen and in print can feel distant and detached, part of some separate reality where high school is something more romantic than maladjusted temperatures and crowded halls.  It's easy enough to get caught up in these images we're presented with and accept them as fact, but slightly more difficult to seek out a truth within our own environment.  We present to you here the closest thing to the truth that we've been able to find; six unique stories from six unique individuals that reveal the culture being cultivated by the students at our own high school.
Jared Kula '19
North Liberty native Jared Kula '19 has attended ICCSD schools since he was in kindergarten. After successfully navigating the playgrounds of Penn and Garner Elementary and the crowded halls of North Central Junior High School, he thought West would be easy.
"I thought West would give me more freedom, which it has, but I also thought it would be a lot easier than it is, and I could just cruise through it and hang out with people. This year has been a big pool of anxiety," Kula said.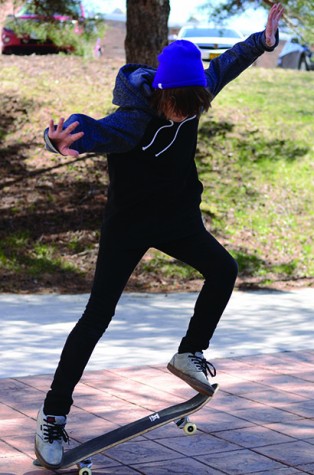 Kula's relaxed expectations of high school extended beyond the classroom. He found his free time to be filled with algebra problems and essays instead of parties and video games.
"High school is not as fun as I thought. I thought the weekends would be a cool break and a huge party scene, but I learned quickly that it is full of homework and is just a break from stress. You have to use your weekend as school away from school," Kula said.

"
I would tell incoming freshman not to have expectations, because mine have changed a lot."
— Jared Kula '19
Due to his schoolwork, Kula found it difficult to pursue his many hobbies outside of classes.
"I spend my free time at my house or skating with friends. I am also trying to teach myself to play the guitar. I have no idea how kids are involved in so many extracurricular activities. I am already stressed enough as it is, and I'm barely in any extra things outside of school."
As Kula prepares for his next three years of high school, he is taking a slightly different approach.
"I would tell incoming freshman not to have expectations, because mine have changed a lot. Over the next three years, I want to take more fun classes in subjects that actually interest me. I am planning on taking more theater and music classes."
Although before high school Kula aspired to be a lawyer, after his English classes at West, he has decided to pursue a career as a writer.
Jen Kuehn '17
As junior Jen Kuehn watched her sister Molly Kuehn '15 go through high school, she had a clear idea about what her life would be like at West.
"My sister gave me great advice before I came to West. She said that I should get involved in as many things as possible early on so I would have the opportunity to become a bigger part of them when I got older."
Kuehn knew that her freshman year would involve soccer and volunteering, activities that she had participated in since elementary school; however, she stumbled upon new passions that have become an integral part of her life.
"I did not really know that I would be involved in WHSDM and show choir, which have ended up becoming really important to me," Kuehn said.
Kuehn has taken her sister's advice in stride and has made clubs a large part of her life as a student, and has taken up leadership positions in a variety of them, including 1440 Interact.
"
Putting too much time into something that you don't enjoy isn't a good way to handle high school."
— Jen Keuhn '17
"This year I am vice-president with Kasey Baller '17. Next year as president I hope to recruit more underclassmen so they can experience the club as long as I did," Kuehn said.
Although juggling clubs and classes has been a challenge, Kuehn does not have any regrets.
"My outlook isn't changing going into my senior year. You have to have a positive one, because if you aren't enjoying [your extracurriculars] you obviously aren't doing a lot of the things that you love. Putting too much time into something that you don't enjoy isn't a good way to handle high school," Kuehn said.
Olivia Manaligod '18
Olivia Manaligod '18 has found her niche in the high school ecosystem as an avid participant in West choirs and the theatre department; a member of West Singers and All-Stater, it's easy to assume that this came naturally.
Manaligod began pursuing choir and theater in junior high, participating in Northwest's show choirs and drama club ("You're kind of learning how to at at that point," she added about the drama club.  "We wrote some of our own skits. I wrote this one about — it was really stupid — but it was about this girl who forced her dad to go buy her some groceries in the middle of the night,") but felt discouraged about these activities near the end of the eighth grade.
"I almost quit choir, actually, in the eighth grade," she said.  "I didn't like choir at all … but I saw a show choir performance and I tho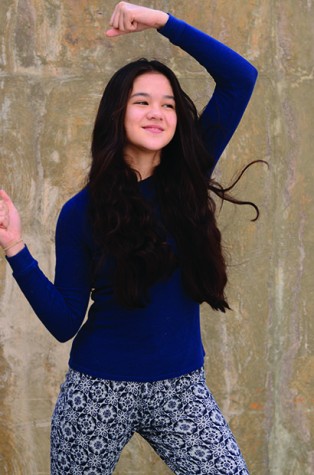 ught 'Wow, that's really cool, I want to do that.'  I found out that the only way I could do show choir was to be in choir, so I dropped band and signed up for [the class]."
This was how it began; Manaligod, after much thought, called the guidance office her freshman year and requested to be moved from band to choir.  That year, she also had the privilege of making it into show choir.  
"I kind of [went into it] blind," Manaligod said, "but I'm really glad I did this, because I'm still friends with people from band, but I've also made a whole new group of friends by continuing with choir …  Now I have these cool teachers, like Mr. Haas and Mr. Knudson and Mr. Perso
n, from last year, and I've found something that I'm actually good at."  
Expounding upon what she's learned from her experience, Manaligod said:
"I can dance better now," she laughed.  "I was really awful at it before.  I can get choreography down faster now.  I feel like I've become more comfortable with myself, because part of show choir and theater is that you have to act really confident.  After a while, if you act it on stage over and over again, you feel confident more often.  You know how to carry yourself."
When she considers her experience and how it sets her apart from the rest of the student body, Manaligod believes the differences lie in the lessons she's learned.
"No one can have exactly the same experience I've had," she began.  "I've auditioned for plays and didn't get in, and I'm okay with that.  There are people who are super talented and they get in every time and they're going to go really far, and that's awesome. But I feel that I've dealt with doing really well in certain areas and badly in others, and I feel like I've learned what I'm good at and what I'm bad it."
When asked if she had some sage advice for students like herself, feeling discouraged in their place in the junior high environment, Manaligod intoned  "If you like doing [something] on your own, don't be afraid of what it's going to be like in high school.  The classes aren't too difficult and the teachers are really nice and you should continue with it if you like to do it."  
Tommy Duffy '16
It seems as though Tommy Duffy '16 has never felt the cold sting of teen angst that plagues so many high school goers; he's amiable when he recollects his time spent here, contrasting the atmosphere of the chilly classroom.
"I'm one of the few that I think has really enjoyed high school," he said. "High school kind of gets a bad rap from a lot of kids, but I've loved high school, I think it's a great thing.  The most defining parts of it for me have definitely been what I've done with the basketball team and Best Buddies."  
"I've been pretty involved with Best Buddies, and my buddy Willie," Duffy continued.  That's something that kind of blossomed from nothing sophomore year.  That really changed me as a person, and that's something that happened directly because of West."
Duffy, who became the basketball team manager on a whim during his sophomore year, believes that this experience marks the turning point in his progression of a person.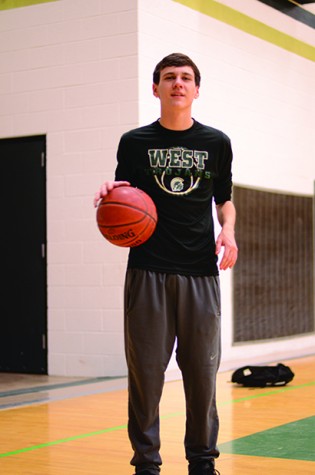 "[I began managing] because I wasn't going to make the sophomore basketball team — I can't play basketball.  That was something I never thought about, but once my dad suggested trying it I was like why not, and I got JD Goodfellow '16 in on it, too, and we just decided to take a step out into the darkness and it worked out amazingly.  It's the best decision I've ever made, hands down."
Admittedly, he still made some missteps, namely one in the past year that was particularly effective in a change in character.
"
Being a manager, you don't have very many places to go, like I'm not going to be Lebron. But I might be able to hang out with him one day."
— Tommy Duffy '16
"I definitely did let my pride for West carry me away a couple times – last year I talked a lot of crap before the second City-West basketball game, and that was an awful idea … I tweeted stats from their past twelve games against West, and we just dominated them in that streak, so it made [City's basketball team] look really bad.  I didn't lie about anything, but it was a jerk move on my part … it was a learning experience."
However, Duffy is particularly proud of the growth he's made in the past four years.
"The biggest change I've noticed in myself is that freshman year I was an obnoxious, loud kid … [I] thought it was funny, but everyone else thought it was annoying and distracting.  But then I was like, everyone else is coming here to learn, and if I'm getting in the way of their learning process, [I'm] ruining the whole purpose of school for them.  I definitely realized you have to manage the impact you have on other people and make it better, so my classroom behavior got a lot better, which sounds kind of miniscule and boring and beside the point, but that really did change who I was as as person."
The rewards from this experience, Duffy believes, are derived from the success of his peers, and are something he wants to maintain in the future.
"I'd say [the most rewarding part] is still to come, because for me the most rewarding thing is seeing my friends, because I'm really good friends with the guys on the team, it's awesome to see them succeed. Seeing my friends succeed in what they love, that's really rewarding. Being a manager, you don't have very many places to go, like I'm not going to be Lebron.  But I might be able to hang out with him one day."
Francis Jayoma '16
Senior Francis Jayoma expected high school to be a breeze. As a shy freshman with a record of academic success, Jayoma entered West High with the sole goal of leaving with a perfect GPA. Little did he know, over the course of his high school career his horizons would expand and his experience would differ vastly from the strictly academic vision he imagined.
"I was very timid as a freshman. I was afraid of trying new things, mainly because I was afraid of what
people would think of me," Jayoma said. "Going into high school [I thought I was] going to get a 4.00 … and little did I realize, I actually had to start putting in effort."
Jayoma may have been afraid to get involved in new activities, but he surely was not afraid to pursue one of his favorite activities starting in his inaugural year at West: running. In fact, Jayoma participated in both cross country and track for the majority of his high school career.
By participating in West High's athletic program, Jayoma gained a new friend group that encouraged him to expand his involvement in school activities.
"I had a lot of upperclassmen tell me that [swimming] was really fun to do," Jayoma said. "Because I did cross country prior … the upperclassmen told me that [I] should try swimming. So I did."
Although this new experience may have seemed like a good opportunity to make new friends and participate in a new sport to Jayoma, it did involve a fair amount of struggles in the process.
"When I first started swimming my freshman and sophomore year, I didn't know how to swim. So, I swallowed a lot of water," Jayoma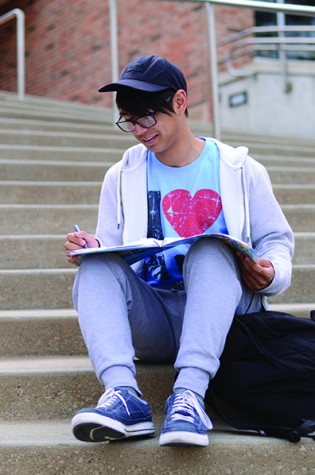 said. "Meaning, I almost drowned several times."
However, during his first two years of high school the combination of his goal of academic success alongside his increased participation in a demanding array of sports led Jayoma to become entangled in a cycle of exhaustion from all his extracurriculars.
"
I was very timid as a freshman. I was afraid of trying new things, mainly because I was afraid of what people would think of me."
— Francis Jayoma '16
"I was staying up pretty darn late … keeping up with all my academic work," Jayoma said. "I was probably taking classes …  I wasn't ready for. So, I got stressed out [and felt] I needed a change."
This necessary change came to Jayoma in the form of transferring to Iowa Mennonite School (IMS), a private high school nearby Kalona, for one semester in his sophomore year.
In addition to his stressed-out schedule at West High, Jayoma battled with depression during this time, which further convinced him to switch over to IMS.
"I do miss some of the teachers [at IMS]. I think the teachers there helped me a lot," Jayoma said. "I … struggled a bit with depression and [they] were really able to help me get back on my feet … It felt like a family [at IMS]."
Through his experience at IMS, Jayoma was able to overcome his depression. So, he decided to return to West, once again.
Once back at West, Jayoma became more involved in a wide variety of activities- ranging from wrestling to Business Professionals of America (BPA) club. Through these new experiences Jayoma branched out of his original friend group and made achievements in different aspects of his life.
Some of these accomplishments include receiving varsity letters in cross country and track and also getting his first job at Hy-Vee. However, one of the accomplishments he is most proud of is winning the state competition for the entrepreneurship section of BPA.
"Junior year I started expanding out [and] that's when I started meeting a lot of new people and I became outgoing," Jayoma said. "Senior year is crazy in how everything goes. I've been able to be part of so many different things now and I've accomplished so much more … than I have any other year."
Arshaq Saleem '18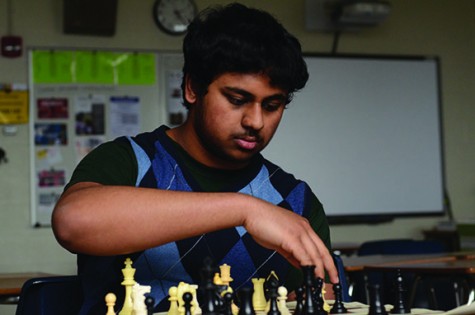 Sophomore Arshaq Saleem has always had a hobby. When he was four years old he started playing chess. In the beginning, it was just a fun game to play with his dad, but over the years it has grown and developed into so much more than just a hobby.
Although Saleem had an interest in chess from a very young age, he never felt compelled to participate in competitive matches and tournaments until later on.
"[In] 2009, I participated in the Weber Chess Tournament. [That] tournament really peaked my interest in chess," Saleem said. "After the Weber Chess Tournament … I realized how anyone can pick up [chess] and it really appealed to me because of the strategic aspects of it and trying to outsmart your opponent."
This competitive mentality manifested itself in Saleem's prior choice of extracurriculars coming into his freshman year.
"I participated in Tests of Engineering Aptitude, Mathematics and Science (TEAMS)—the science, technology, engineering and math competition—and in my eighth grade year with some of the other students who [currently] go to West, we were able to win the first prize for nationals," Saleem said.
Even with his academic s
uccess in TEAMS, Saleem still had some worries about high school when he first started out at West.
"[Coming into high school] I was just worried about the homework load and, to be honest, I still am. Sometimes my homework goes late into the night, but it's more or less what I expected."
Despite the potentially heavy workload of high school, Saleem still manages to make time to work on, improve and enjoy his childhood passion. In fact, Saleem has become so proficient at chess as to participate in many prestigious chess competitions, such as the international competition called the World Youth and Cadets Chess Championship.
"[During] first trimester, I went to Greece for two weeks to participate in the World Youth and Cadets Chess Championship in the U-16 division," Saleem said. "It was pretty tough … I started off horribly, actually. One win out of five games. But I was able to turn it around and I got six out of 11, which is at least decent."
Out of the 150 participants in this international competition, Saleem placed 89th.
In addition to the chess tournament in Greece, Saleem has also qualified to represent Iowa at the Denker Tournament of High School Champions in Indianapolis, Indiana.
"
[During] first trimester, I went to Greece for two weeks to participate in the World Youth and Cadets Chess Championship in the U-16 division. It was pretty tough … I started off horribly, actually. One win out of five games. But I was able to turn it around"
— Arshaq Saleem '18
Saleem's enthusiasm and pursuance of chess has not only led him to participate in prominent tournaments, but has also helped him with his academic life at West.
"When you sit down to play chess it's really all about getting the job done and that [mentality] helps me get my homework done and … stay on task with my grades," Saleem said. "In a chess game you're constantly planning and thinking about your [goals] and your opponent's threats. [This attitude helps me in] making decisions."
Even though academics and chess take up the majority of Saleem's time and effort, he does believe that there is more to high school life than that.
"I used to think [the high school experience] was just about getting good grades," Saleem said. "That's still important, but I try to also be involved in some social activities. I think that's also important to the experience because if you're just completely focusing on studies, you'll just get burned out."
The movies, it seems, haven't told us the entire story; as enthralling as the images on the screen might be, they recount half an experience, something disconnected from our plane of existence.  There's more to this tale than this star-studded world would suggest.
What we learned from these students is that it's taking a chance.  It's making a mistake and learning a lesson.  It's having a plan and following through.  It's taking some time to find yourself because transformations take a while.  It's cultivating a talent, keeping calm and carrying on, being found and lost and found again.  It's the high school experience, and it is what you make it.