Recipe breakdown: Oyakodon
Read on for the photographer and blogger Jerermy Hu's adapted Oyakodon recipe.
Oyakodon
(Oyako-dan) noun
Literally, "parent and child dish."
A Japanese rice bowl dish in which chicken and eggs are simmered together.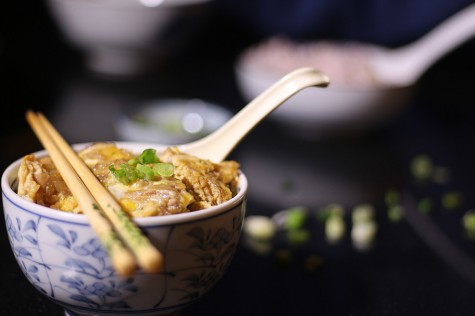 The first time I found myself in the kitchen was around the age of seven. I was barely tall enough to see over the black marbled counter and had to stand on a mini teal plastic stool. The house was filled with the wafting aroma of fish frying in a pan. I yelled for my brother to come and watch the fish sizzle in the pan with me to which he promptly replied "I want to sizzle too."
Ever since, I've started experimenting in the kitchen and have developed a passion for cooking and baking. After having recently discovered photography, I have become enamored by blogs like mynameisyeh.com and thecandidappetite.com.
Their mesmerizing photos have inspired me to try my hand at food photography, and maybe start my own food blog someday. Here's to discovering and trying new things and enjoying life's opportunities.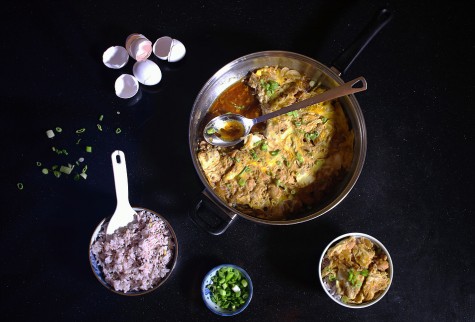 Here is a recipe for Oyakodon, a Japanese rice bowl dish with chicken and egg, adapted from justonecookbook.com.
Ingredients: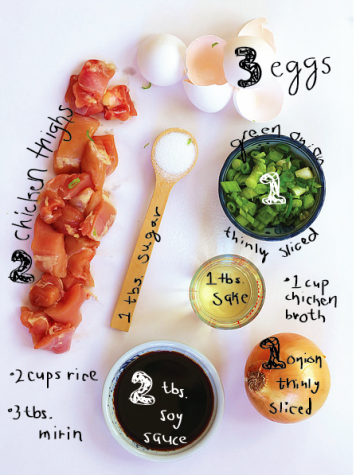 3 eggs
2 chicken thighs
2 cups rice
1 tbs. sake
1 cup chicken broth
2 tbs. soy sauce
3 tbs. mirin
1 tbs. sugar
1 green onion, thinly slices
1 onion, thinly sliced
 Instructions:
In a large pan, bring mirin and sake to a boil over medium heat. Add stock, soy sauce and sugar and bring back to a boil.
Add the onion in a single layer and place the chicken on top. Cover and bring to a boil.
Cook over medium heat for ten minutes. Occasionally skim off the scum and fat.
Lightly beat the eggs and drizzle them over the chicken and onions. Cover and continue cooking until the egg is done.
Remove the pan from the heat and sprinkle on the green onion. Divide between two bowls of rice and serve with desired amount of sauce. Makes two servings.
Photos by Jeremy Hu.
Graphic by Isabelle Robles.