12 West Side Story staffers win international sweepstakes, national awards from Quill and Scroll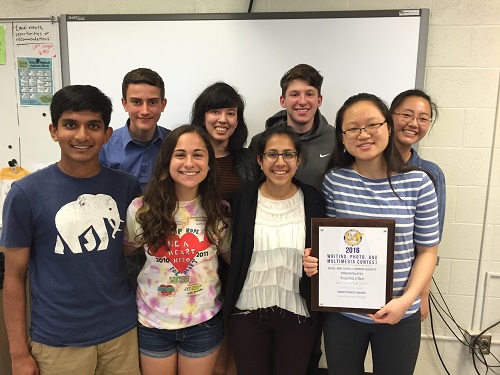 For the second year in a row, Quill and Scroll International Honorary Society for High School Journalists declared Eugenia Chen '17 an International Sweepstakes Winner in Quill and Scroll's Writing, Design and Photo Contest for her ad design titled "Hot House Yoga." Chen, a designer on WSS staff, received the same honor last year for her ad design titled "Celebrate Prom with a Cupcake."
Quill and Scroll also declared the following students as National Winners for their work:
Winners are eligible to apply for one of the $500-$1500 Quill and Scroll journalism scholarships.
There were a total of 1938 entries in this competition in all 21 divisions, with a total of 225 entries selected as National Winners and 279 individual student winners in all categories. The categories include: editorial writing, editorial cartooning, news writing, news feature photography, sports photography, feature writing, opinion columns, review columns, individual in-depth reporting, team in-depth reporting, advertisement, sports writing, photo illustration, infographics, multimedia-features, photo slideshow, cover design, profile, political writing, health, science and agriculture writing and blogging.
For information on past West Side Story Sweepstakes and National winners, go to wsspaper.com/awards.