In black and white: white privilege
White privilege is defined as "societal privileges given to those identified as white in Western countries" on Wikipedia. A search for a dictionary definition of white privilege won't turn any results, despite the fact that the Huffington Post, a student from Princeton and Mount Holyoke College have all attempted to define it. While some individuals and groups want to acknowledge and explain white privilege, as of now, it is disregarded by a large part of academia. This accurately reflects the sharp divide between two groups: those who believe in the existence of white privilege, and those who don't.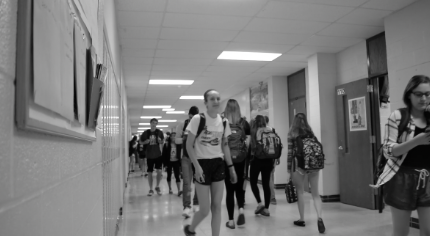 At West, a belief in white privilege and its detriments are common among students of color.
"White privilege is like having a torch over every other race," said Suha Suleman '16. "[White people] always have a head start. It's easier for [them] to get to the finish line than it is for other people of different races."
Not everyone agrees that white people automatically have the upper hand. Mason Hanson '18, a white student, feels that white privilege doesn't exist. He believes that it used to be a problem, and faded within recent years.
"[White privilege] has previously existed… the diversity has created [a] country where white privilege doesn't exist, because of the fact that white people get attacked so much for [having] white privilege. That it makes it so there's no white privilege."
Brady Shutt, social studies teacher, concurs that white privilege has existed in the past, but disagrees that it's faded away.
"I teach history and government. And certainly in the United States, at least, there has been a pattern of systemic discrimination against people who are not white," Shutt said. "You can make a pretty strong historical case for looking at laws that discriminate against women as well, but certainly white privilege is something you can trace historically. And I think there's a pattern that exists, and I think it continues to today."
Yet, there are non-white students who haven't felt the effects of white privilege. Christian Garcia '16 asserts that, as part of a Hispanic family, he's never felt like he was worse off than white people.
"My family is a family of color…. My parents were both immigrants at some point, and have a lot of trouble speaking the English language," Garcia said. "To say that my father or that my mother [has] a disadvantage that a white man or a woman wouldn't, or a white family, isn't the case."
Damarius Levi '18, an African American student, has also never experienced white privilege. However, he doesn't think that negates its reality.
"I wouldn't say I've seen much at West, but that's just me personally… it still happens. It doesn't necessarily have to include you as an individual. If it affects majority, then it's a thing."
According to students, even though West is a diverse environment with minimal bullying, what appears to be white privilege can make its way into the classrooms.  Ala Mohamed '17 experienced what she later realized to be white privilege in a math class.
"The teacher went over something and I didn't catch it, so I asked the teacher to repeat it. She said, 'No, you already know my policy: if I say something I'm not going to repeat it.' Another [white] student raised her hand and was like, 'I didn't catch what you were saying,' just like I did, and the teacher said, 'Yeah I went over it, but let me explain it to you.'"
At the time, Mohamed didn't think much of the incident and took responsibility for the problem. But on further inspection, she found it to be the effect of a bigger issue, and one she wasn't used to thinking about in the context of her own life.
"I thought maybe the teacher is a friend of hers or she's really close to her; maybe that's why she gave her help," Mohamed said. "I didn't really see it as white privilege. I thought [white privilege] didn't affect my life, but it did, and it was a big shock to me."
Suleman has noticed white privilege at West as well, during lunch.
"During [A] lunch, the black kids were being loud and started moving around the cafeteria… but they were just goofing around," Suleman said. "All the staff members that were in the cafeteria just walked in to calm down everything. But during C lunch, the white kids were being loud, and some white boys were out of their seats, and no one from the staff does anything about it."
Suleman credits this to American society's deeply ingrained belief that white people are smarter, calmer and more trustworthy.
"[People] don't want to judge a white person based on stereotypes," Suleman said. "They'll assume they are right, because they're white. White people are always right; they always know what they're doing. You're always taught in society to second guess whether a person of color is right."
Michael Cho '17, an Asian American student, agrees that white people aren't often stereotyped.
"When somebody views [white people], they don't view [them] for just… skin color first, they identify [them] as just another person," Cho said.
However, some feel that race has nothing to do with privilege, and believe that an individual's work ethic and attitude play a bigger role.
"It's all about you as a person. It's about how you work for what you have. That's what the American dream is all about," Garcia said. "You come here, and embrace the society and the morals that we have. You seek your dreams."
Suleman claims that the argument that everyone has to work equally is valid to an extent, but within the same socioeconomic status, being white is still less complicated.
"Just because people say white privilege exists doesn't mean you wouldn't have a disadvantage to other people," Suleman said. "A person of color in the same situation you are will have a harder time fighting and getting to a better place than you. It doesn't mean that everything is easy for you, but it's easier for you than it is for other races. Yeah, you're going to struggle, yeah you're going to be poor, yeah you're human. You have to fight for stuff. But your fight isn't going to be as hard and as horrible as it is for a person of color."