Arts Fest 2016 recap
News editor Nina Elkadi gives you a first hand recap of all there was to be seen this past week at the Iowa Arts Fest in downtown Iowa City.
Throughout my 16 summers here in Iowa City, this is the first time I have ever braved the downtown traffic to hit the Arts Fest all three days. The 33rd annual fest was held June 3-5, and the weather was perfect every single day. Here is a quick recap for those of you that either missed a day or the entire thing.
Friday
The first night of the fest is always the most exciting. You get to almost hit a pedestrian for the first time in a year, and also drink your $5 lemonade. After eating some costly dumplings, my friends and I played duck-duck-goose for an hour on the Pentacrest with a bunch of kids ranging from ages one to six. I have to be honest, during this time I was not paying too much attention to the main stage, which Aoife O'Donovan took at 7 p.m. (I am, however, listening to her top hits on Spotify right now to make up for it).
I got a funnel cake around 9 p.m. and headed toward the parking ramp with one of my friends when, get this, it sounded like someone was covering The Wood Brothers. I happen to be an extremely big Wood Bros fan, and am extremely guilty of crying to "Luckiest Man" a fair share of times. I checked the arts fest website and slightly lost it when I saw it was in fact The Wood Brothers up there on the main stage–how the heck did I miss that they were playing here? Five minutes later, I had my arms resting on the stage and my ears ringing from the speaker.
That concert was one of the best I have ever been to in my life. Maybe it was the spur-of-the-moment adrenaline in me, or maybe it was the fact that during a lull I screamed "LUCKIEST MAN!" and Oliver actually replied, "It seems like we have some singers in the audience … even some four-foot tall ones," as he pointed to me and dove into one of my favorite songs. Author's note: I'm five foot.
All of my fangirling aside, The Wood Brothers rocked their crowd. Each band member had some killer solos, and the crowd at the front was undoubtedly feeling it. The Colorado-based brothers also had some guys in the audience next to me thinking they were in Colorado too… if you catch my drift.
Saturday
Saturday was the perfect day to get the absolute Iowa City experience; the farmers market was happening alongside the Arts Fest, meaning you could live solely off street food from sunrise to sunset. Ouch to your wallet!
I volunteered as a Children's Day helper throughout the day, which meant I turned into a canvas. The Iowa City Public Library spread a tarp in the middle of the Ped Mall, and allowed kids to throw on an old arts fest t-shirt and paint almost anything in sight. It was a huge hit, and kids painted pieces of cardboard to throw into a giant "salad bowl."
The Children's Day festivities wrapped up at three, and to celebrate I had a deep-fried Milky Way for lunch. It's summer; I'm treating myself.
BeauSoliel, a Cajun music group, took the main stage at 9 p.m.; I unfortunately was unable to make that. Trust me, you can't do it all.
Sunday
Finally, a morning where parking wasn't a nightmare! Sunday morning is quiet almost anywhere, but downtown felt especially eerie at 9 a.m. today. East Washington Street had zero pedestrians on it, and it was hard to believe that in just a few hours it would be bustling with families.
The theme for Sunday was "Global Village" which meant that there were tents set up throughout the Ped Mall representing different countries. I volunteered at the Novelty booth where I charged people for water. I had a wonderful view of the Irish dancing going on in Black Hawk Mini Park, which was put on by Champagne Academy of Irish Dance.
A few of the countries represented by tents included Ghana, Sweden and Brazil. At these tents, kids were given the opportunity to learn more about each country and get stamps in "passports" to garner a prize.
I had fried rice and BBQ pork on a stick for lunch from Culinary Row on Sunday, and it was probably the best thing I ate all weekend.
Overall, Arts Fest celebrated another successful year. I'll definitely be back to volunteer next year for my free t-shirt and water bottle refills. I'm pretty sure the art was cool, too.
Photos by Nina Elkadi.
Donate to West Side Story
Your donation will support the student journalists of West High School. Your contribution will allow us to purchase Scholarship Yearbooks, newsroom equipment and cover our annual website hosting costs.
About the Contributor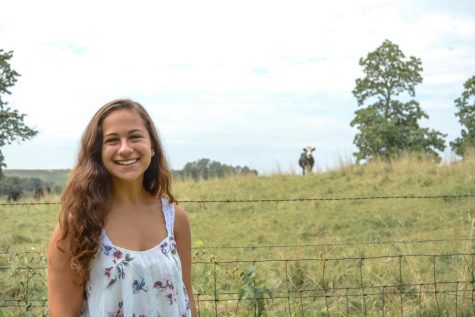 Nina Elkadi, Print Editor-in-Chief
Nina Elkadi is a senior at West and a third-year staffer. She is the Print Editor-in-Chief this year and would like to thank Kanye West for helping her...