STEM teams place top ten at national competition
Members of West's Junior Engineering Technical Society (JETS) placed in the top ten teams in the nation.
Anjali Huynh, Print Managing Editor, Co-Copy Editor
July 26, 2016
Students participating in the JETS club at West wrapped up their 2015-2016 season by traveling to Nashville, TN and competing in the national Tests of Engineering, Aptitude, Mathematics and Science (TEAMS) competition.
Three teams of students attended this event at the Gaylord Hotel and Convention center in Nashville from June 28th to July 1st. There were around 1,000 students from around the nation at this convention. The competition concluded with all West teams placing top ten in the nation: two within the category of written essay and one in prepared presentation.
Dominic Audia, science teacher, has been coaching the JETS club since 2008 and began taking students to the national TEAMS competition in 2013. Though the students faced difficulties along the way, Audia feels that the teams performed well at this prestigious event.
"I was very happy with our performance this year," Audia said. "Every team got ranked nationally in the top ten for technical report writing and presentations. If the engineering problems had been more challenging, I feel all of our teams would've really excelled and ranked a lot higher."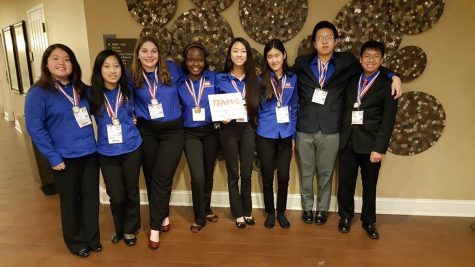 The road to nationals began when students attended a preliminary competition at Kirkwood Community College on March 2nd, with the goal of qualifying at the state level.
"In order to qualify for the national competition, teams need to be the top in their states, based on the state competition," Audia said. "The state competition involves engineering problem solving and writing technical solutions to engineering problems."
Once the students qualified at the national level, they performed tasks following the competition theme Engineering the Tools of Innovation. The students used knowledge of science, technology, engineering and math (STEM) to write technical papers on optogenetics, perform a presentation on space technology for a panel of judges and solve mathematical engineering problems. Scores from each of these events were determined and ranked separately, then as a whole, to determine the best-in-nation teams.
The results of the competition were received with mixed reactions by students. Lydia Guo '19, a team captain and third-year TEAMS competitor, said, "My expectations were really high, so I was a bit disappointed [by the results], but I knew we worked really hard and tried our best. I'm still proud of my team's performance."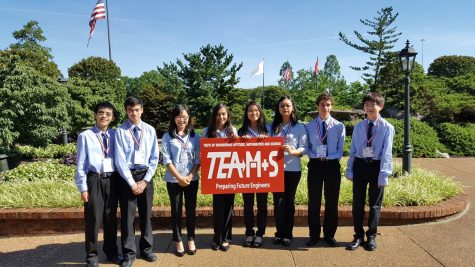 However, Guo found this competition to be a valuable experience, beneficial both academically and socially.
"This trip was most definitely a worthwhile experience," Guo said. "I learned a lot about the various topics, made new friendships, gained experiences and practiced writing essays and making presentations."
Chad Johnson '18, a first-year competitor, also believed the convention was worth attending and plans to compete in following years.
"Five words: best time of my life," Johnson said. "I would definitely recommend [this competition] to a friend, especially if they are interested in engineering. But engineering isn't all TEAMS is about. The actual trip isn't just a bunch of engineering stuff; it was really cool just to hangout with others."
Likewise, Audia recommends students participate in STEM-related clubs and competitions in the future.
"These competitions help inspire students to consider STEM careers," Audia said. "[They] increase students' self confidence in solving complex problems while working on a team, [and] I would encourage students at West High to investigate many of the great STEM opportunities that we offer here."
For the complete set of 2016 TEAMS competition results, click here.