Women of Troy defend the Spike
West won the battle of the spike against City High for the second year in a row.
Continuing an annual tradition, City and West teams faced off on the volleyball court for the annual "Battle of the Spike." West came out victorious for the second year in a row, winning the spike in the first four sets of the game.
This was an especially significant victory for seniors on the team, as this was their last time playing for the spike.
Senior Emma Norris said, "For us seniors, it was a surreal moment. To win [the spike] for the second time meant the world to us. As a team, we were determined to keep the spike home where it belongs and it took the whole team, the student section and the coaches to get us to that point. We couldn't have been happier when we won that final point to secure the spike."
Norris credits the team's success partially to the family-like atmosphere on the team.
"We are like family," she said. "We are friends on and off the court, and the love we have for each other is unbreakable. We had a couple moments when we were down in the game, and it was our mentality and effort by each and every one of us that put us back on top. We just mesh so well as a team and that's what gives us another edge as a team."
"
We had a couple moments when we were down in the game, and it was our mentality and effort by each and every one of us that put us back on top."
— Emma Norris
Additionally, Chandler Haight '18 acknowledges head varsity coach Randy Dolson as a key to their success.
"Our coach, Dolson, has had a team goal for our practices and games just recently, and it's to play for each other rather for ourselves," she said. "That helped motivate us to step up and play full out."
Dolson himself was pleased with the results of the game and the efforts of the team.
"[The players] have been working hard, and they were mentally strong last night – they never wavered, even when faced with adversity," he said. "In the bigger scheme of things, this was an opponent we respected, yet wanted to beat in order to reach some of our season's goals. Our players were extremely happy and excited to be able to beat [City], and to beat them as one–playing for West and each other, playing with pride!"
Looking forward, the women of Troy hope to make it to the state championships and potentially bring home a state championship title.
"Our main team goal is to go to state and play as hard as we possibly can to win," Haight said. "I believe that if we keep this mindset, we can win."
The next home varsity match will take place on Tuesday, Sept. 13 against Dubuque Wahlert Catholic High School.
Final scores for each set:
West: 25-9

City: 25-22

West 25-23

West 25-21
About the Contributor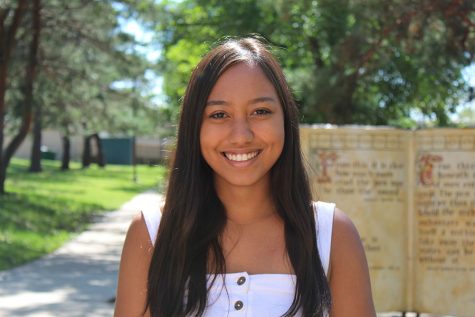 Anjali Huynh, Print Managing Editor, Co-Copy Editor
Anjali is a senior and third-year staffer on West Side Story. She is the Print Managing Editor and Co-Copy Editor. When she's not complaining about Oxford...