Meet the diving coach: Sam Wagner
A small-town girl with a bundle full of dreams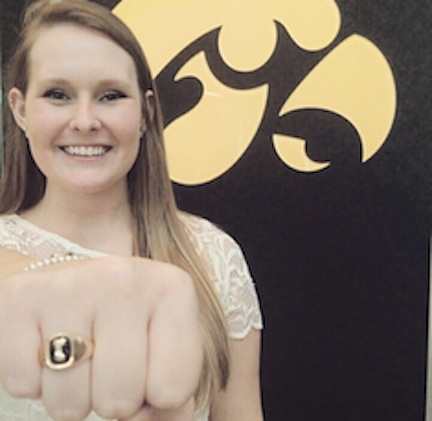 A podophobic with a penchant for even numbers. A lover of dogs, black iced coffee with one pump of caramel, and books. A philanthropist, cupcake decorator, and lover of life.
"As far as the even numbers thing," Sam Wagner, West High's newest diving coach, said, "I like my T.V. to be at an even volume, for my alarms to be set at even numbers; just little things like that." Her alarms are indeed programmed for 6:32, 7:08, 7:22, and 8:04, she said it was never a problem for her roommates in college, that there were never any squabbles over the room temperature.
In fact, Wagner seemed to be the team's dollop of sunshine, as Calli Head, Wagner's teammate and close confidante, says they always joked about how they could turn anything into a 'spoonful of sugar'. "One year, during our student athlete Day of Caring, we were assigned to pick up cigarette butts downtown," Head said. "While this is a job most people would gripe about, Sam and I made it into a fun game. We had a competition to see who could find the most change on the ground." Wagner's ebullient outlook on life translates over to those she is with. "She is always trying to make the best out of every situation and that is so refreshing."
Wagner spread her roots in Marion, Iowa, and began gymnastics at the age of five. She continued until her junior year of high school, when she left the world of chalk and tumbling behind. "I had some friends, growing up, on the CRAA swim team. They'd always encouraged me to do diving, but I didn't really start diving until high school."
Wagner recalls herself as one of the first truly competitive divers to dip her toes in Linn Mar's diving realm. "My freshman year coach had never dove before; she was a friend of the swim coach and needed a job, so he hired her." Wagner's coach worked in a tanning salon, but the pay was trickling in slow, and she needed another source of income. However verdant her new coach was, Wagner characterized her as 'just a nice girl'. Whether this characterization stems from the coach's sunny disposition or the fact that she'd give out free tanning goggles, Wagner didn't say.
The transition between gymnastics and diving was almost infinitesimal for Wagner. "It was hard for me to land on my head at first, but the skills- the flips and twisting- are easier than gymnastics," she said. Although she's been tumbling since the age of five, Wagner admits that each coming dawn brings about new bouts of enervation. "You have to force yourself to do things that aren't normal, and scare yourself into trying new dives," she said. "Flipping through the air a bunch of times isn't in most people's everyday routine, I'd say." And despite her tanning salon coach, despite the miasmic doubts escorting new dives, Wagner taught herself the necessary skill sets and qualified for State all four years of high school.
High school diving in the corn state is, relatively speaking, a small world, Wagner said. "College diving is just a step above in every way. There are the best of the best from each state so the competition is really really high. Coming from a smaller town in Iowa, I was a really little fish in a very big sea."
Wagner had planned to attend the University of Wyoming to dive, but their head coach getting fired quickly dissipated any intention of diving for Cowboy Joe. "I decided to dive at Iowa. I've always been a hawkeye fan, so it was really a dream come true," she said.
Wagner dove springboard- both one and three meters- in college. "We had two practices every single day, all year long," she said. "So, water practice in the morning, water practice in the afternoon, and lifting three days a week. We had more than twenty hours of practice a week, coming from high school where you maybe have ten hours a week, for a couple of months."
Wagner never had any harrowing injuries or 'smacks', as she referred to them, but rather a peculiar injury with an even curiouser solution. "The only injury that I had was kind of a weird one," she said, "where my achilles tendon got stuck to the sheath." She would twist her ankle around to hear it creaking. "It was super weird and it hurt really bad, and I dealt with it for months. Then one day, I went to the hospital and [the doctors] said, 'Oh, we know what this is,' and they just injected a little bit of saline solution- literally sterile water- into my achilles. Then it was perfectly fine," she said.
Coaching high school diving was not what Wagner had envisioned in the stars, for she'd planned to pursue a career path following her father's footsteps. "I went to the University of Iowa and got my degree in biomedical engineering," she said, "so I'm applying to medical schools right now." Biomedical engineering is focused on the design of medical devices, she explained. "Anything from heart valves to hip replacements or equipment- stethoscopes, hospital beds, MRI machines, anything like that- biomedical engineers design. So it's a pretty big industry." Eventually, she hopes to work in the medical professional world, where she can 'help others in some way, shape or form'.
It was purely serendipity, then, that she chanced upon the coaching pathway. "One of my teammates on the Iowa team, Lauren Kelba, coached for West last year, and then moved to Nebraska. I always thought that if I did coach, I would coach at Linn Mar. This was definitely a last minute, spur of the moment, spontaneous decision to start coaching, but I love it," Wagner said. Although she admits that coaching is an interim job, she plans to stick with it for a little while longer.
As far as where Wagner envisions herself in the next few years, traveling the world is pencilled in at the top of her list. "I spent the summer in Vietnam, so I have a little travel bug now." Wagner travelled through one of Iowa's athletics department programs, Coach for College. "Student athletes from all over the U.S. are sent to Vietnam, where they teach 6th and 7th grade students at rural schools. I taught physics and and coached volleyball." Vietnam has a 70% drop out rate in high school, so this program works to present the children with paragons, in hopes that the children will develop a zealousness for learning and pursuing education.
"We flew into Vietnam, and then we took a bus for six hours," Wagner said. They were there during monsoon season, in that finicky time when mornings dawn stifling hot and sunny, and afternoons are a harbinger for floods. "It would torrentially downpour for about thirty minutes, and then the sun would come out again," Wagner said. Thirty minutes was time enough for the classrooms to fill with about an inch of water, for their shoes to get soaked through and through.
"We taught in a building, and there was no air conditioning anywhere. It was a rural area, so the kids lived in dirt floor houses with tarps." Wagner's group was in the southern part of Vietnam, where rice fields peppered the horizon. "You'd see little huts in the middle of the rice fields; that's where the kids lived." The high dropout rate among young Vietnamese children could be explained by the rice fields, she said. "When the parents get too old to work in the fields, the children take over their parents' job, or tend to their ailing grandparents."
The children didn't speak English, and although the program provided translators, Wagner marveled at the power of nonverbal communication. "I got really close to the kids, even though we didn't speak the same language." This kind of simple interaction is testament to how little we need to understand one another, and illuminated Wagner's ardor for exploring different cultures and peoples.
Jacintha Thomas, Wagner's teammate on the University of Iowa diving team, says she envisions Wagner pursuing nothing less than her dream job. "Sam is very dedicated and driven to succeed. She's a good leader and she's bold; she's not afraid to speak up and share her opinions." Thomas remembers a practice on Halloween, where Sam concocted a plan to wear black suits and waterproof makeup whiskers and noses so they, too, could be dressed up for Halloween. "Because of her motivation, she'll have an advantage when navigating the early years along with whatever comes after," Thomas said.
"
"You have to work hard for what you want, hard for your goals- that's the only way you're going to achieve them." -Sam Wagner"
— Sam Wagner
Wagner's parting words of advice are ones that have flown from her college diving coach, Todd Waikel. "Work hard. [Todd] would always say that if you want to get better two months from now, you have to get better today." You can't wait for tomorrow, she mimicked him saying, "Success doesn't come knocking on your door, like, 'Hey, what's up?' You have to work hard for what you want, hard for your goals- that's the only way you're going to achieve them." This is something, Wagner said, that she's adopted into her life and tried to live by. And she does.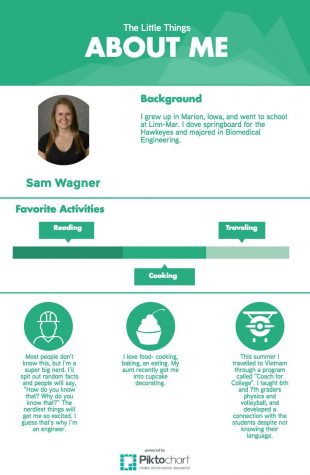 Donate to West Side Story
Your donation will support the student journalists of West High School. Your contribution will allow us to purchase Scholarship Yearbooks, newsroom equipment and cover our annual website hosting costs.
About the Contributor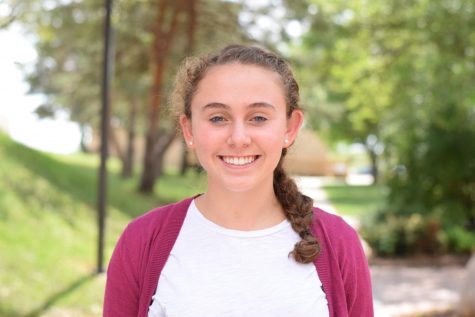 Lauren Katz, Copy Editor, Editorials Editor









Lauren Katz is a senior at West High, this being her second year on staff, and is a Copy Editor and Editorials Editor for print. When...