The music niche: United Action for Youth provides music studio for teens
United Action for Youth's quest to give youth a haven in the arts
Lauren Katz, Copy Editor, Editorials Editor
October 4, 2016
It was mid-September in that finicky time when days bring gusts of sultry air and evenings a chill. The United Action for Youth's (U.A.Y.) doors were open to those who sought a respite, with sunken couches and racks of handmade necklaces of cerulean blue shells and wooden turtles.
United Action for Youth originated in the late 1970s, when there was a prodigious movement of "just say no to this, just say no to that." The idea behind the program was to provide amenities for young people to say yes to, one such amenity being a recording studio christened "Synthesizer." It remained, for another 40 plus years, a harbor to those with an ardor for music.
Although the recording studio no longer answers to the name "Synthesizer", it remains as part of U.A.Y.'s drop-in program. The studio is outfitted with a melange of instruments, including electric guitars, electric basses, and two professional-grade drum sets and synthesizers- both antique and modern. "We have lead-making software, beat-making software, beat-creation stations, protools for running software, and we even have a saxophone," Kyle Buddin, Youth Center Coordinator and IT Manager, said. We were sitting in his office, around the corner from Zen Salon and Spa. "We've used [the saxophone] a long time. I'm not even sure if it has a reed, but we do have one," he said.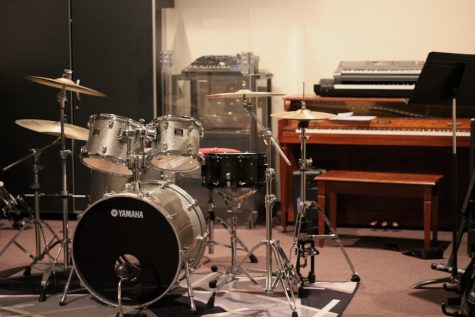 The U.A.Y. program receives instrument donations frequently. Buddin matches the more beginner-esque instruments with students who although can't afford to buy their own, have a burgeoning inquisitiveness and zealousness for music.
The program operates on income from federal and state grant contracts, fundraising events, such as the Ride 4 Youth, and individual giving. "As long as you are at least a junior in high school in the Johnson County area, you are eligible for our services," Buddin said. Because the studio is free, the studio is booked four to five weeks in advance.
One of Buddin's greatest ambitions is to see kids get the chance to run the equipment. "You know, when you pay to go to some professional studios, they're very hands off. They'll say something like, 'Tell me what you want, and I'll make it happen.' That kind of thing doesn't happen here," he said. When a band comes in, Buddin sets one or two of the members up at the mixing board. "It's always nice to get [them] to learn how to run the board, mix their music, and understand how all the effects work. The valuable thing is that later on in their professional careers, [the musicians] can walk into a studio and say, 'I want it like this.' The producer might say something like, "No, you can't do it that way," but then the musician can rejoin with, 'Actually you can; I've done it before. Here, let me show you.'" Buddin said, his hands splaying wide. So transpires instruction from amateur to professional.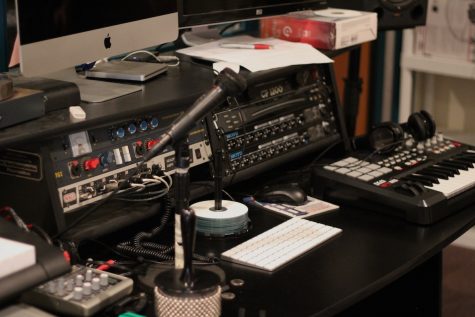 Over the years, U.A.Y. has seen alumni among the apogee of the music-producing herd. "We had one woman that I worked with who started with guitar lessons and did a band project with staff members. She eventually went on to school at UCSD, and graduated with a degree in sound technology." She's a manager of a big studio in San Diego now, and works with people like ACON. And it all started here," Buddin said, pointing to the carpeted ground.
Buddin has also seen musicians get their feet wet at U.A.Y. and continue along successful pathways. "There's a bass player at Lake Street Dive who just played at the Englert, and another fellow by the name of Jason Reeves who co-produced Colbie Caillat's music. Reeves was a grammy winner," Buddin said, his eyes widening in remembrance.
One group began humbly, with roots close to home. Big Oak, an indie-folk band from West High, dropped their debut album at U.A.Y. this August. "I've played [the album] for people I know in the industry- you know, Sleeping Bear, Phantom. Every time I play it, their eyes go big and they say, 'Wait, these are high school students?'"
"
"The nice thing is that this is a place where you can come if you want to set your sights. That happens whether you come to spin a few rhymes while you freestyle, or orchestrate an entire album with sheet music.""
— Kyle Buddin
At the end of the day, Buddin's aspiration is simple and heartwarming. "The nice thing is that this is a place where you can come if you want to set your sights. That happens whether you come to spin a few rhymes while you freestyle, or orchestrate an entire album with sheet music." His hydrangea blue eyes seek mine. "We can do either," Buddin said, "but that's the goal."
Outside, the sinking sun brings a nip to the air. But inside, it's warm.