Congregation's vision reaches West High
The sweet sound of piano keys fills the walls of West High's Arganbright Auditorium. The tempo is upbeat, and right as you become enticed, the bass and percussion join the harmonious scene as well. A sudden brassy sound appears over your shoulder. The winds, including a Soprano sax, Tenor Sax and a Trombone have walks in through the auditorium doors. The music suddenly has an added dimension and the sounds engulf your eagerly listening ears. Last week, Sammy Miller's Congregation entertained band students during their 7th periods.
The Congregation, a jazz band, is made up of musicians Patrick Sargent, Ben Flocks, Sam Crittenden, David Linard, John Snow, Sammy Miller and former West High student Gabe Medd.
The band, according to Miller, is "a way of being, using music to be inclusive, being open enough and inviting enough for other people to experience it. Serious art is often hard to access, it's trying to create an environment where your instincts are okay." In order to accomplish this sense of inclusion, the show is not just a musical concert, but described as more of a musical experience. Each of the men on stage is, in their own right, an actor, as well as a musician. They have been playing together for five years, the current band for two. As the performance proved, and Flocks and Crittenden said, "Sammy [Miller}'s vision is pretty amazing."
West band teacher Rich Medd's son, Gabe Medd, is the trumpet player for this group. After leaving West High in 2007, Gabe spent seven years in music school, at Juilliard and the University of Miami, receiving an undergraduate and master's degree, and is now involved in several different groups. Gabe says "the biggest thing is trying to make all your income from one group, and for me its been finding a niche and finding seven or eight groups that I can play in."
The group of guys regard themselves as "best friends" according to Flocks. Their dynamic on stage shows a visible bond between them. Despite their closeness, the men all have different personalities and, with that, views on music. However, they all agreed that the band allowed them to travel, reach people, and do what they love. Lindan says "The group is really constituted of different personalities, it really brings something special together." They are hoping to expand their show into a larger project, incorporating history and the music. Miller says the point is that "music should be a vessel, I'm interested in using the music not for the sake of music, but it's what the music allows us to be."
About the Contributor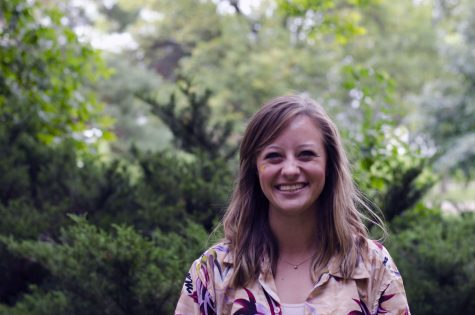 Molly Howes, Reporter











Molly Howes is a reporter for the print edition of the West Side Story. She is a senior this year, and when she isn't writing for...