Student mixtape: Marina Paul '17
The WSS catches up with senior Marina Paul to see what she has been listening to.
Ethan Goers, Broadcast Anchor, Sports Producer
October 11, 2016
Senior Marina Paul mostly enjoys listening to modern music that makes you think. She is open to a variety of musicians, and has songs on her phone ranging from rock bands like "The Killers" to current pop groups like "The Chainsmokers."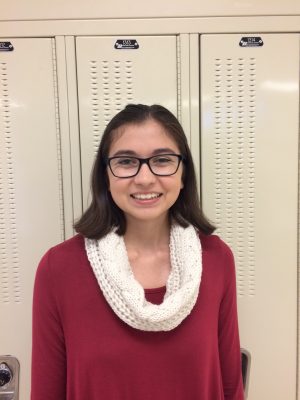 1. "Please Don't Go" – Joel Adams
Please Don't Go is a hit song from 2015 by Australian singer Joel Adams. The song reached the top of the charts in 15 countries. Adams said that he wrote the song when he was fifteen at school, and forgot about it. He grabbed a guitar, strummed out some chords, and created a great song.
2. "Barcelona" – George Ezra
George Erza is a 23 year old English singer and musician. Erza's hit album Wanted on Voyage, reached number one in the UK and the top ten in seven other countries. It was also the third best-selling album of 2014 in the UK.
3. "Say You Love Me"- Jessie Ware
Jessie Ware was raised in London her entire early life. Before becoming a singer, Ware was a journalist at The Jewish Chronicle, and did sports journalism at The Daily Mirror. The song "Say You Love Me', was co-written with fellow artist Ed Sheeran.
4. "Humans"- The Killers
The Killers are an American rock band that was formed in Las Vegas, Nevada in 2001. In the United States, "Human" debuted at number 13 on Billboard's Hot Modern Rock Tracks chart, and peaked at number 6.
5. "Closer" – The Chainsmokers
The song Closer is a recent pop single from popular American DJ duo "The Chainsmokers". The group has had many other songs reach the top ten on the Billboard hot 100, but their song "Closer" was their first to reach number one.