Rick Riordan hammers in on Iowa
The Magnus Chase Tour traveled through Iowa City for the release of new novel, "The Hammer of Thor."
His stories bring ancient myths out of history textbooks and into the hands of millennial readers across the world. Starting in Massachusetts and working his way across the United States, Rick Riordan came to the Englert Theatre for the Magnus Chase Tour in his first ever Iowa event as a part of the 2016 Iowa City Book Festival on Oct. 7.
The release of his new novel, "The Hammer of Thor", resulted in a sold out crowd, drawing people from as far as Hardington, Ohio to be a part of this Norwegian-based kick-off to his second book in the Magnus Chase and the Gods of Asgard series.
"Every time I finish a series I think, 'Okay that's it, I have now done everything about Greek mythology,' and every time I'm wrong," Riordan said. "Because the deeper you go into mythology, the more you find. More gods, more monsters, more weird stories; and I keep finding things to write about. In this series [Magnus Chase and the Gods of Asgard ], this was the first time I wrote in the point of view of a god."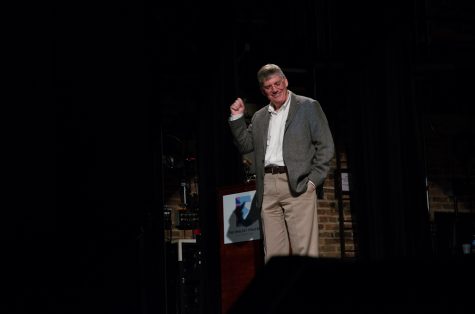 Other than Norwegian mythology, Riordan dove into Greek, Roman and Egyptian mythology with the Percy Jackson series, The Heroes of Olympus, and The Kane Chronicles because he "[grew] up with them". Therefore, other cultures like Hindu, Chinese, Aztec and more are myths that in Riordan's mind, will be better told by others.
"We're going to start an imprint, a subsection of Disney Publishing called 'Rick Riordan Presents,' and instead of me writing all of the mythologies we are going to look for authors who already are writing about that stuff," Riordan said. "If I feel like I can recommend them [to my readers]… we're going to have them out here in the spotlight. We're hoping to have the first books in Rick Riordan Presents come out in 2018, and we are looking for them right now."
Along with searching for new mythological stories, Riordan busied himself with other projects coming out in May of 2017, such as the second book to the Trials of Apollo, "The Dark Prophecy", an addition to the tales of Percy Jackson with "Camp Half-Blood Confidential", and the first "Percy Jackson Coloring Book". But the most exciting reveal came with the announcement of the final book to his latest series.
"Next October . . . which I can announce to you for the first time here today: "The Ship of the Dead"," Riordan said revealing the cover for the audience. "And for you fangirls out there, I don't mean 'ship' like relationship."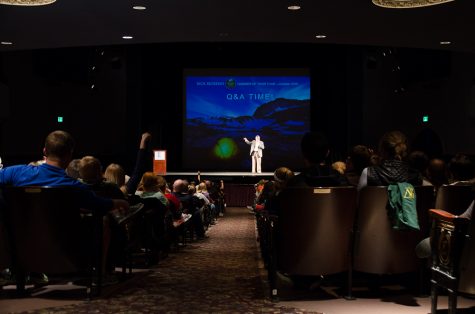 Yet after developing a franchise so acclaimed it was produced into a movie, one that he has never actually seen, Riordan said that none of his success would have been possible without the inspiration by his son, Haley.
"He was having a really tough time in Elementary School. He did not like reading, he did not like writing. It turns out he has ADHD and he's dyslexic, like Percy Jackson and the only thing he liked that year in school was Greek mythology," Riordan said. "So I started telling him stories from the Greek myths at home… for bedtime to keep him interested in school, and when I ran out of stories he said, 'Dad, tell me another one.'"
Donate to West Side Story
Your donation will support the student journalists of West High School. Your contribution will allow us to purchase Scholarship Yearbooks, newsroom equipment and cover our annual website hosting costs.
About the Contributor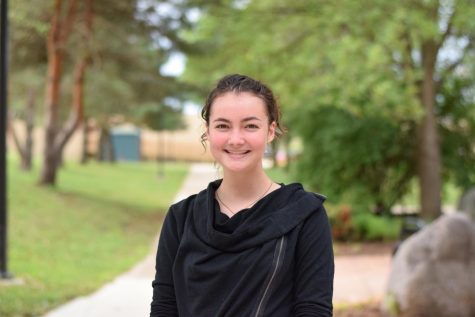 Alyson Kuennen, News Editor, Photographer









This is Alyson's second year on staff where she is a news editor and photographer. As a senior she spends her time working, working and...