Kinnick in the eyes of a virgin
A West Side Story staffer shares her first college football game experience.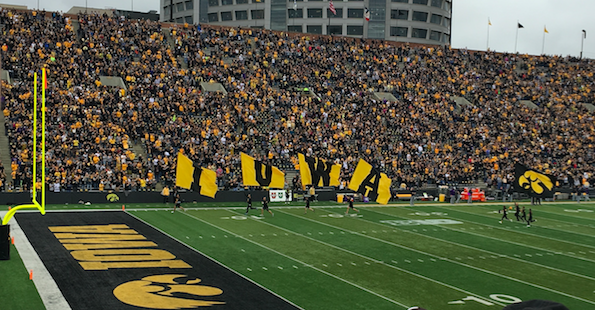 Living in Iowa City, Iowa, the Hawkeyes are everywhere. You see tiger hawks on bumpers of cars, hawkeye flags hanging in front of homes, and black and yellow clothing all over the city. I lived in a small neighborhood in Illinois, so the only football gear I saw was brought out for game day – not a part of an everyday lifestyle. When I moved to Iowa in 2011, it was crazy to see how much pride everyone held in their NCAA team–so I told myself I would see what a Hawkeye game was all about.
It wasn't until October 1st, 2016 (five years later) that I got to attend my first Hawkeye game at Kinnick Stadium. I'm going to be honest, I'm not a sports person. I casually play golf with my boyfriend, but he has to talk me through everything that's going on. So I was a bit nervous going to this game with him and his family–die hard hawk fans–as I contemplated whether or not to ask them what side of the field our touchdown goal was.
We got to our tailgating spot a little before eight and the game didn't start until 11, I was actually irritated that we woke up that early and I was like "Is tailgating REALLY necessary?" but then I got there and saw that it is DEFINITELY necessary. The streets were packed with people walking, throwing footballs around, and setting up tents. It was raining on and off that day and it just added to the dramatic effect of how fun the day was. There was no sun out and the sky was gloomy and dull, but that didn't stop the cheerful faces I walked past along Olive Court. There were all different kinds of tailgates; inside vans, in tents, on home's patios, or just on the pavement. All containing people decked out in hawkeye gear, piles of food and alcohol, and only the cool tailgates had music and games set up. We had a table full of breakfast food at our tailgate and my boyfriend's dad's "Tailgate Mix" playlist on repeat while we set up the baggo game There was nowhere for anyone to drive around, let alone find a parking spot – so it was definitely wise to set up early before all the ruckus began. It also gives you a chance to begin some pre-game (age appropriate of course) to play games and listen to music in order to get hype for the game ahead. Around 10:30 we packed up to get down to the game andI was honestly surprised on how many people were stumbling up the curb or tripping over their own feet that early in the morning. Walking down to the stadium, the parking lot was like our hallways–it was so close I couldn't even raise my arms to wave at friends.
Once I got into the stadium, wow that thing was HUGE I could not believe how many people were there–I don't think I saw one empty seat. What was really sad was the game was against Northwestern and there was a tiny corner section of purple people–the rest of the stadium was overpowered by black and gold.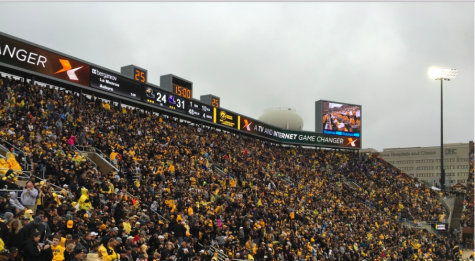 We stood for all of the announcements and shoutouts, and probably the entire first quarter–no one really did much sitting at the game. Around then I stated to get the hang of how everything was going, the downs and plays. Everyone around me was on their feet cheering and screaming, that vibe kinda rubs off on you and you feel euphoric. I was able to scream at the top of my lungs and people wouldn't stare at you, but rather join in until your whole section was yelling and clapping.
A player on Northwestern got seriously injured–not moving for like fifteen minutes while the entire medical group crowded around him. Without hesitation, his team took a knee for him the entire time. Iowa however, took more than ten minutes for just two people to take a knee. I think proper sportsmanship requires the other team to take a knee as well, just as common courtesy, so that bothered me a little bit. In terms of sportsmanship, I felt like no one in that stadium understood what it meant to have sportsmanship. Maybe it's just because I've never been in the sporting event environment, but the constant booing and then finally the denial of the Hawks taking a knee really pushed me over the edge. We're all here for a reason whether that be our family member is out there on the field, we attend Iowa or are alum, or we're just die hard football plans andIowa is our home so the games go hand and hand with the location; either way, we are one when we are in that stadium no matter what team we prefer, we're all football fans and we should remember that when the rival team scores and instead of booing appreciate the conflict the team provided to make the game more interesting. Because isn't an intense, close game so much more exciting than an easy win?
But it isn't always the fans that can cause negative vibes, it's definitely the staff/people on the field.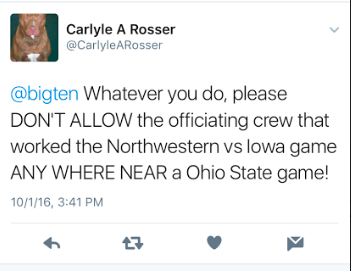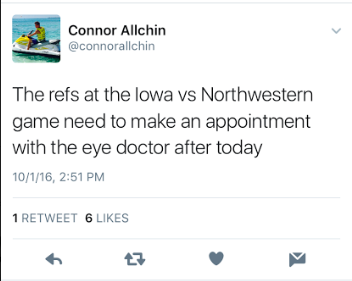 The referee made a lot of bogus calls (at least that's what everyone around me was complaining about, I had no idea what was going on). There were a few calls I didn't understand when they threw in a flag or didn't call an interference on the other teams, but the crowd was so enraged with one that everyone started to chant "bullshit" while throwing their fists in the air. I thought that was crazy, but once the ref didn't call a face mask interference on Northwestern, but called it on Iowa, the stadium went crazy.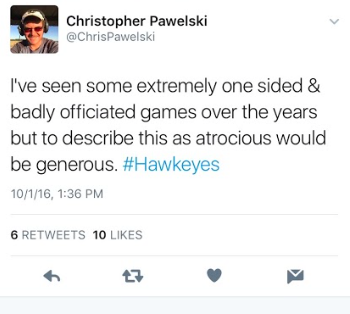 The north corner started to throw things onto the field, and within seconds the field was COVERED in water bottles and empty food containers. The security team and other people on the field rushed to pick up as many bottles as the announcer said "Please refrain yourself from throwing things on the field." Everyone around me was so surprised this was happening, one person next to me was talking to their husband about how they've never seen this happen before and they've been to almost every game in the past five years. In any sporting event, people boo and swear anytime their team is called out unfairly, intercepted by the other team, or just have a bad play, but this behavior has limits. Yes people are entitled to be upset or agitated if a play didn't go their way, but they are fans to the team and are there to represent them and throwing things on the field, yelling bullshit at the refs, and screaming threats just crosses the line entirely.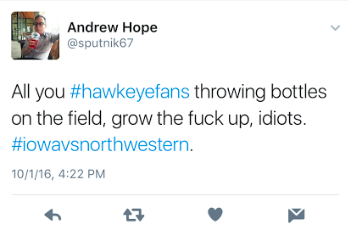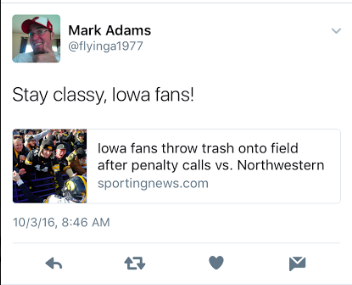 But the negative vibe was just a phase – then the stadium was back to it's cheering, joyful environment. At one point in the game, the I-O-W-A flag chant went on for ten minutes even after the flags went down.Everyone was laughing and screaming trying to out-yell one another with their designated letter. I thought it would end once the timeout was over ad the play began, but it kept going even louder (shoutout to the W section for being the loudest).
The smile on my face was ear to ear and there was no way I was able to hide this alien feeling of pride and power that every person in that stadium possessed for their team-a feeling I've never experienced before and am so glad I was able to while I could. Once we lost, everyone's mood around me dropped like five notches and were really bummed out, but I couldn't get over how exciting my first game was, I was so happy and hugging the people around me for contributing to this necessary experience as they all looked at my boyfriend like, 'does she know we lost? What is she so hype about?' He told them it was my first game and they all gave this sort of smirk like they understood my odd behavior because they had all been there at one point in time, they all have experienced the crazy distinct feeling an Iowa Hawkeye game gives you for the first time and if you haven't felt that feeling yet, quit reading about it and find that feeling we all deserve to encounter at some point in our life.