Fashion Friday: Jax Claudin '20
Jax Claudin '20 resembles his music inspirations in his rockin' everyday style.
For many people, their taste in music is a reflection of their personality. The lyrics speak to them in ways they feel nobody else can understand and the songs touch their soul in a way most people cannot. For Jax Claudin '20 his music is not a reflection of him, but rather he is a reflection of his music. In fact he's a walking talking 80's glam metal era throwback.
Long dyed black hair, bright bandanas and leather jackets are just a few examples of staples from the walking talking 80s throwback.
"It's just kinda been who I am ever since like third grade, I've totally been into music and rock and roll," Claudin said.
His style greatly reflects his passion for rock and roll and in his household, he isn't alone. His father, Shawn Jaxx, plays in a band and also loves music. Among Claudin's favorite bands are Motley Crue, Aerosmith, Guns and Roses and ACDC.
"I've been listening to this type of music all my life and I've been influenced by a lot of different bands," he said.
The styles and attitudes of the band members serve as an inspiration to succeed despite the circumstances. Many of the members of Claudins favorite band, Motley Crue, have struggled with addiction, but have overcome it to become better versions of themselves and create more music. This resilience found in Claudins favorite bands shows itself in Claudin too.
Regarding feedback to his "look," Claudin says "Sometimes it's bad, sometimes it's good. I've been bullied a bunch for being different but I put it aside."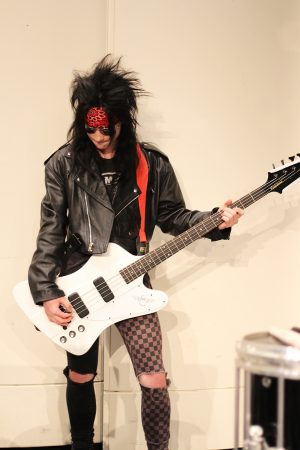 Another source of his strength is taken from a quote in one of his favorite songs "Primal Scream" by Motley Crue: "If you wanna live life on your own terms, you gotta be ready to crash and burn."
Claudin describes the quotes meaning as "If you wanna be yourself. you gotta be prepared for the outcome, there's always gonna be good stuff and bad stuff."
However, his loud style and even louder taste in music does not accurately portray Claudin. He is quiet, humble and does not have the "in your face" attitude normally attributed to rock and roll stars. Claudin said, "I'm kinda a different kind of personality, so it's really hard to find someone just like me and there aren't a lot of rockers these days."
Despite this, Claudin finds a solution for these problems in music too.
"I've always been really shy so I use lyrics as an outlet," he said.
His distinct style and quiet personality are combined into a unique package of creative energy. By spending time alone playing his bass after school Claudin can really hon in on his skills. He says he's worked on writing over fifty songs since he started playing the bass about a year ago. His inspiration for all of it is his favorite bands.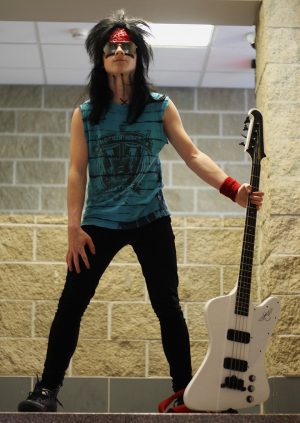 "The way they express themselves musically and lyrically, [is] always something I've wanted to be," he said.
To aid him in this process he uses all of his experiences to create lyrics.
"If I have something to say, I write it in lyrics, past experiences, stuff I'm going through at the time, it's a good release for me." Claudin said.
His positive outlook and the way he expresses himself today, where so many are worried about fitting in, are admirable in their in own right. Claudin's distinct style was created by him to better reflect who he is and proves himself an inspiration on individuality.