Rising stars: Emma Stammeyer '24 & Melae' Lacy '24
New members to the varsity volleyball squad, Emma Stammeyer '24 and Melae' Lacy '24, share their goals for the upcoming season and playing volleyball during an abnormal start to their first high school season.
October 20, 2020
Emma Stammeyer '24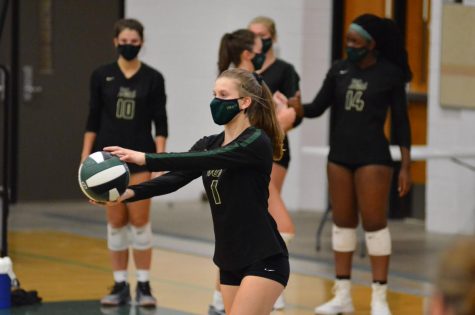 WEST SIDE STORY: When did you first get into volleyball?
EMMA STAMMEYER:  I first started playing volleyball when I was eight; I played in a recreational league. My sister was starting to get into club volleyball and she looked like she was having a lot of fun. I tried out for the same club as my sister and made the team.
WSS: What was the transition like from junior high volleyball to high school volleyball?
ES: In junior high, there wasn't any competitiveness; you were just there to have fun with your friends. In high school, you are always pushed and have to work hard to get better. The team dynamic in high school is different because we are always pushing each other to be better but also competing for a spot.
WSS: How does it feel to have your first season suspended for roughly three weeks?
ES: Having my season cut short was definitely hard to deal with because we were just getting started. I was having a lot of fun, [and] we did everything we could to keep the season going.
WSS: How did you come about playing your current position?
ES: After my first year of club, I switched to a different club and they said I could be a really good setter. I've grown to love that position and was able to get better at it with really good training.
Leave a Comment
Melae' Lacy '24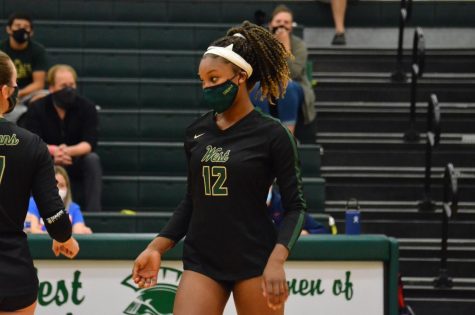 WEST SIDE STORY: What is it like being a freshman on a varsity team?
MELAE' LACY: My goal was to be on varsity freshman year for volleyball and basketball. Volleyball is a white girl sport, and for me to be the only Black girl on my club team [Rockets], it was a big deal for me to make it to varsity. Once I put my mind to it, I had good turnout. I like to be pushed, and the varsity coach does not let up on me. They treat me like I've been on this team forever.
WSS: If you could pick one word to describe your volleyball team, what would it be?
ML: Fearless. We don't care how bad or how good you are. We're going to play as hard as we can, we're going to put our hearts out there and play as a team.
WSS: How does it feel to have your first season suspended for roughly three weeks?
ML: I was really upset. I was so excited for high school, but I can't think about all the negatives … I want to keep growing as I go on in high school. I want to be able to do everything, play every position.
WSS: Do you have any goals for yourself heading into next year or the club season?
ML: I want to make varsity the rest of my high school years and be a team leader. I want to keep growing for myself and for my team. I have to make sure I can expand my horizons and be able to do whatever the coach tells me to do.
Leave a Comment