Melae' Lacy '24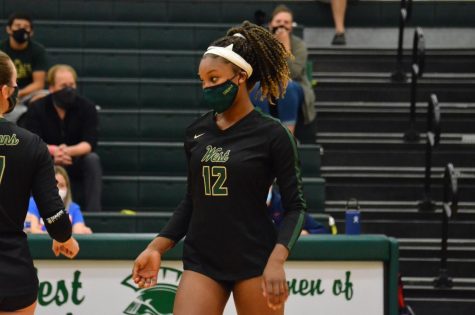 WEST SIDE STORY: What is it like being a freshman on a varsity team?
MELAE' LACY: My goal was to be on varsity freshman year for volleyball and basketball. Volleyball is a white girl sport, and for me to be the only Black girl on my club team [Rockets], it was a big deal for me to make it to varsity. Once I put my mind to it, I had good turnout. I like to be pushed, and the varsity coach does not let up on me. They treat me like I've been on this team forever.
WSS: If you could pick one word to describe your volleyball team, what would it be?
ML: Fearless. We don't care how bad or how good you are. We're going to play as hard as we can, we're going to put our hearts out there and play as a team.
WSS: How does it feel to have your first season suspended for roughly three weeks?
ML: I was really upset. I was so excited for high school, but I can't think about all the negatives … I want to keep growing as I go on in high school. I want to be able to do everything, play every position.
WSS: Do you have any goals for yourself heading into next year or the club season?
ML: I want to make varsity the rest of my high school years and be a team leader. I want to keep growing for myself and for my team. I have to make sure I can expand my horizons and be able to do whatever the coach tells me to do.