Rising Star: Hunter Garvin '22
From wrestling for the Trojan Wrestling Club as a kindergartener to being a member of the West varsity team as a freshman, Hunter Garvin currently holds the Mississippi Valley Conference champion title at 120 pounds, as well as a top-ranked spot in the state of Iowa.
West Side Story: When did you start wrestling? Why did you keep wrestling at that young of an age?
Hunter Garvin: [I started] when I was in kindergarten, so 10 years ago. It was just really fun, and … the teammates I did it with … are my teammates right now, so it's always fun to hang out with the guys. Even being [a] little kindergarten kid who doesn't understand it, you accidentally learn stuff and then [that] makes it more fun when you're competing.
WSS: Why did you continue your wrestling career as opposed to finding other sports to play?
HG: It's just really fun, … and not quitting sort of gives you that feeling of pride. I've been in this sport for so long. I'm not going to quit. I'm going to continue and see where it will lead me. As you go, you get closer with your coaches and with your teammates, then you just build more. You start traveling more and that gets really fun. … It's just really the sport that just keeps you wanting to do it.
WSS: Why do you put your body through all of that, like the intense dieting?
HG: It's definitely worth it, because not only are you getting tougher in the process … you're getting healthier as in, you're getting more in shape and you're eating better. It's worth it because it helps your body out too.
WSS: Out of your family members, who has helped you out the most throughout your career?
HG: Probably my dad. He wrestled in high school, not too much, but he knows some things. He knows a lot about diets because he was a bodybuilder when he was younger, so he helps me a lot with my diet. … He's always there, and he's traveled with me a whole lot. He took me to Vegas to wrestle and to Utah. … He is one reason why I am who I am today. One reason why I've made it this far is because of him.
WSS: Is there a quote or motto that you live by or that helps you throughout the season?
HG: There's a quote by Tom Brands, [and] it says, "You don't get what you deserve. You get what you earn." It's sort of like once that flashes, "Is what I'm doing here and is what I'm doing in practice enough? Is it going to get me to where I want? Or should I do more?" It's sort of like a reminder in a way.
WSS: Were you nervous joining the varsity team as a freshman?
HG: No, [the other freshmen and I] weren't really nervous. It just made us more excited, because it makes us look more into the future and how we're going to build this team. This team is going to be even greater and greater for the years on.
WSS: What is the difference competing at home and competing away?
HG: At home, you're in your own place, you're on your own mat, you get home advantage because [of] the crowd and it's just really fun. Whenever your teammate wins the match or whenever you do something out there, you can just hear the crowd going nuts, and it's pretty awesome to hear that. Especially if you get a win at home, it feels really good too. … The atmosphere feels a lot better at home than it does away. At the same time, away it's pretty awesome when you can shut up the crowd with something. Like when your team does something pretty awesome like when there is a comeback. Whether it's just one match or whether it's a slow comeback victory.
WSS: What does it feel like being one of the top wrestlers in the state of Iowa right now?
HG: I don't care really; it's just paper. It's just a number. I really try not to let it affect me. … I don't want to get my head messed up. I just look at it. It's just a number, just paper. It doesn't matter.
WSS: What do you hope for later this season?
HG: Individually, I hope that I can just keep wrestling [well]. Right now, I think I am wrestling pretty solid, and I hope I can keep wrestling better and better and keep critiquing my technique. There's always something there; there's also a bolt to tighten up. Whether it's that I need to stand in my stance lower, … move my feet more or keep my elbows in, little stuff.
WSS: What are your goals for next season?
HG: Team-wise, I know we are going to lose a lot of seniors [this] year, so I hope we can fill those spots up and make our team even better. And keep growing as a team and to continue to have a good relationship among us individually. We have a great relationship as a team right now and to keep getting better competitively and start making more noise on the mats.
Leave a Comment
Donate to West Side Story
Your donation will support the student journalists of West High School. Your contribution will allow us to purchase Scholarship Yearbooks, newsroom equipment and cover our annual website hosting costs.
About the Writer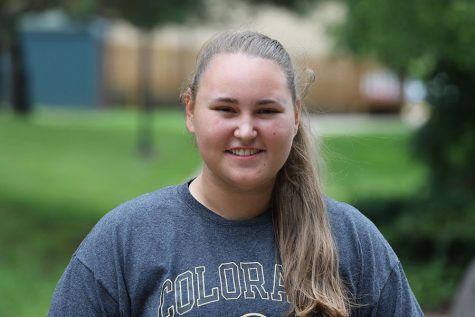 Kara Wagenknecht, Online Editor-in-Chief, Co-Sports Editor
Kara is a senior at West and this will be her third year on staff. She is the Online Editor-in-Chief and Co-Sports Editor this year. When Kara isn't covering...