Guardians of the Galaxy review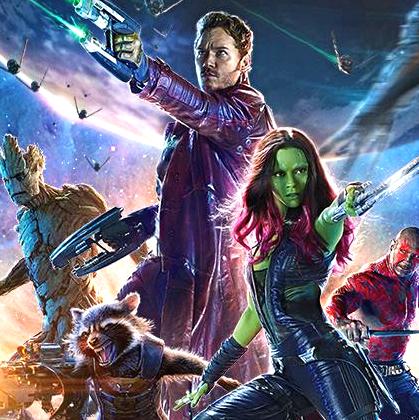 As a self-proclaimed Marvel geek, I couldn't wait to see Guardians of the Galaxy when I saw the trailer. After seeing it, I can say that Guardians of the Galaxy is undoubtedly one of the best movies of the summer, and totally worth the $10.50 the movie theaters charged me. (The $7 popcorn? Not so much…) A multitude of things made this movie awesome, but I'll just give out three so I won't spoil anything:
Good characters. Quite possibly the cheesiest thing to start with, but in this movie, the characters truly made the movie (even though there was only one female lead, c'mon James Gunn.) Sarcastic and witty Peter Quill, a.k.a. "Star-Lord"; un-easily humored assassin (green) Gamora, who doesn't understand the act of dancing; Drax the Destroyer, who takes everything literally (he doesn't understand metaphors) and has a lot of anger issues; Rocket, a cunning, genetically altered raccoon who is a total badass; Groot, Rocket's muscle, a plant who only says "I am Groot", whom I fell in love with. Yes, I fell in love with a plant, don't ask. This ragtag team should be everyone's #1 go-to team to save the galaxy.
70's pop music. The music made this movie 10x better than it already was. It provided the perfect time for a mini jam session throughout the movie. My friend and I might have annoyed other people with our flailing arms, but we couldn't NOT jam out to the "ooka chaka"s of "Hooked on a Feeling" or the breezy twang of "Escape 'The Piña Colada Song'".
Witty and sarcastic humor. This movie had some pretty great lines. Though some of it would be due to the character's inability to take things figuratively. I would give an example, but there are too many good choices to choose from. Oh, why not:
"Peter: *draws his finger across his throat in a cut throat gesture*
Drax the Destroyer: …Why would I want to put my finger on his throat?
Peter Quill: No, that's the symbol for slicing his throat.
Drax the Destroyer: I would not slice his throat, I would cut his head clean off."
Some people think this movie is too "childish." Well, ignore those haters. Go see the movie and enjoy this fun, music-filled ride to save the galaxy from freaky-looking blue people.