Brands triumphs in championship rematch
After just missing state last year, Nelson Brands '18 follows in his father's footsteps by winning his first state championship.
Nelson Brands '18 walks onto the mat with thousands of people buzzing in Wells Fargo Arena in Des Moines. This is his first ever state meet, and with his last name alone-as the son of University of Iowa's assistant wrestling coach, Terry Brands-brings more attention to him than most athletes. Based on these two facts you would think he would be nervous. Think again.
Brands defeated Cedar Rapids Xavier's Clint Lembeck '16 in the championship match with a score of 6-5, making it the second time Brands had defeated Lembeck this year; he won the previous matchup 10-7 in MVC Finals.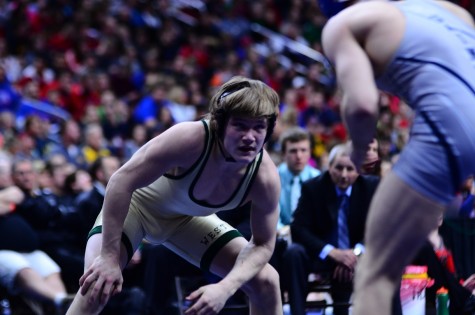 Lembeck was ranked as the number one wrestler in his weight class for 3A at the start of the year.
"I wasn't at ease at all [when the championship pairing was set] but I also wasn't nervous," Brands said. "I did know how he wrestled though, which was an advantage."
Brands' lack of intimidation or nervousness to the big stage is uncharacteristic of someone of his age. Brands cites his experience as a cause of this.
"I worked really hard during the summer and it helped," Brands said. "All five wrestlers that qualified for state were all working hard in the summer and Coach Reiland said that was a big key."
Brands was the first finalist from West High since 2012.
"I was more shocked by the moment than anything else," Brands said. "Most guys would've been celebrating but I didn't."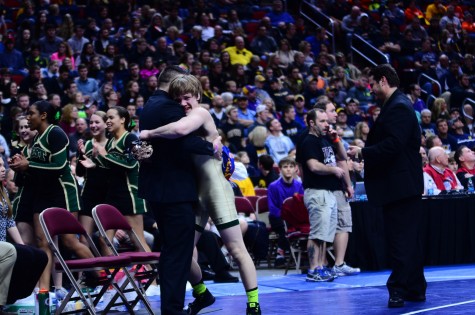 Although Brands might've been shocked, his teammates weren't.
"I didn't expect anything less from him," said Carter Rohweder '17. "I've seen him put the time and work in all year long and because of it he had the best tournament he's ever wrestled.
Brands believes this dramatic state run was no fluke, but a reward for all his hard work.
"I feel like I've wrestled like [how I wrestled at state] all year," Brands said. "I learned a lot from all my three losses and I guess I peaked at the right time."
Although Brands there was much for Brands to celebrate, his focus on what was next did not waver.
"It was almost annoying; everyone wanted a hug," Brands said. "My dad was more in my line of thinking when he said 'Good job, now here is where you can improve.'"
Brands' mind during all of the chaos was focused on one thing: the future. When asked what Brands hopes that future holds he responded in a typical Brands fashion; confidently and calmly.
"I am going for three," Brands said.
Click on the photo below for more photos from Brands' finals match.

Click on the photo below for more photos from the State Wrestling tournament.

Photos by Leah Dusterhoft.