Natural runner: Valerie Welch
From breaking West's long jump record on her first try to placing second in the state 100 meter hurdles last year, Valerie Welch '17 is becoming a new face on West's track scene.
You're in your starting blocks, waiting for the gun to go off, anxious to start the 15-second race. You're about to run one of the most important races of the entire season: state. When the gun goes off, you sprint off the blocks, ready to leap over the ten hurdles. You're in first place, until almost the end of the race, where you fall to second. This is the situation Valerie Welch '17 was in.
"And then the seventh [hurdle], I linger too long over it. I could feel it. And then we were tied, and then she pulled away and she pulled away and she won," Welch said.
Despite her loss, Welch was content with her second-place finish at the state championships.
"[I was] happy that I got second. I went in ranked fourth," Welch said. 
This year, Welch is pushing herself to higher standards, with the help of her best friend and fellow hurdler Grace Young '16.
"I think that she can do anything that she wants to do," Young said. 
This year Welch hopes to achieve even more success at the highest levels.
The Drake Relays, an invitational track meet held at Drake University in Des Moines, is the ultimate goal for many high school track athletes. Welch is pushing herself to qualify in all the events she can.
"[I hope to qualify for] all of the hurdle events," Welch said.
Welch is also currently leading the qualifiers in the long jump event, with the third-longest jump in Iowa's history–19 feet, four inches, which she achieved in her first time competing in the high school long jump.
"
I think that she can do anything that she wants to do."
— Grace Young '16
Despite being one of the best participants in multiple events, Welch still gets nervous."[I'm] nervous until I'm done. Then it's sort of exciting to watch everybody else and congratulate people," Welch said.
To help her cope with nerves, Welch finds support in her teammates.Teammate Bailey Nock '18 added that she helps Welch through the meets. "Before the 4×4 [400 meter relay] at Drake she was really nervous and psyched out so I had to rub her back and make her laugh," Nock said.
Young also added that she consistently helps Welch by calming her anxiety.
"She gets nervous really easily so we have to chat her up and keep her loose," Young said.
Being best friends, Welch and Young enjoy getting to be teammates. "We get to spend more time together," Welch said. "It's not as boring. Like sometimes when she's gone it's boring."
Welch and Young's sarcastic and humorous attitudes also keep the track team smiling and laughing.
"I'd like to run a three minute, 59 second mile," Welch said, describing a mile time barrier that less than ten high school boys have ever achieved. However, for a girl who broke the school's long jump record in her first ever jump, some people's dreams may be her next goals.
Donate to West Side Story
Your donation will support the student journalists of West High School. Your contribution will allow us to purchase Scholarship Yearbooks, newsroom equipment and cover our annual website hosting costs.
About the Writer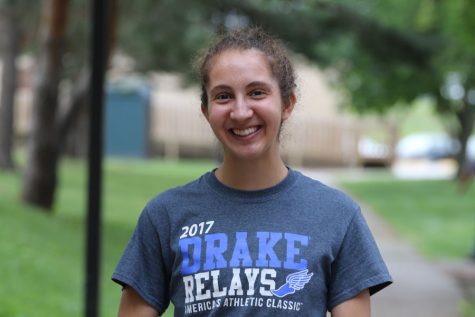 Deniz Ince, Print Editor-in-Chief, Co-Sports Editor
Deniz Ince is a senior in her third year on the West Side Story staff as the Print Editor-in-Chief and Co-Sports Editor. In her free time, Deniz likes...