Fighting in the ring and for his country
Boxing is a sport that not many high school athletes, especially in the state of Iowa, participate in. Richard Zepeda '16 not only participates but thrives in a sport that he considers a lifestyle.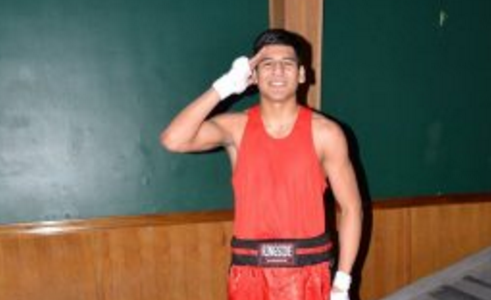 Richard Zepeda '16 is a future Marine, high school graduate and hopeful boxing extraordinaire. Zepeda has overcome many struggles in his life: grades, parental pressures, self-loathing and even lack of motivation. But now, Zepeda has now figured out what he loves in life: boxing and his country. Although, for a while, Zepeda wasn't sure what the purpose behind his life was.
"[Back before I started boxing] I was fat. I didn't care. I didn't have goals in life," Zepeda said.
This all changed in his freshman year at West High where he ended up seeing a girl whom he found attractive. He then did some self-reflecting and determined that to get this girl he must lose weight, and lose weight he did. Zepeda is now 6'4" and 165 pounds of lean muscle. Although he does not possess many female counterparts as freshman Zepeda would have wished, he is a much happier person overall.
"I realized I shouldn't be doing this for the girl, so I decided to do it for myself," Zepeda said. "People are mean. They don't care about you, so once I realized that I knew I had to show everyone that they're missing out."
With Zepeda's hard work comes recognition from not only his coaches, but also his friends.
"I admire that he is a very independent person when it comes to boxing," Bryan Martinez '16, Zepeda's best friend, said. "He tends to find his own motivation and has a drive to win. Not many cheer for him when the bell rings, but when they see him in action they eagerly get on his side."
Zepeda has begun to show people what they're "missing out on" with his accomplishments in the ring. Zepeda recently won the 2016 Golden Gloves Boxing Championship for the 165A class which moved his lifetime record to 4-0.
The Golden Gloves Boxing Championship is an amateur boxing tournament held in every state across the country in hopes of finding the best amateur boxers. Open fighters, who are are classified as boxers with more than nine fights, have a chance to go to nationals in Utah if they do well at the Golden Gloves.
With only four matches under his belt, Zepeda, classified as a novice fighter (less than nine fights), is unable to participate in nationals but was still given the Most Outstanding Boxer Award for the novice class. Zepeda believes he is a much more mature fighter than the quantity of his fights suggests.
"A ref [at the Golden Gloves] told my coach that I fight like more of an open fighter, and that I also act like one," Zepeda said.
Zepeda has the mentality of "success doesn't come in one day," and believes he works harder than most 17 year-olds. Zepeda, currently fighting with the Muscatine Boxing Club, trains in its facility three days a week in addition to working out on his own at Core Fitness often and maintaining a steady job at Hy-Vee.
"[To stay driven] you just have to have love for what you are doing. Everyone should have love for something. For other people it is other sports or clubs and for me it is boxing," Zepeda said.
This drive to get better at the thing he loves has been instilled in part by his father, Ricardo Zepeda. It has taken time for Zepeda to get accommodated to his father pushing him to the limit, but now Zepeda admires that quality.
"Now I see my dad as my role model, but back then [at a younger age] I didn't think that. I wouldn't try as hard because he was pushing me so much, but now I see how that is paying off and I respect him for that now," Zepeda said.
This pressure from his father was a constant pressure throughout Zepeda's early life.
"I have always had the struggle of trying to make my dad happy because he used to always get pissed when I fought," Zepeda said. "He would say things like, 'You're not fighting the way you should be fighting.' I am just trying to show him that I am improving and it is paying off now since I have been boxing non-stop and training."
Although Zepeda is now not feeling as much pressure from his father or himself, he still feels as if he doesn't completely fit in. This is one commonality Zepeda and the rest of his Marine Corps buddies have, in Zepeda's opinion.
"I feel like [the other Marines] and I are like black sheep. We are all outcasts just out there there just trying to get better," Zepeda said.
This "black sheep" mentality helps to bring together the group of guys Zepeda considers "brothers." But this brotherly loved emitted by Zepeda isn't confined to the Marines.
"In boxing, the younger boxers are like my younger brothers and the older boxers are like my older brothers," Zepeda said. "We are all close."
Outside of the brothers Zepeda has gained with the Muscatine boxing club he has also gained great teachers. Zepeda has four main coaches; Ron Williams and his two sons Ron Jr. and Lance, as well as Chad Behnke. These coaches, on top of Zepeda's work ethic, led to Zepeda being the only boxer from Muscatine that fought at the Golden Gloves.
"I think Richard has improved greatly during his time at the Muscatine Boxing Club (MBC)," Behnke said. "I personally have seen growth in almost every practice. Richard is an excellent listener that does what his coaches ask of him."
With gaining extra experience and training Zepeda also gains confidence.
"I just went down there [to the Golden Gloves] and did what I was supposed to do, I always go in there planning to win," Zepeda said.
At the first round of Golden Globes, Zepeda rematched against a fighter whom he faced in one of his other fights previous to the tournament. Jake Zars, 20, was the opponent of Zepeda who shares Zepeda's drive for service by serving in the U.S. Army (Infantry). Despite facing Zars again, Zepeda was confident in his ability aside from a few nerves early on in the fight.
"I had fought [Zars] before so I was gonna make him look worse than he did the first time, and the second guy just fought sloppy, so I embarrassed him too," Zepeda said. "But I did feel nerves before the first fight [with Zars] because it is scary fighting the same guy because he learned from what you did so you have to improve."
Zepeda credits this win to more movement and more punches thrown. In addition to the volume of punches thrown and the amount Zepeda moved, he has grown in other areas within his boxing.
"I have learned a lot actually [throughout my first four matches]. I was still fighting the style in my first match that I learned previously, which was a close type of fighting, but I couldn't do that well because I was too tall," Zepeda said. "So during my second match I fought with more distance, but my footwork was sloppy. So at the Golden Gloves I did better with everything; more distance and better footwork. But it still isn't the best and there is always room to improve."
Zepeda will fight next on May 28 in Muscatine, Iowa, and after that he will fight in the Ringside Championships down in Independence, Missouri on July 27 in which Zepeda hopes to impress many scouts who will be attending the tournament.